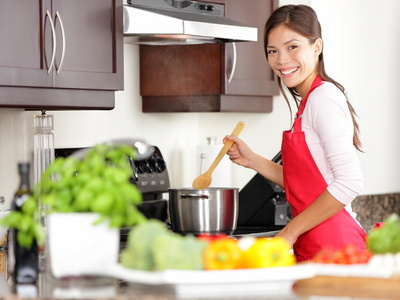 When planning what to take along to a holiday home, it is important to inquire about the space and all the amenities the home has to offer. The kitchen is one room the renter should ask the property manager about. You should find out what types of appliances and utensils are in the home before packing your own. Even if you end up renting a holiday house with the most advanced kitchen equipment, there are still some essential items you need to bring along for preparing meals.
Whether you bring groceries from home or hit the local market, food, condiments, and spices are a must. Renters should also have paper products such as napkins and paper towels on hand since most holiday homes do not provide these. You should also have the means for storing food in case there are leftovers. Check with the owner or property manager to see what is included with the rented holiday home before packing up your whole kitchen and bringing it on holiday with you.
1. Food
One of the biggest advantages to renting a holiday house with a kitchen is being able to prepare and eat whenever you and your guests want. When planning your holiday, you should decide if you are going to purchase food ahead of time and bring it with you, or buy the food at your final destination. If travelling by car, you have the opportunity to pack a cooler full of goodies from home to sustain you while on holiday. Other travellers prefer to wait until they arrive at their destinations to stock their rented holiday home's kitchen.Coffee and tea are popular food items to bring along, especially if you check in late at night and want to be prepared the next morning. Inquire with the property manager if you need to provide your own coffee filters or coffee pot. With warm beverages, one should consider bringing along sweetener, sugar, and milk if these essentials are not provided at the rented holiday home.
Dietary Restrictions
It is always important to consider the dietary restrictions of the people staying in the house with you. If you have vegetarians in the group, make sure there is enough vegetarian food on hand for them to eat. Those with wheat allergies in the group need to avoid pastas, breads, and other food items that contain gluten. Shop for for gluten-free foods at home before you leave, because you may not be able to source gluten-free foods at your destination. Make sure to ask friends and family members about their dietary restrictions before making a trip to the shops.
2. Condiments and Spices
In addition to packing essential food items, you should also pack a variety of condiments and spices to season foods. Most of these items do not need to be refrigerated until they are opened, so it should not be too difficult to pack them along with everything else. Holiday homes typically do not have any condiments, but check with the property manager or owner before your arrival. If they have anything, it is likely to be the bare essentials like salt, pepper, and sweetener for coffee.
Oil and Butter
Coating pots and pans with oil and butter is always essential when cooking. If you plan on cooking for a large number of guests in your holiday home, it is always a good idea to have enough oil and butter on hand. An oil sprayer is a great way to evenly coat pots and pans without wasting too much oil. Oils like olive oil are also commonly used in salad dressings and other recipes.
Condiments
If you plan on eating hot dogs, hamburgers, sandwiches, and wraps, it is best to stock your holiday home kitchen with plenty of condiments. When grocery shopping, do not forget the mustard, mayonnaise, ketchup, and relish. If you and your group plan to barbecue, then you might want to consider packing some sauces for your holiday excursion. Teriyaki and barbecue sauces are popular choices, and grocery store shelves are stocked with an endless array of marinades. Salads are easy additions to any meal, so if serving up salads while on holiday, have a variety of salad dressings to satisfy everyone's taste buds. If you do plan to barbecue, make sure to ask if there are grilling facilities and whether or not you need to bring along your own barbecue grill and coals.
Spices
Besides salt and pepper, many holiday makers prefer to bring their own spices from home to liven up their meals. Though store-bought brands are easy to come by, if you make your own or find spices at local farmers' markets, it might be difficult to find exactly what you are looking for in shops at your destination.
Below is a list of common oils, condiments, and spices many holidaymakers like to bring when renting a holiday home.
| | | |
| --- | --- | --- |
| Oils | Condiments/Spreads | Spices |
| | Mustard | Salt |
| Olive oil | Mayonnaise | Black pepper |
| Almond oil | Ketchup | Curry powder |
| Coconut oil | Peanut butter | Cinnamon |
| Sesame oil | Chutney | Garlic powder |
| Peanut oil | Salad dressing | Spice blends |
Use this chart as a base for buying everything you need to season your food to taste, and then build on it based on your personal preferences. You can stock up on these items before you leave your house or when you arrive to your destination. Just remember that if you are cooking for a large group make sure to ask about any allergies. Peanut oil, for example, cannot be used to make food for children with peanut allergies.
3. Utensils
Though many holiday homes come stocked with kitchen utensils, their quality is often not on par with what you have in your own kitchen. Rental home owners often stock the kitchens with utensils made from cheap materials, and over time and use, they become warped or broken. Holidaymakers are encouraged to bring a few items from home to bring the holiday kitchen up to speed. A wooden spoon and ladle is a good start. Metal spatulas are great, especially if the kitchen on has plastic ones.
Knives and Knife Sharpener
Perhaps one of the most frustrating experiences while on holiday is trying to prepare a meal with dull knives. Therefore, you should bringing along good cutlery. If you are travelling by plane where kitchen knives cannot be carried onboard, then bring along a knife sharpener to sharpen the knives at the rented holiday home.
Paper Products
Most holiday home rentals require renters to bring their own kitchen-related paper products. If you are looking for an easy clean up option, paper plates are an easy solution. Paper towels and paper napkins are a must have for any holiday kitchen. To bring enough, count the number of guests and factor in the number of days you are staying at the house.
4. Storage Containers and Wrapping Materials
If you plan on cooking quite a bit in the rental home's kitchen, then it is best to be prepared to store leftovers. Many property owners do not provide these essentials, and renters are left to their own devices when it comes to how they put away leftovers. The sections below give you a good idea of what else to pack for a rented holiday kitchen.
Aluminium Foil
Aluminium foil is not used just for baking and barbecues, these sheets provide a stiff metal frame for wrapping up leftovers. You can wrap whole items in a sheet of tinfoil or use it to cover a bowl or plate, even if the food is still hot.
Plastic Wrap
Plastic wrap is used to cover up bowls and plates, making the storing of leftovers in the fridge a breeze. The plus side to plastic wrap is the transparency. You and your guests do not need to unwrap the plastic wrap to check what is inside. Unfortunately, food items need to be cooled first before being wrapped in plastic wrap. Hot foods could melt the plastic and ruin the leftovers.
Plastic Bags
Plastic bags come in an array of sizes, and they are great storage options for fruits and vegetables. If you plan on going on an outing and packing a lunch, plastic bags make carrying a packed lunch easy.
Storage Containers
Storage containers such as Tupperware are often overlooked when packing for holidays away at rented holiday homes. Many companies such as Ziploc make disposable containers good for a variety of uses, and they can be recycled later.
5. Cleaning Supplies
Before bringing any cleaning supplies along for your holiday rental, ask the property manager what is already provided. At the very least, the kitchen should be stocked with dish soap and a sponge. If the home has a dishwasher and you plan on using it, then dishwasher detergent is also a must. A container of disposable kitchen wipes are ideal for renters who want an effortless means to maintain a spotless kitchen.
Buying Kitchen Supplies for Holiday Rental Homes on eBay
Let eBay be your one stop shop when it comes to picking out items for your holiday rental home. Find everything you need with a simple keyword search. After you have made your list, input each item one at a time into the search bar on the homepage. General search terms yield broad results, and keywords help optimise results. Use various search filters to hone the search results further.
Payment Methods
eBay offers a variety of payment options, but it is up to the sellers to determine which ones they accept. PayPal is the quickest and easiest way to pay for your items. Buyers and sellers favour PayPal because it is safe and transactions are trackable. Only a handful of sellers accept less than conventional payments such as personal cheques and direct transfers.
Assessing Sellers
When choosing a seller to do business with, take a look at the seller's feedback score. This score can be found in the item listing and on the seller's profile. Those with the highest feedback scores are referred to as top-rated sellers. eBay allows you the option of sorting listing such that only those listings posted by top-rated sellers appear.
Conclusion
Preparing for a holiday vacation does not have to be a nightmare. A good plan involves simply checking with the property manager to determine what is available, then packing accordingly. Food, spices, and condiments are must-haves in any kitchen. Holidaymakers must determine if it is feasible to buy these items at home and then carry them or if it is easier to buy items when they arrive at their destination. The method of travel, total distance, and availability of these items should determine your decision. Remember to bring enough for guests and take into consideration the total amount of days you are staying at the holiday home.
There are also plenty of non-food items to pack for your holiday getaway. For example, you almost always need paper products such as napkins and paper towels. Aluminium foil, plastic wrap and bags, and storage containers are great for organising leftovers. It is also important to consider cleanliness, and you should bring your own cleaning supplies such as sponge and soap if these are not provided. Planning for the rented holiday home's kitchen beforehand ensures your that you do not need to run around an unfamiliar town looking for food, utensils, and cleaning products.