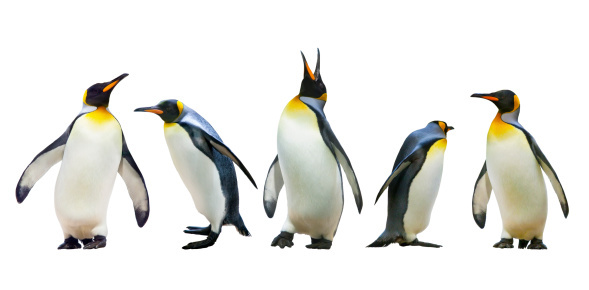 Penguins are one of the most beloved creatures in the world.

From the Emperor penguins of Antarctica who starred in the moving documentary March of the Penguins, to Monty, the toy penguin looking for love in the 2014 John Lewis Christmas advert, these adorable black and white birds have truly captured our hearts.

To mark World Penguin Day, which falls on April 25, here are our 5 favourite penguins.


Mumble from Happy Feet
Emperor penguins attract mates by singing their unique heartsong, but what if you can't carry a tune? That's exactly the problem faced by Mumble, the star of
Happy Feet
, who hopes he can wow the love of his life Gloria with his fancy footwork instead. Eventually he wins her over with an energetic tap routine to Boogie Wonderland.
Fun fact:
Mumble's plumage resembles a tuxedo, with the yellow feathers on his neck looking like a bow tie.
How much do we love Mumble?
The box office-topping flick grossed more than $384.3 million worldwide and spawned a sequel Happy Feet 2. It even won an Oscar for Best Animated Feature.
Pingu
If you were a child in the 80's and 90's the chances are you've watched at least a couple of episodes of
Pingu
. The stop-motion animation classic focuses on a Pingu and his family who live in an igloo in Antarctica. Pingu and his little sister Pinga frequently get up to mischief with their pals Robby the seal, Pingi, Pingo and Najoo the abominable snowman.
Fun fact:
In 1993 David Hasselhoff released the single Pingu Dance, based on the animated programme and featuring samples of Penguinese.
How much do we love Pingu?
A total of 157 Pingu episodes were broadcast between 1986 and 2006. The show aired in the UK, the US, Japan, Australia, Canada and India.
Captain Cook from Mr Popper's Penguins
Sent to live with Mr Popper and his family by an Admiral exploring the polar regions, Captain Cook, his mate Greta and their 10 babies wreak havoc everywhere they go. Mr Popper trains his feathered friends and turns them into a circus act: Popper's Performing Penguins, but can they stay out of trouble long enough to perform?
Fun fact:
Captain Cook was named after the explorer James Cook.
How much do we love Captain Cook?
Mr Popper's Penguins
was named the Newbery Honor Book in 1939 and won the 1940 Young Reader's Choice Award. It was the inspiration for the 2011 film of the same name starring Jim Carrey.
Private from Penguins of Madagascar
The penguins featured in hit DreamWorks' film Madagascar got a cinematic outing of their own in
Penguins of Madagascar
–a comedy caper which sees Skipper, Kowalski, Rico and Private being kidnapped by villainous octopus Dave, who is sick of playing second fiddle to the penguins in Central Park Zoo. Private starts the film as the baby of the group, with no special skills, but over the course of the movie he shows he's not just a pretty face, earning his pals' respect.
Fun fact:
The voice of Private is also the voice of the Three Blind Mice in Shrek.
How much do we love Private?
Penguins of Madagascar has grossed more than $358 million at the global box office. The penguins also star in their own TV show on Nickelodeon, with 6.8 million viewers tuning into the premiere.
Monty
The star of 2014's heart-warming John Lewis advert was Monty, the stuffed penguin who just wanted a mate for Christmas. Monty got his perfect present in the form of Mabel underneath the Christmas tree and the nation collectively went "awwwwww".
Fun fact:
Monty was based on a real-life penguin, Snowflake, who lives in Edinburgh Zoo.
How much do we love Monty?
The festive advert has been watched almost 23 million times on YouTube and Monty and Mabel merchandise, including bedding, clothes, cushions and of course stuffed penguins, flew off the shelves.
If you're still hunting around for a cuddly Monty of your own, there are lots listed on eBay
.
3 penguin stories which will make your heart melt
1. Australia's oldest man Alfred Date has revealed he likes to spend his time knitting jumpers for the penguins who live on Phillip Island to help protect them from oil spills.

2. A penguin at Matsue Vogel Park in Japan found his true love last year, but it wasn't another penguin who caught his eye, it was his zookeeper. The smitten bird was caught on camera following the zookeeper around, never leaving more than a metre between them.

3. Penguins at the California Aquarium of the Pacific are truly 21st century birds and like nothing better than playing games on their keepers' iPads. Two of the penguins, Newsom and Jeremy, are addicted to the Game for Cats app.