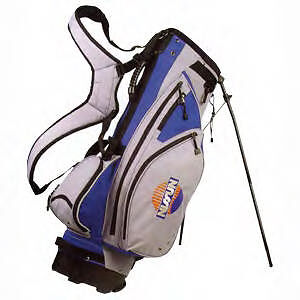 Owning a fully functioning and good condition golf bag is vital to ensuring that a golfing experience is a hassle-free and enjoyable one. Whatever level of golf is being played, a golf bag is a necessary accessory.
Whilst there are golf bags available for purchase that are made with the utmost attention to detail and care, they still need a certain level of maintenance to ensure that they function in a manner that is helpful to the owner.
In order to keep a golf bag in prime condition there are a number of products available from auction sites such as eBay that are made in order to preserve the quality of golf bags.
This guide is written with the intention of taking golf bag owners who wish to maintain their golf bags through the products available and the procedures that can be undertaken to do so.
Components of a Golf Bag
There are a number of components that make up a golf bag as a whole. Some of the components come as standard, whereas others can be purchased separately or are only available with certain brands and models of golf bag. Here is a list of the components of the majority of golf bags available on the market, and a detailed explanation of their function:
- Club Compartment: this is where the golf clubs are placed for an easy and efficient transportation around the course and beyond. It is a hollow compartment that may be split into mini compartments and is a means of separating certain types of clubs. In terms of club dividers, golf bags are available that range from 2 to 14 club compartments.
- Golf Bag Strap: perhaps the most important part of a golf bag is the strap. Golf bag straps come with a varying degree of cushion and therefore comfortability and are often made to be able to be attached and unattached to allow for customisation to certain golf player's needs.
- Pockets: these are vital for golfers who wish to carry balls, ball markers and tees around the course with them. They are also useful for those who wish to take valuables with them and for the storage of other items such as snacks or spare clothing. Some golf bags come with a large number of pockets, whereas others have a limited number of pockets.
- Umbrella Chute: often it may be unclear to golfers as to whether they will need an umbrella or not. With a lot of waiting around for other players and long distances walked, an umbrella may be necessary to keep golfers dry. As opposed to carrying an umbrella separately to a golf bag, the majority of golf bags now come with umbrella holders to allow for the easy storage and transportation of this piece of kit.
- Drink Slot: with the majority of golf rounds lasting for an extended period of time, it is necessary for drinks to be carried around the course as a source of refreshment. Drink holders are popular amongst golf bag manufacturers and golfers alike as they allow for the efficient carrying of drinks around the course.
- Golf Bag Stand: stands for golf bags are an additional accessory available for golfers who do not wish to lay their bags on the ground whilst taking a shot. Stands prevent bags from getting dirty and most golf bag manufacturer's design their bag stands with the intention of keeping the bag as light and sleek as possible.
Golf Bag Maintenance Considerations
With golf bags being manufactured with such a high number of components, it can be hard to keep track of all of the parts that need maintenance in order to keep the bag in prime condition. The majority of maintenance considerations are:
- Odours
- Wear and tear (For example, on top of club dividers)
- Stiff zips
- Damaged strap
- Dirt
Golf Bag Maintenance Products
Maintaining the condition of a golf bag may require a number of products and accessories. Below is a table explaining both the problems that may occur and products that can be purchased in order to rectify them:
| | |
| --- | --- |
| Maintenance Issue | Product and Solution |
| Club Divider Wear | When initially buying a golf bag it is best to go for one that has plastic rims that cover the tops of the dividing sections. This allows for more protection when placing the club back into the bag. However, if one owns a golf bag without plastic club dividers then there are specially designed plastic tubes that are available for purchase. These allow for both the protection of the bag and the club. |
| Golf Bag Odours | Due to the nature of golf being an outside sport and often containing drinks and snacks, golf bags can end up smelling unpleasant. Depending on the material that the bag is made from, golfing blogs and experts recommend using odour eliminator sprays or washing it in the bath. To protect a golf bag from unpleasant odours in the first place, it may be an idea to purchase a golf bag cover to prevent the contamination from external odours. |
| Stand Damage | Whilst the majority of golf bags are made with stands that are durable, the wide variety of terrains that golf is played in can lead to damage occurring. One of the more common instances of damage to a golf bag stand is the wearing of the feet. Golf bag stand feet can, however, be purchased separately at reasonable prices. |
| Zip Damage | Whilst playing outside in the rain, zips can rust and become stiff. One of the best ways of preventing this and maintaining the condition of a golf bag is through the purchase of a golf bag cover that protects the bag from weather damage. There are also a number of sprays and oils available that can loosen up zips if they are stiff. |
| Strap Damage | Golf bag straps can often be damaged simply through overuse or even misuse. Most golf bag manufacturers allow for straps to be removed so if a strap is damaged, it may be best to purchase a replacement. These are sold at affordable prices on auction sites such as eBay for a variety of different styles and size of golf bag. |
| Travel Damage | If one is looking to travel with golf clubs, a golf bag on its own may not be durable enough on long journeys. The best way to ensure the condition of a golf bag and the products within is via the purchase of a travel bag . This accessory allows for the protection of a golf bag and they are available from the likes of eBay at worthwhile prices. |
Buying Golf Bag Maintenance Products Online
With golf being such a widely played sport, there are plenty of online resources available to those who wish to purchase products to help with the maintenance of one's golf bag.

From those who play at weekends to those who play at a higher level, there are blogs and discussion forums designed especially for giving advice on the best products to buy in order to keep a golf bag in excellent order. These can be used as a means of understanding the best products around, as well as gaining insider tips on how to prevent damage occurring to a golf bag in the first place.
What is more, there are online retailers who look to sell products that help with the maintenance of golf bags. Use the prices given on these sites and compare them to each other in order to comprehend the average price paid for the desired product. By gathering prices, one may also be able to spot a bargain on auction sites such as eBay.
Buying Golf Bag Maintenance Products on eBay
eBay is home to a vast number of new and used golf bag maintenance products. To gain access to exclusive listings of these products, visit the Sporting Goods category and click on the Golf sub-category. From thereon, use the likes of the filter tabs at the side of the page and the keyword search bar in order to tailor the search to specific requirements.
Once a product has been found be sure to know all there is about the seller by visiting their previous selling history and feedback section. Most sellers can be contacted directly if any questions arise. Also, it is a good idea to be thorough in the reading of the product description, especially if it is a used product.
Furthermore, be wary of the terms and conditions of the Bidding process, as well as fully understanding the Buy It Now option if that is available.
Conclusion
The best way of maintaining the quality of a golf bag is by take due care and attention so as not to damage it. However, factors such as the weather and the variety of different golfing terrains mean that golf bags can become damaged due to no fault of their owner.
Whether it is a travel bag or a more general bag cover , there are a number of products available to golfers that are a significant help in the maintaining of a golf bag's condition.
By being knowledgeable about the products and the prices available, one can purchase golf bag maintenance products and reasonable prices from the likes of eBay whilst ensuring a smooth and secure transaction takes place.