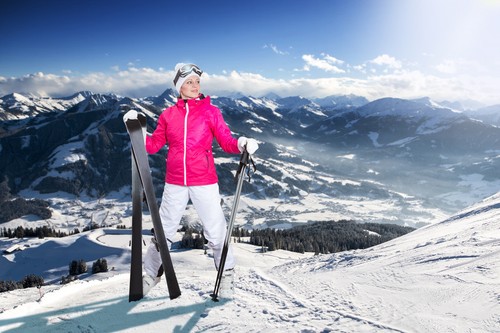 Everyone likes getting away on holiday, even if it is just for a few days or a weekend. A change of scenery and routine can refresh the body and soul. With today's stiff global economy and fast-paced lives, one's disposable income needs to be spent as wisely as possible. In fact, everyone who travels for pleasure or business tries to get the most value for the money spent, so that even a short trip is rewarding. It can also take a little time and research to find great destinations to visit and places that offer new and exciting events and attractions for short breaks or longer stays.
Whether one counts money in Pounds or Euros, one of the destinations that offers great values for short breaks is Austria. This country offers a little bit of everything, from royal palaces, historic cathedrals, art and history museums, wildlife areas and zoos, hiking and camping, and of course skiing. Although one can book a short break through a travel agent, considering eBay as a resource for making travel arrangements can be valuable in finding truly great deals in Austria.
A Little about Austria
The Republic of Austria's heritage has been one of occupation, with the Roman Empire holding sway over the nation at the end of the 16th-century ACE, and neighbours Hungary and Germany swapping control through the mid-19th-century. In 1955, Austria was reestablished as a sovereign nation and declared itself permanently neutral in world political affairs. Totally landlocked, Austria is bordered by Hungary, Germany, the Czech Republic, Italy, Slovenia, Slovakia, Liechtenstein, and Switzerland. Encompassing an area of approximately 84,000 sq km, Austria has a population of just under 8.3 million people. The Alps lend themselves to a terrain that is mountainous, with only 32 percent of the country's land mass below 500 metres.
Vienna is the capital city of Austria and one of the must-see places in all of the country, just perfect for a short break. One of the best things about Vienna is that, even though it is the capital city, the population is under 1.7 million, leaving plenty of elbow room when on holiday. Additionally, finding lodgings is not difficult either, as Vienna alone boasts 300-plus hotels in and around the city. With few exceptions, Austria is at the top of the list for short break holidays.
Short Break Idea Number 1: The Schönbrunn Palace and Imperial Gardens
Quite possibly the most popular tourist attraction in all of Austria, Schönbrunn Palace and the Imperial Gardens host millions of visitors each year, 2.7 million in 2011 alone, from all over Europe and the extended world. For many, the Palace and grounds themselves are enough to take up the entire day, but add in the Imperial Gardens, and Schönbrunn Palace could be an entire weekend's worth of excitement.
The Park at Schönbrunn Palace
The park at Schönbrunn Palace, also known as the Imperial Gardens, is a collection of 18th-century sculpted gardens mostly designed by Empress Maria Teresa and opened to the public in 1779. Today, the main Imperial Gardens are still open to the public, free of charge, 365 days a year, but some attractions charge a maintenance fee. One of the more popular attractions of the Imperial Gardens is a small zoo, which is thought to be the oldest organised zoo in the world. Other points of interest include a maze, the Labyrinth, rose garden, Japanese garden, palm house, and an Egyptian obelisk.
Attraction

Points of Interest

The original Maze was crafted between 1698 and 1740

The last of the original Maze hedges were felled in 1892

In 1998, a new Maze was built based as much as possible on the original pattern

The Maze extends over 1.715 sq m

Viewing Platform is located in the centre of the Maze

The Labyrinth at Schönbrunn Palace

Reconstruction based on original designs

The Labyrinth extends over 2,700 sq m

Finger Mazes

Hop across Bouncing Boards

Chiming Climbing Pole

Giant math puzzles
Additional attractions on and about the palace grounds and Imperial Gardens include the Privy Garden, Angel Fountain, Round Pool, Botanic Garden, Dessert House, and Carriage Museum. While at the palace, visitors can participate in guided tours. Visitors can stroll through 'The Realm of Maria Theresa', viewing furnishings and decorations from the period and used by the Empress, or take look at the family with 'Discovering the World of the Habsburgs'. Both tours have a fee but are well worth the price for the avid European historian.
Short Break Idea Number 2: Cathedrals and Churches
This attraction is certainly not a one-spot recommendation, as the nation of Austria has a deep religious, mostly Roman Catholic, heritage. Salzburg Cathedral is one of the great examples. The site dates all the way back to 774 ACE, with the current Baroque Dom being built between 1612 and 1655, with intermittent interruptions due to conflicts. Another beautiful spot is the Church of St. Andrew in Lienz. Along with the architectural beauty of the church itself and the interior decorated with ornate gold inlay, sculptures, and tapestries, the church also has a large and very old cemetery and war memorial. At night, the gravestones and crypts are adorned with candles casting a warm glow across pathways through the graveyard. Additionally, a small cafe is located just outside the church, for those making a full day of their visit.
These are only two of the hundreds of churches, mosques, and other religious sites located across the country. For the theologian or religious historian, visiting some of the country's historic houses of worship can be very rewarding.
Short Break Idea Number 3: Touch the Roots of Great Artists in Baden
Taking a short trip to Baden, Austria is perfect for the fan of the fine arts. Baden is the home of not one but two world-renowned artists, albeit they are from two different disciplines. Musician and Composer Ludwig van Beethoven's home during the time he studied with Joseph Haydn is one. For those more attuned with the visual arts, the Arnulf Rainer Museum hosts a significant collection of the Baden native's works. The progressive, surrealism-influenced, abstract artist, often compared to Jackson Pollock, has works on display around the world, including the Guggenheim Museum in New York City in the United States. However, a larger collection of his work is found in his hometown.
Short Break Idea Number 4: Pfanderbahn
Located in Bregenz, Austria, the Pfanderbahn is a cable car excursion ride to the top of Pfänder Mountain, part of the Alps mountain range. Pfänder Mountain rises to the height of 1,064 m, and on a clear day, offers a view from the top of the Swiss mountains, the Black Forest, as well as the Lech Valley and Allgäu Alps. The cable car makes its way along a height difference of more than 600 m in roughly six minutes. Along with the breathtaking views and the exciting ride to the top, activities on and around Pfänder Mountain include several hiking opportunities for day hiking or short strolling in the natural surroundings and cycling trails for those brave enough to tackle the mountain.
Short Break Idea Number 5: Skiing
A short trip gets better with one or more of the many skiing locations available across the country. Sitting at an elevation of 1,004 m, Lermoos is a classic, old-world, ski village at the base of the slopes. This traditional resort is a good fit for beginners and offers breathtaking scenery. Zürs Resort is a high-end French-style resort at a 1,720-m elevation, offering some limited nightlife attractions, but it does have its own ski school and kindergarten. Finally, Bad Gastein is one of the better resorts to try on a short break. The resort is graced with a traditional spa/hotel and offers access to three separate ski areas, Stubnerkogel, Sportgastein, and Graukogel. Both traditional skiers and snowboarders find perfect runs along the ridgelines and down the slopes.
Designing a Short Break with the Help of eBay
Whether you decide to take your short break to Austria or some other location, deals on short breaks can often be found on eBay. Located in the category that deals with holidays and travel, short break ideas can be found by specific destination, or you can simply browse through the available offerings to see what catches your eye. To locate short break opportunities on eBay, enter a search term such as "short break" into the search window at the top of an eBay page, and click the search button. When the results page opens, select the 'Short Break' subcategory. Then just look through the opportunities available.
Everything Needed for Short Break Holidays is on eBay
Regardless of where your short break is going to be taking you, everything you need, from swimsuits to snowboards, is available on eBay. Travel gear, such as luggage and carry-on bags, new clothes and shoes, and even passport holders can be found with a quick keyword search.
Conclusion
Having a chance to get away from one's work and daily routine for a short break holiday is a great thing to be able to do. Visitors can find something for just about any taste and interest in Austria, from the historic churches, mosques, and cathedrals, to the palaces and gardens of past monarchy. A combination of any of these locations is ideal even for a short break. Of course, no trip to Austria can be complete without a trip down one of the many ski slopes along the Alps mountain range, with runs up to 2,686 m. For those with more warmer trips in mind, the country is filled with small towns and villages full of local colour and charm. Many areas have hiking, biking, and camping opportunities that can fill up a short break to Austria.
Austria is a great destination for an exciting and fun-filled short break. And with eBay's large seller network and short break options, it is easy to create an exciting short break to this unique European destination.