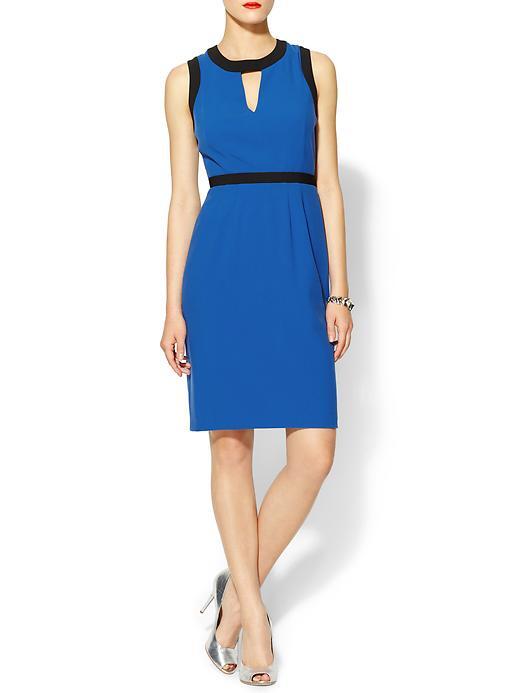 Those of us who feel uncomfortable with the way our arms look are often tempted to conceal them within long sleeves. However, the days of worrying about needing to hide one's arms are over. Talk to any designer, and they will tell you that sleeveless dresses flatter every type of figure.The wearer needs to choose the right type of sleeveless dress that will draw attention away from the arms and towards other parts of the body. Examples of features in dress designs that will flatter the arms include those listed below.There are many tips and tricks that can be used to advantage with these dresses, in order to divert attention from problem areas. It is also important to consider the fabric, pattern, and accessories in the look because these key features can also divert or draw attention in unintended ways if used improperly.
Dress Features
There are several attributes of sleeveless dresses that will draw attention away from the arms and towards other areas of interest. A-line dresses, those with pleats or V-necklines, tailored dresses, and those with narrow or spaghetti straps will add interest to the look and flatter the arms.
A-line
A-line dresses usually have no visible embellishments. This type of dress has a skirt that is pleated or slitted, and is fitted to the upper hip. The top of the dress may have buttons or pockets, and the length of the dress may vary from a mini to below the knee. A-line refers to being fitted from the shoulder area to the hips. The A-line dress may be worn with a shirt underneath or without. This is the most popular style of wedding dress and gives the wearer a streamlined, slimmer look.
Pleats
Pleated dresses are great for all body types. If the wearer has full hips and thighs, opt for a dress that has inverted pleats, or one that has either knife or crystal pleats that begin above the waist. Folds in the bodice will also make this look perfect. Avoid accordion, knife, and box pleats that begin at the waist. This will draw attention away from the arms, but too much attention to trouble areas, such as waist and hips. A dress with all-over pleats is the way to go for most shapes, because this look can create curves for those who do not have them and create a slimming illusion for those with an over-abundance of curves.
V-neckline
A dress with a V-neckline will draw attention away from the arms and to the décolletage area of the body. The V-neckline should be tasteful and not garish. If the V-neckline is too harsh, then it creates a very unflattering look regardless of what type of figure the wearer has. The V-neckline can make a shorter woman appear taller. A V-neckline can also draw attention away from the lower half of the body. V-neckline dresses that have a square neckline enhance the appearance of the skin that is shown. A heart-shaped neckline gives an appearance that is both demure and sensual. V-neckline dresses that have vertical stripes, slenderise the body and create a beautiful silhouette. Beadwork or stripes that extend from the neckline down give the wearer an illusion of height.
Tailored
Tailored dresses are arguably better made to fit the body. A well made tailored dress will fit the upper body like a glove and not leave any gaping spaces under the arms. Gaping spaces under the arms of a sleeveless dress are very unattractive and end up making the arms appear larger than they really are. An arm opening in a dress that fits correctly will be very flattering and cause the viewer to look at other features of the dress that are attractive, such as pleats or neckline.
Narrow or Spaghetti Straps
A dress with narrow or spaghetti straps will draw attention away from the arms and towards the middle portion of the body. It is a fun and fearless look that can be dressed up or down according to necessity. This type of dress can be found in all lengths, from a mini to a long dress that ends at the ankles. A spaghetti-strapped dress with a beautiful neckline can be accessorised with a statement necklace and nothing else.
Best Fabrics
The best fabrics for this type of dress depends on the style that the wearer is purchasing. A pleated dress may look better in one type of fabric compared to an A-line made out of another type of fabric. A-line dresses can be made out of fabrics from cotton to rayon to crepe. The main thing to remember about an A-line dress is that, the less of a pattern, the better the look. The wearer should strive to stay away from large and busy prints. If the wearer must have a printed A-line dress, then choose a smaller print. Prints in muted or pastel colours will not make the pattern seem so overpowering on this type of dress. Pleated dresses should not be made out of lighter materials, such as crepe or silk, unless the wearer is interested in a dress that has all-over pleats. This look is extremely flattering for all body shapes and sizes and should be carried out in a dress that is made of a lightweight material. All other types of pleated dresses should be made out of a more substantial fabric, such as a cotton blend.
Narrow and spaghetti-strapped dresses look wonderful in lovely silk and charmeuse fabrics, which lend an elegant and sophisticated air to the outfit. Tailored dresses look great in any fabric because these dresses are designed to fit the wearer perfectly. V-neckline dresses look great in crepes, with a nice drape, silks, cottons, and many other types of fabrics.
How to Accessorise
Sleeveless dresses are popular to wear for cocktail parties and semi-formal functions. They are also popular to wear casually. Sleeveless dresses vary by colour and material, but the shape and structure of the dress does not change. There are general guidelines for wearing accessories with sleeveless dresses. The goal of accessorising a sleeveless dress is to highlight areas of skin without distracting from the features of the dress or drawing attention to problems areas.
Necklaces
Necklaces are a great asset because of the exposed, uninterrupted neck and shoulder lines. Necklaces should be delicate to draw attention to exposed shoulders. Choker necklaces are an excellent option for long necks, and should be avoided by women with shorter necks. Pendants that hang on thin chains accent the collarbones and draws attention to the centre of the dress and away from the arms. Y-shaped necklaces that feature a chain meeting in the middle of the neck before continuing downwards in one single chain serve to elongate the neck. Large necklaces with beads and bright colours draw attention to the upper portion of the body, including the arms.
Earrings
Long earrings are another option that can eliminate the need for a necklace. Long earrings that hang to the jawline will elongate an exposed neck. Chandelier earrings begin wide and taper to a delicate shape near the jaw line. Dangle earrings feature chains or gems that are suspended and end near the jawline also. These earrings draw attention to the neck, jawline, and shoulders, and away from the arms.
Shoes
The length of the sleeveless dress determines the type of shoe to wear. Both long and short sleeveless dresses can be paired with thin-heeled shoes. For long sleeveless dresses, a sling-back heel with a strap that hooks around the back of the heel will suffice. Peep-toe shoes with embroidery or gemstone details are also an excellent choice. The long dress will give small glimpses of the peep-toe, add some sparkle to the ensemble, and draw attention downward. Shorter dresses also look good with a sling-back heel that wraps around the ankle to add length to the leg and add visual interest to the entire look.
Other Accessories
Sleeveless dresses may be paired with other accessories, such as a shawl or shrug. A simple shawl that drapes around the shoulders will lend an elegant touch to the dress. A shrug will draw attention down to the middle of the dress and away from the arms. Accessorising with a clutch or small purse is also an excellent choice. The shoulder strap of a regular purse will draw attention to the arm and shoulder regions.
How to Find Sleeveless Dresses on eBay
eBay is an excellent source for sleeveless dresses. There are dresses in all colours, styles, and fabrics. To begin searching for sleeveless dresses, go to the eBay homepage. If you are looking for sleeveless dresses in general, enter 'dress' in the search bar. If you are looking for a sleeveless dress with a certain attribute, such as a V-neckline, enter this into the search bar as well. eBay makes it easy to narrow your search for specific colours and sizes as well, making the whole process much easier and faster.
When buying from a seller on eBay, it is important to note the seller's refund and exchange policies before you begin bidding on an item. If you purchase a sleeveless dress and it does not fit or it is not as described, you want to be sure that the seller will allow you to return them for a refund or an exchange. This information can make the difference between a smooth transaction and a headache. If details are not available on the seller's profile or under the item listing, ask them to provide you their policy information.
Conclusion
Sleeveless dresses, when worn with the right attributes, can accentuate and flatter the upper arms. The five main attributes for a flattering sleeveless dress are: pleats, A-line, V-neckline, tailoring, and narrow or spaghetti straps. When wearing a dress that has one of these specific attributes, the wearer will draw attention away from the arm area to other areas of the outfit and body. There are other tricks that the wearer can utilise when wearing a sleeveless dress as well. Accessorising is another way to draw attention from the upper arm to other areas. Necklaces, earrings, shoes, clutches, and shawls or shrugs can be great additions to your outfit and create points of interest. When purchasing a sleeveless dress on eBay, always check out the return and exchange policies of the seller so that you can be sure that you get the type of dress that suits and fits you perfectly.