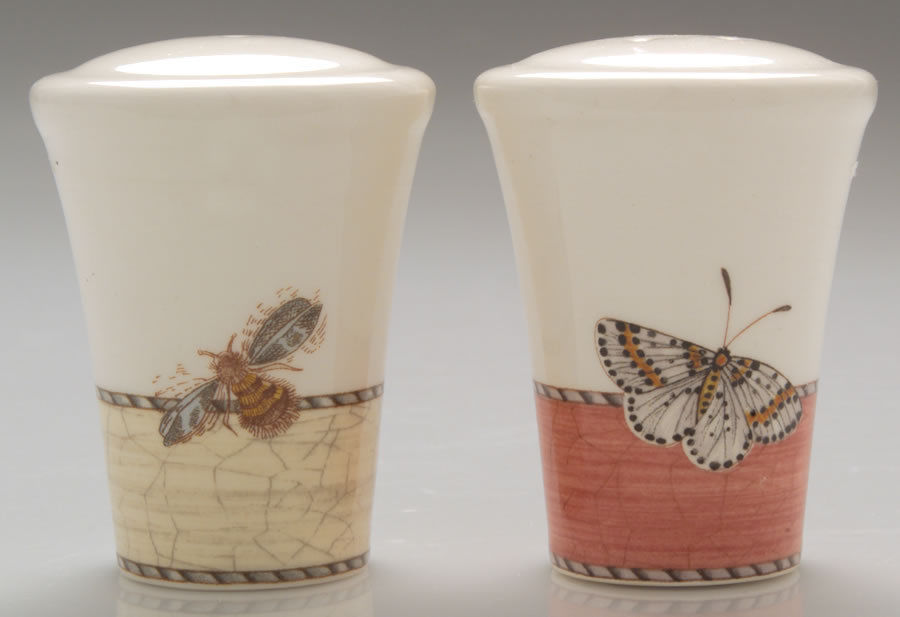 Ceramics make for highly decorative and useful collectables. It is hard not to gather up an entire set in a single pattern or style of tableware. Wedgwood is a ceramic maker that is highly valued and popular in England. Many people love to collect its fine china and stoneware, some of which is over two hundred years old. Cruet sets are a small grouping of ceramics that almost anyone can collect from Wedgwood, or even purchase new for daily use at the dinner table. These sets are created to contain liquids used for dressing, wines, and condiments. They usually match and come with a stand to hold the containers upright. Purchasing any valuable ceramic, like Wedgwood, is a big investment. As such, buyers should keep a few things in mind when considering a purchase. One can find Wedgwood and cruet sets in retail stores, antique shops, through Wedgwood sellers, in online classifieds, and auction sites like eBay.
1. Purpose
When looking for a Wedgwood cruet set, it is important to keep the purpose of the set in mind. Wedgwood was founded in 1759 and it has produced a lot of ceramic between then and now. Today, it is still in existence as Waterford Wedgwood, producing fine quality ceramics and crystals. It is possible to find cruet sets that are over one hundred, even two hundred years old. These are excellent items for collection and decoration, but too valuable for everyday usage. Contemporary Wedgwood makes a better choice for everyday use at the table.
Buyers also need to consider what they want to serve at the table in these sets. Cruet sets can hold vinegar, oil, wine, lemon juice, garlic oil, and other condiments. They are made of a variety of materials which have differing characteristics and purposes.
| | |
| --- | --- |
| Cruet Material | Purpose |
| | Extremely hard, strong, durable; Good for using at a dinner table as it resists wear and tear |
| | Highly decorative, reflective of light; handmade crystal contains small bubbles, cut marks, and other imperfections; breakable |
| | Decorative or practical; clear, lightweight, no imperfections; cheap; breakable |
| | Durable, practical; heavy, usually made in cylinder form; affordable, strong |
Cruets also feature a lid, or stopper of some kind to protect the container's contents. A cruet set commonly comes with a stand of the same material useful for holding the individual containers.
2. Type of Wedgwood
When buying Wedgwood, it is important to remember that there were several types of pottery produced by the company. All of these types of pottery and ceramics were used in making dinnerware and tableware like the cruet sets. These different materials have different characteristics.
Porcelain
Porcelain, mentioned previously, is an extremely hard and chip resistant material made from mixing Kaolin clay with a few other ingredients and heating it to approximately 648 degrees Celsius. This material is the most commonly used for ceramics. It creates a lightweight, thin ceramic ware.
Queensware
A type of earthenware that produces fine, cream-coloured ceramics. It was developed in 1762, and was intended to replicate the look of porcelain. However, queensware was very affordable back then, and used commonly by people of the time. Most queensware features a naturally themed border, such as ivy leaves.
Black Basalt
This type of stoneware is made from a reddish-brown clay that contains iron and is fired until black. Black basalt is not glazed, so it is rarely used for cruet sets. Most black basalt is used for ornamental accessories in the home, such as decorative plates and clocks. One may also see cruet stands or parts of stoppers made with the stoneware.
Jasperware
Josiah Wedgwood developed Jasperware in 1774 as an alternative to porcelain. This material has a fine grain, matte finish, and was usually produced in pale blues, and greens. At the time, Jasperware was considered an inexpensive decorative stoneware, but has come to define the Wedgwood name. Jasperware may be glazed, but is usually seen in a matte finish.
3. Identifying Wedgwood
Another important thing to consider when buying Wedgwood is its proper identification. This is quite necessary when collecting vintage Wedgwood, as the buyer wants to ensure that they get true Wedgwood. An easy way to check the cruet sets is to turn them over and read the maker's mark on the bottom. True Wedgwood is spelled without an "e" in the name. If the name is spelled differently this is an easy way to spot a fake. Over the course of the years, Wedgwood made use of a few different maker's marks. Nearly all of them use the Wedgwood name and list England as its origin. Look for wording like "Wedgwood England", "Wedgwood Made in England", or "Wedgwood of Etruria & Barlaston".
The company rarely used images for its maker's marks. However, they did incorporate an urn into many stamps. One might see a small urn painted or embossed above the Wedgwood name. One may also see just the urn on the bottom or back of smaller, less expensive pieces. Be careful of pieces that have no mark at all. Wedgwood always stamped their pieces, no matter how small or how many in a series.
Wedgwood has been popular for a long time, so there are a lot of reproductions of this stoneware. In fact, it is possible to find a vintage cruet set that is a hundred or more years old, and is actually a Wedgwood reproduction. Before purchasing any piece, be sure to look it up in a recognised publication or website listing many pieces produced by Wedgwood. Look up the pattern on the piece too. Wedgwood is well-known for its use of particular ceramic materials and patterns, such as the Wedgwood Blue made from Jasperware.
4. Condition
Buyers should also pay attention to the condition of the pieces. One has to decide before buying if one wants to find a complete cruet set or simply an individual piece. Whole sets cost more to purchase, as they are more difficult to find undamaged and with all of the pieces. If one is willing to accept some damage, one may be able to find a complete set with one or two chips. An experienced ceramic restorer can repair minor damage so that the pieces look like new.
Always look at each piece in the set from all angles. This can be difficult when purchasing ceramics online. However, one can often find listings with lots of pictures and a detailed description of the set. Look for pictures of the maker's mark on each piece to help confirm it is an original Wedgwood. If the seller does mention damage to the pieces, make sure that pictures of the damage are also provided. The seller's description should contain information about the type of Wedgwood, its pattern, approximate age, list all pieces in the set, any damage, packing materials, and the price.
Scratches and chips do lower the value of collectibles, and hinder the usability of contemporary pieces. It may still be worthwhile to purchase a damaged vintage piece as restoration can help restore its value. This is rarely worthwhile in contemporary pieces, unless they already have a high retail value.
5. Value
As already mentioned, Wedgwood is a company with a long history. Many of its older pieces are considered highly valuable and collectible. Do some research on an older cruet set before the purchase to determine its true value. The seller may have the set undervalued or overvalued. If it is overvalued, one can end up losing money, unless for some reason the market on Wedgwood cruet sets goes up. If the piece looks undervalued, be careful, especially if the price is much lower than the true value. It does happen that sellers do not know what they have, but someone may also be trying to sell a reproduction rather than authentic Wedgwood. Do not hesitate to inquire with the seller to see if the piece is a reproduction.
Buying Wedgwood Cruet Sets on eBay
You can find a practical or vintage Wedgwood cruet set on eBay. Vintage Wedgwood, in particular, is available on this site. To find what you are looking for quickly, consider using the eBay search engine that appears at the top of every page on the site. This engine is easy to use. Just enter in your search term and eBay searches through thousands of listings in a few seconds. The search terms used can be anything related to your product. Look for "wine cruets" or " cruet stands". Since you are searching for a specific item, it should be easy to narrow your listings down to just a few products in moments.
Shipping and Handling
Since you are buying ceramics and other breakable materials, shipping and handling is of vital concern. The seller should state beforehand how they are packing the product and what shipping company is used. You can help ensure that your items spend as little time as possible in transit in searching by postcode. To limit eBay listings by area, click on the "Distance" refinement on the search results page. Select your preferred search radius, and enter your postcode. The site instantly updates the listings to show those within your search radius first.
Conclusion
Cruet sets are designed to hold liquid condiments at the dinner table and are also used during important ceremonies. These sets have at least two containers intended to hold oil and vinegar, wine and water, or garlic and lemon juice. Wedgwood is a producer of fine quality ceramics that got its start in the mid-1700s and still manufacture ceramics and glassware today. When looking for a Wedgwood cruet set, consider the type of material it is made from and the type of stoneware. Wedgwood used a number of different ceramic materials from porcelain to Jasperware, a creation of the company founder. Each material offers its own characteristics from matte finishes to strength and durability.
In shopping for Wedgwood, buyers also want to pay attention to the maker's mark. This is the painted or embossed stamp on the underside of the item that lists the maker's name. Wedgwood primarily used its name and country of origin in stamping, and occasionally added the image of an urn to the stamp. Also, pay attention to the condition of the cruets before purchasing them. Vintage cruets may still hold some value even if chipped or scratched. Wedgwood cruet sets can be found on eBay.