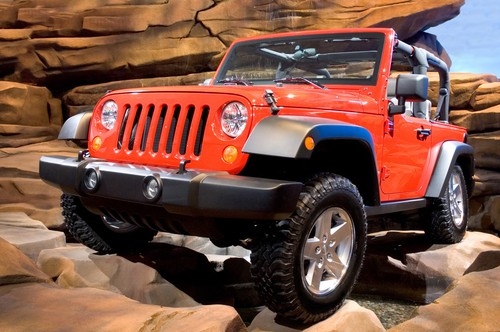 It could be because you want to modify the look of your Jeep Wrangler. It could also be because you need to replace broken body parts on the vehicle. Jeep Wranglers are used to frequent modifications and customised looks. However, Jeep customisations get expensive fairly quickly; the cost of changing and adding body parts to complete the look or design of a Jeep so that it is ready for outdoor adventures are known to cost Jeep owners large sums of money. One way to offset the cost of modifying Jeeps is to buy used body parts for the Wrangler in order to find the same parts at a discounted price. While Jeep owners may have reservations when it comes to trusting the quality of used body parts for Wranglers; however, it is common for owners to resell brand-new body parts when modifying their own vehicle's body, so the trustworthiness and quality of the body parts should not come into question. Buying used body parts of your Jeep can still feel like a big leap of faith; following these five tips can help shoppers make the right choices when buying used body parts for their Jeep Wrangler.
Considerations for Purchasing
To act as a guideline when shopping for used Jeep Wrangler body parts, these five tips give shoppers the confidence to browse stores, both physical and online, for used parts. Soon, the Jeep Wrangler can be remodeled and ready to rumble.
1. Know the Body Parts for a Jeep Wrangler
Before browsing the stores or the Internet for used body parts, understanding what body parts make up a Jeep Wrangler and what can be modified are the first steps. Like every other vehicle, the body of the Jeep Wrangler can be modified with body kits, changes of side mirrors, headlights, and bumpers, to name a few. Beyond the basics, Jeep Wranglers can also be customised to become more unique as a Jeep; many owners change the hood, the type of shell covering the windows and hood, add floodlights, add bumper guards, with more possibilities. By first having an idea of what you want to do to your Jeep, you can estimate the cost of the parts needed and determine which used body parts you want to buy and install first.
2. Minimize the Risk of Buying Damaged Body Parts
When shopping used products, regardless the genre, there is always the risk that the item could be damaged and have inferior quality compared to a new item. However, many times the fact that purchasing a used item for a significantly cheaper price is just too good to pass up. Used Jeep body parts is not an uncommon occurrence, as Jeep owners frequently disassemble the parts from the vehicle to modify their own car. Once accepting the fact that the products they want to buy are used and not new, shoppers can take steps to mitigate the risk of buying any damaged used body parts by researching the products they wish to purchase extensively and determining the trustworthiness of the seller from which they are buying the products. The reputation of a seller is incredibly important when it comes to buying used body parts for your Jeep Wrangler. Whether the used parts are bought in a brick and mortar store or online using eBay, the reputation of a merchant is easily identifiable based either on the online reviews of a store or the feedback of an eBay seller left from past customers. By researching the seller, one can determine the likelihood of purchasing an item of quality from the seller. For those who are known for excellent customer service and quality used items, buying used body parts for your Jeep from them is likely to be a smart decision.
3. Buy Body Parts to Match the Colour of Your Jeep Wrangler
When buying used body parts, whether in stores or online, it is frequently the case that items may be a faded colour compared to that on your Jeep Wrangler. The used body part may either be a different colour completely, a faded paint, or a faded black from time and wear. However, there are also used body parts on the market that have barely been used and barely seen the sunlight; shoppers can find these if they purposefully look for them. This prevents any strange discolourations when looking at the Jeep, and taking this step can save Jeep Wrangler owners plenty of money on post-modification detailing or a new paint job.
4. If There are Two of Each Body Part, Buy Two Replacements to Match
Sometimes, a side mirror is broken off and needs to be replaced, or a headlight is broken that needs the glass on the surface intact. In any case where the body part to be replaced is just one half of the duo, it is highly recommended that used parts be purchased to replace both sides in the pair. This not only maintains a look of uniformity on the bike when looking at it, but by buying two replacements instead of one also ensures that the body parts share similar life spans. For instance, replacing both headlights increases the odds that the lights will go out at around the same time, rather than needing to replace the other headlight just several months later. When purchasing two replacements for body part pairs, the owner of the Jeep Wrangler is being pre-emptive and coming up with solutions for a more beautiful Jeep renovation.
5. Find the Best Deal for the Lowest Price
Lastly, and perhaps most importantly, the key to buying used body parts for your Jeep Wrangler is to use the resources to your advantage in order to find the best quality product for the lowest price. Car owners purchase used body parts in order to save money; so, buying used body parts for your Jeep shows that you care about saving money. The best way to find the best deal or lowest price is to compare prices when shopping for used body parts for your Wrangler. This can be done in most instances, from meeting in-person to comparing eBay prices with other online stores. The best deal is not constrained to just the lowest price; quality in the product is still equally important. So, when comparing prices, it is also recommended that the product's quality be taken into account simultaneously with the price. It is also helpful for shoppers to set a specific budget or price range for the project that requires used body parts. By establishing a budget, shoppers can stay financially prepared to undertake the costs of a modification project, and buying the more expensive used body part because it can add higher value to the Wrangler than the other options becomes less of an issue.
Finding everything you need for your Jeep Wrangler is not the difficult task; it is finding the right parts used and in good quality that may require a little more leg work. Fortunately, following these tips helps minimize the problems associated with purchasing used products, and finding the right used body parts for a Jeep Wrangler is made a little easier when shopping on eBay.
Buying Used Body Parts for Your Jeep Wrangler on eBay
When modifying or repairing your adventurous vehicle, finding all the used body parts you need is only a couple of clicks away. While shoppers can look for what they need in stores, buying online is the best option when it comes to used products at a competitive price and good quality rating. The website eBay offers its users to ways of searching its large database to find exactly what they need for the Jeep Wrangler: the search box and eBay motors. The search box is found on every page at eBay, and the shopper can insert any keywords like 'used Jeep Wrangler headlights' or ' used Jeep Wrangler door' to find the used body part one needs to customise their vehicle. The search results can be further honed down when a price range is specified, among other filter options. The other option for eBay users is eBay motors, a search tool that first asks that shoppers specify the year, make, and model of their Jeep Wrangler before searching for used body parts on the database; this ensures that all search results are compatible with the vehicle before deciding to buy it. eBay motors is an excellent way of browsing eBay and making purchasing decisions with confidence that the used parts can work on one's vehicle.
When shopping online for used body parts for your Jeep Wrangler, it is important that shoppers research the feedback of the seller left from previous customers. The feedback tells tentative customers everything one needs to know about the seller before deciding to make a purchase. With feedback, past customers can give the seller a rating and describe in detail their shopping experience and satisfaction with the product. This feature is particularly helpful when shopping for used body parts, as the reliability of the seller makes or breaks the purchase of a used item.
Conclusion
Turning a Jeep Wrangler into a vehicle that is more unique like you are does not have to be as notoriously expensive as Jeep modifications are known to be. By ordering used body parts, whether in brick and mortar stores or online, Jeep owners save plenty of money by not buying parts in mint condition. Since Jeep owners frequently modify their vehicles to change the look and function of the vehicle, a lot of the used body parts on the market are pretty much new; besides, Jeep Wranglers, known to be adventurous vehicles, are not meant to be in mint condition for long! When browsing stores and the Internet for used body parts that one may need in the Jeep Wrangler makeover, shoppers can follow a few tips when it comes to buying used parts. Minimizing the risk that one might face when ordering used parts is a must, and shoppers should know the body parts they need before shopping to save money on mistake orders. Shoppers should also ensure that the colours of the used body parts match the new Jeep Wrangler's body, or else a paint job may have to be performed after installation of the used parts. When replacing one of a set of body parts, such as headlights, owners should replace both. Lastly, shoppers should compare prices of used body parts as well as compare quality of products. By knowing what to look for, Jeep owners can save money on the modifications by buying used body parts on eBay.