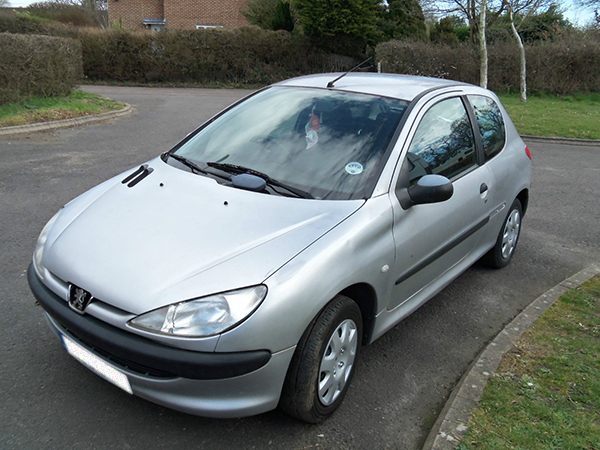 The Peugeot 206 is a popular compact car that sold around the world from 1998 to 2010. It was ahead of its time in many aspects because it handled superbly, was built with high quality materials, and it had a unique design with asymmetrical angles that had yet to be seen. Even on rough Australian roads, the Peugeot's suspension still proved itself to be equal to the tasks. The French engineers made it their goal to produce a car that provided its drivers with a relaxing travel experience, and they succeeded. Over half a million of the 206 cars have sold in the UK alone. With all of the style and engine options, it is easy to find a Peugeot 206 model that is perfect every person's specific needs.
The used Peugeot 206 models are hatchback cars that come with either three or five doors. They are considered to be compact cars, so their interior is a little cramped, but still rather comfortable. The engines are not known for being anything but sluggish, but the diesel versions offer a decent amount of power. However, despite these few drawbacks, the 206 is a good buy for those who want the best value possible for a lower price. In order to find a used Peugeot that buyers can be satisfied with, they just need to learn a few basic tips on purchasing used cars.
History of Peugeot
As a manufacturer that has been in existence since 1810, Peugeot has a rich history in the automobile industry. The company is not only the second largest auto manufacturer in Europe, but they are also one of the largest ones in the world.
The Peugeot family founded their company in 1810, but did not begin making automobiles until 1891. Ten years after which, the Peugeot company was producing 300 cars. One of the largest and most notable contributions that they made to the automobile industry during this time was the invention of tyres. In an attempt to make their cars more comfortable, they decided to cushion the wheels with rubber. As a result, Peugeot was the first company to use rubber tyres.
When the great depression hit, auto manufacturers around the world began to suffer. Due to billions of people losing their jobs, hardly anyone was buying cars anymore. To combat this issue, Peugeot designed and sold the 201 model, which was the cheapest car on the market during that time. It was this low-cost vehicle that helped the company survive during those tough years while all of the other businesses were closing.
5 Tips on Buying a Used Peugeot 206
Since brand new cars lose around 15 to 30 per cent of their value in the first year, getting a used vehicle is a much more financially sound decision. However, shopping for one involves a lot more than taking a trip down to the dealership and telling them to order you one. There are multiple things to consider when trying to find a used Peugeot 206 to buy.
Tip 1. Look up the Peugeot 206 Ratings
Every vehicle is evaluated by owners and professionals and then given a specific rating in each area. Since there were many models of the Peugeot 206, be sure to look up the ratings that the models you are interested in received. The chart below lists the overall evaluation of the entire Peugeot line.
| | | |
| --- | --- | --- |
| Area of Review | Rating | Description |
| | 7 out of 10 | The front seating provides an average amount of comfort; however, the lack of ability to adjust the steering wheel and driving position means that some drivers may not find the ride very comfortable; on the models with rear seating, passengers often end up feeling cramped in the back; the 206 does have a quiet cabin that keeps the wind and road noise levels to a minimum |
| Controls and Display | 7 out of 10 | The instruments and controls in the 206 have a sporty look that is very appealing; some models have red lighting behind the buttons which gives the interior or unique look; everything is also marked and organised in a way that is easy to use and understand |
| Cost | 9 out of 10 | One of the biggest draws to the Peugeot 206 is its affordability; this vehicle is saves money numerous ways: it initially costs less to buy, maintenance is affordable, and insurance bills are low |
| Driver Appeal | 7 out of 10 | The Peugeot 206 is a very fun car to drive; the cars accelerate well but have a good balance between practicality and entertainment; handles well over rougher roads; long trips are easy to make; the car has a good amount of grip that allows it to make tight turns and fast swerves without a problem |
| Family Appeal | 6 out of 10 | Since the 206 is a compact vehicle, it is not necessarily practical for families; the rear seating is not spacious enough to seat taller children, and if a car seat was placed up front, and adult would be forced to sit in the cramped rear area |
| First Car Appeal | 9 out of 10 | Because of its affordability, unique looking design, and fun ride, this car is very popular among first time car buyers who do not have a family to transport |
While looking at consumer reviews and ratings, keep in mind that many of the evaluations are based on opinion. Even if a professional claims that the car is lacking in a certain area, an individual may completely disagree. For example, some say that the front seating of the 206 is uncomfortable due to the lack of adjustability. However, others may find that the seating arrangement is more than satisfactory.
Tip 2. Establish a Budget for the Car
According to research, around 70 per cent of automobile owners finance their vehicles. Getting a loan can make it more tricky to set a price range for the car because buyers have to decide how much they can afford to pay monthly. When setting up a budget, be sure to include all of the other extra costs that come into play when owning a car.
* The monthly cost to maintain insurance
* The cost of road tax
* The estimated cost of petrol used monthly
* The maintenance costs such as oil changes
Tip 3. Have the Used Peugeot 206 Inspected
Whether the car is one year old or six years old, it is very important to inspect it thoroughly. Some people feel confident enough to do this themselves, but it is never a bad idea to have a professional mechanic look at the vehicle as well. There are many problems that could be hidden from view that can cause major problems later on. Some sellers even cover the cost to have the car checked out by an auto repair shop.
Tip 4. Learn as Much as Possible about the Car's History
A vehicle that has been in an accident most likely had more damaged than the body. An impact has an effect on the entire car, not just the area that got damaged. Obtaining the car's Vehicle Status Report is one way to make sure that the car has never had any major issues.
Tip 5. Bargain Shop
It is easy for shoppers to get excited about the first car that they test drive. However, there are probably hundreds of Peugeots for sale in the area, and there could be better deals available. Look at as many cars as possible in order to find the best vehicle for the lowest price.
How to Shop for a Used Peugeot 206 on eBay
With technology as advanced as it is today, most people now do all of their vehicle buying and selling online. It is actually much easier to do it now, over the Internet, than it was years ago when the only way to find cars was to go to a dealership or read the ads in the newspaper. Now you can just go to the eBay site and look for anything you want, including cars. Just use the search bar by typing in the product name, and clicking on the "search" button. For example, if you enter "Peugeot 206", eBay compile a list of all the Peugeot 206 cars that are for sale in the country. Naturally, most people do not want to go travel all over the countryside looking for a car, so you can fix this problem by sorting the listings to show the nearest ones first.
Conclusion
Of all the vehicles that the Peugeot manufacturer has made, the 206 is still their best seller car in the company's long history. On auto sale sites, the 206 is the most searched for car because it is far more affordable than other vehicles on the market and yet it still offers a lot of value to buyers. The car has a fun exterior and interior design, and there are several body styles and engines to choose from. The process of buying a used Peugeot is no different than it is for any other kind of vehicle. However, Peugeots are so common, that finding one that's perfect for the buyer is easier than it is with the less common cars. Buyers simply have to take a few precautions in getting the vehicle inspected and making sure that they are staying within their set budget.