A
waterproof digital camera
is not always needed, but if you are going to be at the pool or the beach, you'll definitely want one. You may not plan to go into the water with the camera, but if you are wet when you use the camera, you don't want to ruin it. Kids are also notorious for splashing water in places you do not want water.
If you go out on a boat or have the opportunity to go snorkeling, you will be very glad you have a waterproof camera. I got some awesome shots of turtles in Hawaii because I had a waterproof camera with me when we were snorkelling.
Waterproof Digital Camera Comparison
Camera Screen Size Megapixel
Zoom Video
TG-830 3" 16 mp 5x optical
4x digital 1920x1080
AW100 3" 16 mp 5 x optical 1080p
D10 2.5" 12.1 mp 3x optical
4x digital 640x480
DMC-TS20 2.7" 16.1 mp 4x optical
4x digital 1280x720
DSC-TX20 3" 16.2 mp 4x optical
16x digital 1920x1080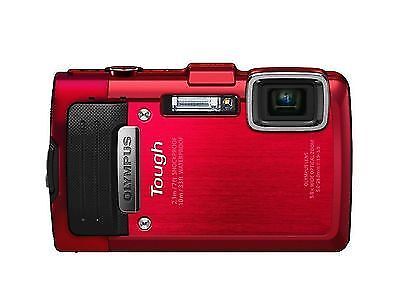 Olympus Tough TG-830
The
Olympus Tough TG-830
waterproof camera is 16.0 megapixel with 5x optical and 4x digital zoom. It is a point & shoot camera so it's very easy to use.
You can take 720p HD videos with a frame rate of 120 frames per second. The 3" screen will make it easy to see underwater.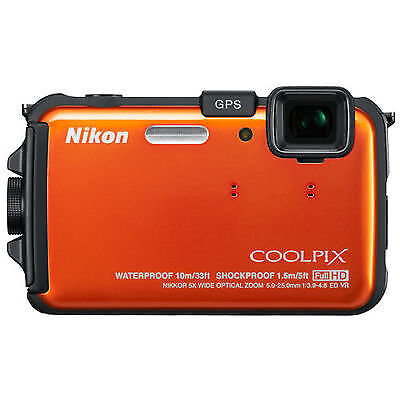 Nikon Coolpix AW100
The
Nikon Coolpix AW100
is not only waterproof, but also shockproof and freeze proof. It is good up to 33 feet in the water, as cold as 14 degrees F and if dropped up to 5 feet. That sounds like it would survive most families.
It has 16 mp with 5x optical zoom. It also has a GPS and e-Compass so your photos will be tagged with the location. With accessories, you can mount this camera to a surfboard or helmet and take great action shots.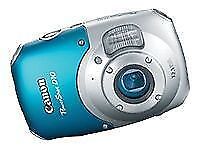 Canon PowerShot D10
The
Canon PowerShot D10
is a smaller waterproof digital camera with not a lot of extra features. This is the perfect camera for someone who is not sure if they need a waterproof camera so you are not ready to invest a lot of money.
You can try a waterproof camera and see how often you use it. If you find that you are using it a lot and want to upgrade, sell it on eBay and upgrade to one of the more advanced waterproof digital cameras on this list.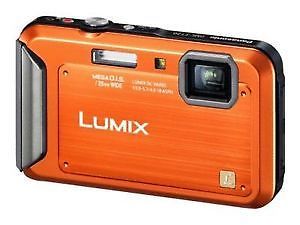 Panasonic LUMIX DMC-TS20
The
Panasonic LUMIX DMC-TS20
waterproof digital camera with a 25mm wide-angle lens that will help in getting great landscape or underwater scape (is that a word?) photos.
With the image stabiliser, your images won't have that blurry look.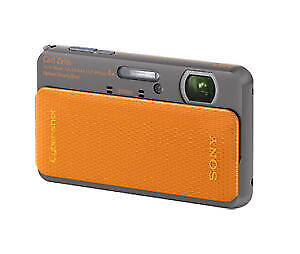 Sony Cyber-Shot DSC-TX20
The
Sony Cyber-Shot DSC-TX20
is a 16.2 mp waterproof camera with 4x optical and 16x digital zoom. With the 16x digital zoom, you can get great close-up shots.
The 3" screen is also touchscreen so you can touch where you want to focus the camera. The TX20 comes in a variety of colors. It also has an interesting way of covering the lens. There is a panel that slides up and down to protect the lens.