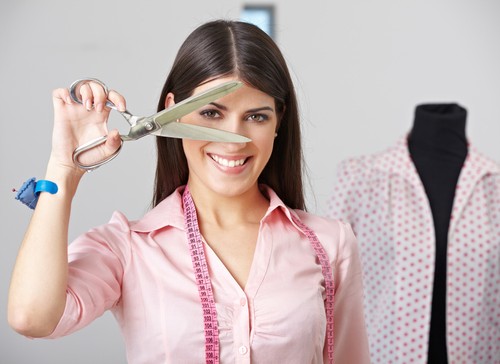 Most women own at least one T-shirt and many women only wear these shirts when laying around the house or on laundry day. While the T-shirt is best known for its comfortable and casual appearance, there are a few things women can do to dress up the look. By simply making a few changes to the outfit, women can appear fashion forward rather than like they rolled out of bed and threw on the first clean garments they could find. Adding accessories and other layers of clothing to the outfit are usually the simplest ways to dress up a T-shirt, but deciding how to wear the shirt and which bottoms and shoes to go along with it are equally important. With five quick tips, women can learn how to transform one simple T-shirt into several dressy outfits. Women who need to shop for T-shirts and other accessories can find everything they need on eBay.
1. Wear Layers
Wearing layers can be a hard style to pull off, especially when it's hot outside. When it comes to dressing up a T-shirt, layers can be a simple way to add style to a plain outfit. Covering up the T-shirt is often the simplest way to make it appear dressier than it is. Sweaters, jackets, and vests come in multiple designs to make the outfit more interesting. Women should be careful to avoid over-layering and make sure they are dressing appropriately for the season and the weather.
Jumpers
If it's chilly outside, then a sweater is a quick and easy way to dress up a T-shirt. A cardigan has long sleeves and buttons or zips up in the front. For a simpler and dressier look, shoppers should wear cardigans over solid coloured T-shirts, but cardigans can also dress up a casual graphics tee for a unique look. For a slight accent, women can opt for a shrug, which adds a dash of colour over the shoulders of the wearer. If the weather is too hot for a jumper, then a woman can simply tie the jumper around her waist to make the T-shirt and jeans look more interesting.
Jackets
Jackets have the ability to dress up a T-shirt more so than a sweater. A blazer dresses up a T-shirt and also adds a youthful and professional look. While a blazer doesn't have the ability to dress a T-shirt up enough for a business meeting, it does make the outfit classier. In particular, a boyfriend blazer turns a plain outfit into a casual-chic outfit. The sleeves can be rolled up for a more laid back appearance.
Vests
When it comes to dressing up a T-shirt with a vest, it is important to keep things simple. The style works best with a light coloured T-shirt and a dark coloured vest. Women should avoid vests with designs or multiple colours. Instead the vest should be dark blue, black, grey, or even have a simple pinstripe design. A fitted vest that is buttoned up has a more girlish-look and instantly makes a T-shirt dressier. While a boyfriend or loose vest makes the outfit more interesting, it doesn't show off a woman's curves or dress up the casual style.
2. Be Sparkly
Sometimes the easiest way to dress up a plain and boring T-shirt is to pair it with another item of clothing that is dressier or more interesting. A sequin skirt or a brightly coloured pair of pants can instantly changes a casual T-shirt into a chic outfit. A short and fitted skirt shows off a woman's curves for a more feminine look. Additionally, a smaller skirt can balance out a loose-fitting shirt for a more even appearance.
3. Put on a Belt
A belt is a simple fashion accessory that can be worn to dress up a T-shirt with a pair of jeans or other pair of slacks. Belts can be worn with trousers even if there are no belt loops. Chain or other metal belts can be worn loosely over a large shirt to bring in the waist and add style to the outfit. Skinny belts can give the outfit a vintage look while wide belts can bring in the waist to give women a slim and balanced figure.
Wearing a T-Shirt as a Minidress
If a woman has a large or oversized T-shirt, then she can use a belt to turn it into a minidress. The T-shirt doesn't have to be plain and even graphic tees can be turned into a fashionable dress with the addition of a belt. One of the biggest advantages to this style is that the wearer gets to determine how the dress falls simply with the placement of the belt. A wider belt worn around the waist makes a fuller figure seem slimmer. A skinny belt worn low around the waist adds the appearance of curves to a straight figure by emphasising the waist.
4. Add Accessories
Accessories can be added to any outfit to dress it up and make it more interesting. This is no different when it comes to a plain T-shirt. Women can completely control the style they're going for by carefully choosing the accessories that are worn with the outfit. Jewellery, scarves, and handbags are just a few of the accessories that can be used alone or together to dress up an outfit with plain or graphic tee.
Jewellery
Chunky necklaces or long beaded necklaces are great for drawing attention away from the T-shirt and to the neckline instead. Wearing a gold necklace makes the T-shirt seem more elegant. While a brightly coloured chunky necklace makes the outfit more fun and exciting. The same holds true for large, dangly earrings. These draw attention to the ears, balance the outfit, and dress up the outfit without having to wear large and cumbersome jewellery.
Scarves
A scarf is a simple accessory that transforms a T-shirt from casual to chic. In the winter, women can find several thick wool and knitted scarves to keep them warm and add an interesting design to the outfit. An organza scarf can be worn any time of year and come in a wide variety of colours and patterns. Additionally, the way that this type of scarf is worn changes the style and gives women several fashion options. Organza scarves can be worn over the shoulders, tied around the neck, or even wrapped around the waist like a belt.
Handbags
Handbags are not only functional, they are fashionable. Women should choose handbags to match belts, shoes, and other accessories to tie all of the elements of the outfit together. Wearing a T-shirt with several accessories and handbags that don't match creates a shabby and overly casual look. Matching items instantly dials up the class and makes the outfit dressier. An oversized bag makes a woman look trendy even when wearing an outfit as simple as a T-shirt and denims.
5. Focus on Shoes
Shoes are the one piece of an outfit that can dictate how casual or dressy a woman looks. Wearing a pair of flip-flops or trainers makes a T-shirt and jeans looks simple and boring. To dress up this outfit, women should look for a pair of high heels. The lift of the shoes makes the legs look more flattering and makes the woman appear more feminine. Additionally, women can find heels in a variety of colours, styles, and patterns to make the outfits more interesting. Pointy heels make women appear more fashion forward, but open toed heels allow women to show off their freshly painted toes. Either way, a nice pair of heels draws attention away from the casual look of a T-shirt and focuses on the classy appearance of the shoes.
Shopping for T-Shirts and Accessories
For the most part, you can use accessories and other elements from your wardrobe to change the dress up the appearance of a T-shirt. Any women's clothing store, vintage shops, and thrift stores will have the pieces you need to redefine your look. If you are not happy with the selection of T-shirts and accessories in the local shops, then you can multiply your options by shopping online. eBay is an online marketplace that allows sellers to list their new and used items for buyers like you to shop for at prices well below retail. Additionally, with millions of items to choose from, you're sure to find just the item you need.
Finding T-Shirts and Accessories on eBay
The most direct way to find the items you're looking for is to enter keywords into the search bar that is located on every eBay page. This feature brings up all listings that include the keywords that you entered. Additionally, the Advanced Search feature allows you to perform a more refined search for T-shirts and accessories. You can perform a keyword search on the home page or using the search bar on any page on the website. The results page lists various options that allow you to filter the listings. This helps you to hone your search. For example if you enter "cardigan" into the search bar and hit the 'search' button, all the cardigans posted for sale will appear. Sort the listings, first by gender, and then by style, condition, brand, and main colour. You can also specify the length and material.
Conclusion
Some women are more comfortable wearing a T-shirt than a blouse or a dress. Unfortunately, a T-shirt is often too casual of a look for many occasions. The good news is that women can keep their T-shirts and dress them up in several ways to redefine their own personal styles. Sometimes dressing up a T-shirt is as simple as throwing on a cardigan or adding a fun necklace to an outfit. Other times, women can completely transform the T-shirt into a new outfit by wearing it as a dress. The way in which the T-shirt is worn as well as the accessories added to the outfit from head to toe dictate how dressy or casual the T-shirt looks. With just five simple ways to dress up a T-shirt, women will find that they can show of their personal style without having to give up the comfort of a plain and casual tee. Women who are looking for a new T-shirt or shoes and accessories to dress up an old T-shirt will find everything that they're looking for by shopping on eBay.