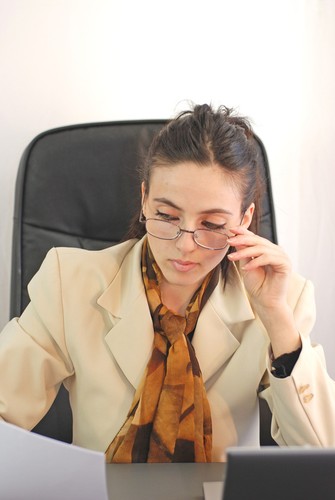 A women's suit is something that nearly all women can find a place for in their wardrobes. These functional and stylish outfits can be dressed up for formal occasions or dressed down for business purposes. Because suits are garments that are traditionally worn by men, it can be hard for women to show off their femininity while wearing one. Suits can be feminised by simply choosing the right accessories to accent the outfit or selecting a shirt that has more feminine qualities. Additionally, simply choosing a suit that fits properly, emphasises a woman's shape, and eliminates harsh straight lines in the figure can go a long way in changing the appearance of the suit from masculine to feminine. Whether shopping for a new suit or looking for accessories to go along with a suit already in the wardrobe, shoppers will find women's fashion items, new and used on eBay.
1. Wear Jewellery
Wearing jewellery with a women's suit is one of the simplest and quickest ways to give it a more feminine look. Whether wearing gold and silver jewellery or colourful and fun costume jewellery, these pieces soften the masculine appearance and harsh lines that are common to suits. When choosing jewellery to wear with a suit, women should be sure that it not only matches the outfit, but is also appropriate for the event or occasion in which it will be worn. When wearing a suit for an important business meeting, simple and tasteful jewellery is preferred. These add a bit of sparkle and femininity while still maintaining a professional appearance. A woman who is wearing a suit to a formal event in the evening should look for large cocktail rings or brooches. These pieces of jewellery add fun and flare to the formal business suit.
2. Replace the Buttons
Women who have craft skills can make changes to the suit itself in order to feminise it. One way to make the suit appear more feminine without requiring extensive sewing skills is to replace the plain buttons with pearls or other stones. These buttons can be used in place of wearing jewellery, or they can be chosen to match the other jewellery being worn with the outfit. This subtle change is enough to downplay the masculine appearance of a suit without having to go overboard with girly accessories.
3. Wear a Flirty Shirt
Another simple way to feminise a women's suit is to wear a feminine, fun, and flirty shirt. Though a plain starched shirt might have a more professional or traditional appearance, it is not doing much to help a woman emphasise her feminine qualities. If the occasion permits, women should try replacing the traditional button-up shirt with a blouse that has a plunging neckline. Additionally, women can wear shirts with more interesting necklines that are not quite as revealing. However, neither of these options is truly appropriate for an office setting. When a more conservative look is required, women should stick to a button-up shirt with a collar. Instead of going with a plain white shirt, she should choose a more feminine colour, like light pink or yellow.
4. Carry a Fun Purse
When selecting accessories to go along with a suit, women should consider the type of purse they carry. A woman who carries a briefcase or other gender neutral bag should think about carrying a smaller purse instead. While a briefcase might be convenient to carry for work, it has a traditionally masculine appearance because of the straight lines and sharp corners. A smaller bag with round edges has a soft and more feminine appearance.
A clutch is a small purse that is often carried by women to formal events. These purses come in a wide range of colours and styles to match any woman's unique style. A clutch that is colourful, is embellished with rhinestones, or otherwise decorated gives the carrier a more feminine and fun look. She can also easily put the clutch aside when she needs to appear professional. Because these purses are just large enough to hold essential items, like money, identification, or lipstick, they can easily be stowed inside a briefcase to carry as needed.
5. Wear More Feminine Shoes
Around the office, a woman might wear flats or a simple pair of black court shoes with her suit. To dress up the suit and make it more interesting, she should consider a pair of strappy stilettos, heels decorated with rhinestones, or even a pair of open toed heels. These not only feminise the suit, but also make the woman appear fashion forward by wearing a less traditional and more modern look. Women should avoid wearing shoes that are brightly coloured or have distracting designs. These types of shoes become the focal point of the outfit and will clash with the professional style of the suit.
Tips for Choosing a Women's Suit
Accessorising a suit can only take a woman so far when trying to achieve a feminine look. The suit that a woman is wearing should fit well, have a flattering appearance, and complement her figure. Playing up a woman's own physical qualities will do more for enhancing her femininity than any accessories or shoes would. Some things shoppers should consider when looking for a suit are the colour, type of skirt, and jacket fit. Shoppers who have found a design they love that doesn't have quite the perfect fit can take the suit to a tailor to have it altered if necessary.
Opt for Conservative Colours
Conservative colours and designs are the ideal choices for a women's suit. Colours like black, navy blue, and grey are versatile and can easily be matched with different shirts and accessories to go along with any occasion. While suits are available in a rainbow of colours, solid and conservative colours always appear professional and make a woman look sharp and sophisticated. Furthermore, these conservative colours are appropriate for women to wear in all lines or work.
Choose an A-Line or Pencil Skirt
A-line or pencil skirts can be worn by women of all body types. A skirt is obviously a more feminine choice than trousers. The wearer gets to show off her legs at the same time. The length of the skirt should be tailored to go along with the woman's height. If the skirt is too long, the woman will appear shorter, but a skirt that is too short can be distracting. Ideally, the skirt should fall just above the knee. This length combined with the straight lines of A-line and pencil skirts confers a slimming and heightening effect on a woman's figure. This can further be enhanced by wearing high heels which are known for elongating the legs for a more flattering appearance.
When searching for a skirt that is the proper size, there should be enough room to comfortably fit two fingers between her waist and the waist of the skirt. This gives her plenty of room to move around, wear the skirt comfortably, and eliminates the unattractive muffin top that occurs when the waistband is too tight. When taking measurements for a skirt, women can add 2.5 cm to the waist measurement to find the proper size.
Consider a Fitted Jacket
A fitted jacket that is tailored to suit the woman's body helps to accentuate the woman's curves and play up her figure. Shorter women should choose a jacket that has a shorter length and falls right at the waistline. This elongates the torso and adds height to make her appear taller. Taller women and those with fuller figures should opt for slightly longer jackets that fall around the waist. Additionally, large collars and lapels are ideal for tall women to ensure that their figures appear proportional. Sleeve length is also important when shopping for a suit jacket. Sleeves should reach the wrist, but should not cover the hand. A proper fitting suit jacket helps to feminise a suit by simply complementing the woman's curvaceous figure and eliminated harsh straight lines associated with a men's suit.
Alter the Suit
All women have different body shapes, which can sometimes make it hard to find a suit that fits perfectly right off the rack. This is especially true when women buy both the skirt and the jacket as a pair rather than mixing and matching the jacket and skirt sizes to accommodate their own body shapes. A tailor has the ability to take in and let out the suit as needed for a more comfortable and attractive fit. The price for this service varies depending on the amount of work that needs to be done, the style of the suit, and how it is constructed. Shoppers should take the cost of alterations into account when considering the overall price of the suit.
Shopping for a Women's Suit on eBay
If you're looking for a women's suit to add to your wardrobe, you can shop for both new and used suits. Many used suits are still in good condition and can save you quite a bit of money when shopping on a budget. To further reduce the amount that needs to be spent, keep in mind the garments and accessories that you already have in your wardrobe. Shopping for suits that go along with the items you already have in your closet means that you won't have to invest in additional clothing to feminise your suit. Shopping online gives you a greater selection of suits and accessories to choose from. eBay is an online store that allows you to search through thousands of new and used items from home.
Finding a Women's Suit and Accessories on eBay
When shopping for suits on eBay, use the search bar on the page to enter keywords to describe what you're looking for. Include the colour, size, brand, material, or any other information that can help you find what you are looking for. For example, by typing a description like "grey three-piece business suit" into the search bar, this action will call up a results page with all of the listings that fit that description. Refine the results by applying different filters to the search results. You can sort the listings by size, brand, and material. For a more focused search on a specific item, use the Advanced Search feature.
Conclusion
A suit that fits properly and is worn correctly can look stunning on a woman without sacrificing any of her feminine qualities. Since suits were predominantly worn by men in the past, women may have trouble avoiding a masculine look when wearing one. This does not have to be the case, and when women know how to choose a suit and what to wear with it, they can look feminine while maintaining a professional appearance. There are many things a woman can do to feminise a suit, ranging from choosing the right jewellery to wear around her neck to the shoes she wears on her feet. While adding girly accessories can help, wearing a suit that perfectly complements her body shape can go a lot farther. Whether looking for suits and accessories to wear to the office or to a formal event, shoppers will find everything they need on eBay.