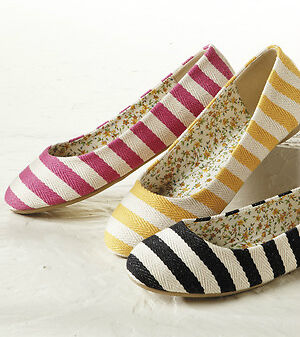 Ballerina flats are versatile shoes that may be worn all year round with a wide range of outfits for almost any occasion. Women who want ideas on how to wear their ballerina flats or what types of ballerina flats to purchase can find five unique style ideas in this guide. Buyers can find out the ways to style ballerina flats with a dress or with skinny pants as well as how to use ballerina flats to dress up an outfit. Women can also discover different ways to style the classic black ballerina flat and how they may wear ballerina flats with shorts or a mini skirt.
Ballerina flats are sold in women's shoe stores as well as most department stores. For top quality designer brands, buyers can head to their chosen high street store of choice. One can also find a wide range of ballerina flats online at sites such as eBay. At this auction website, buyers can find varied styles, colours, sizes, and brands of ballerina flats that accommodate different tastes and budgets.
Style 1: Ballerina Flats with Dresses
Ballerina flats feature flat soles with no heels. For this reason, they can make a woman look short. In order to counteract this, ballerina flats should ideally be worn with dresses that sit at or above the knee. The only exception to this rule is when wearing a long empire line dress. The empire line helps to elongate the body, especially the legs, and a cute pair of plain coloured flats can work with this type of longer length dress. Wearing any other type of long dress, such as a flowing summer maxi dress, with a pair of ballerina flats creates a frumpy silhouette.
Ballerina flats need not be worn only in the warmer summer months. Women can try pairing flats with stockings and a knee-length dress for added warmth. With a dark outfit worn during autumn or winter, one can try a bright coloured pair of ballerina flats, such as a pair of red flats or pink flats. In this way, a woman can easily add a splash of the in-season colour to her otherwise dark outfit.
Tall women who want to take attention away from their height and appear shorter are able to benefit from wearing ballerina flats. They may wear their flats with basically any outfit they choose.
Style 2: Ballerina Flats with Skinny Pants
It is a common sight to see images of celebrities wearing cute skinny jeans or leggings with a pair of ballerina flats. Celebrities favour this look because the combination works well. Showing the contour of one's legs helps make legs look longer, and this looks good with ballerina flats. Skinny jeans and a tailored jacket or summer blouse are a great match with a cute pair of summer flats. For a warmer outfit, try an oversized knitted jumper and a pair of leggings with some dark ballerina flats or even beige flats.
If one is looking for newer styles, pair ballerina flats with cropped pants or capri pants. The more tailored the pant leg, the better. One tip to remember when wearing long pants is to ensure the hem sits at the top of the foot, and does not extend over the foot and down over the back of the heel. This can look a little too sloppy and ruin the style effect of ballerina flats.
Style 3: Ballerina Flats Dress Up an Outfit
Ballerina flats come in a wide range of colours, patterns, and styles. In order to dress up an outfit, one can choose a pair of eye catching flats to pair with a cute black dress or slim-fitted dress pants or capri pants. Ballerina flats are not designed for only day wear. Women who want to wear ballerina flats on an evening out should look for satin flats or even suede flats. Choosing a pair with diamantes, crystals, or other jewelled embellishments help to dress up any outfit. Pair flats with a matching handbag or clutch purse, and one's outfit for the evening is complete.
Style 4: Classic Black Ballerina Flats
For a more classic and elegant look, choose a simple black pair with little or no bows, jewels, or embellishments. This classic shoe offers versatility, comfort, and practicality for any wearer. Black leather ballerina flats offer comfort, warmth, and durability, and they look great when worn. This simple yet classic style of ballerina flat can be worn with leggings and an oversized top for a very casual look, teamed with nicely tailored capri pants and blouse for wearing to the office, or with a cute and sexy black above-knee length dress for that special night out on the town. A girl who wants classic style and elegance, despite the price tag, can opt for the iconic black quilted patent leather Chanel ballerina flats. Other popular designer brands include French Sole, Burberry, Prada, and Gucci. Designer brand ballerina flats are expensive, but they do offer the ultimate in comfort, quality, and style.
Style 5: Go Short with a Pair of Ballerina Flats
One of the best ways to style ballerina flats is to show some leg. Long legs look great with a pair of ballerina flats. These flats also work well with a pair of summer shorts or thigh-length skirt. Flats with short-hemmed clothing are suitable not only for summer wear, but also for those cooler autumn and winter months. Add thick stockings to a mini skirt or dress shorts for a warm winter look.
Pointy toe ballerina flats help to make legs look even longer and can help dress up an outfit. Other options for dressing up a short outfit can include a pair of shiny patent leather flats.
Finding Ballerina Flats That Fit
Some women can have some difficulty finding a pair of ballerina flats that fit comfortably. Those who have long narrow feet should consider a brand of shoe that offers narrow, medium, and wide fit options. The woman who finds ballerina flats uncomfortable around the toes may consider buying a pair made from soft, flexible fabric or supple leather, or she may even try an open-toe flat.
The following table provides a list of foot measurements and the approximate UK shoe sizes to fit. The table also provides the comparable Euro shoe size.
| | | | | | | | |
| --- | --- | --- | --- | --- | --- | --- | --- |
| Approx. Foot Size (in cm) | 23 | 24 | 25 | 25.7 | 26.5 | 27.5 | 28 |
| UK Size | 3 | 4 | 5 | 6 | 7 | 8 | 9 |
| Euro Size | 36 | 37 | 38 | 39 | 40 | 41 | 42 |
It is recommended that buyers try on ballerina flats before making a final purchase. Ballerina flats are designed to be worn for long periods of time, so it pays a prospective buyer to take the time to measure the feet and get the flats that provide the best fit.
Buyers looking to purchase ballerina flats on eBay can start the search by typing "women ' s ballerina flats" into the search bar on eBay's home page. This basic search yields a long list of shoes for sale on the auction website. In order to further refine the search, buyers may use the search category options available, so that they may search by shoe size, style, condition, price, brand, colour, or material. Alternatively, buyers can search by entering a specific phrase such as "women ' s size 8 black leather ballerina flats" or "women ' s Timberland ballerina flats." The website's useful features includes denoting top-rated sellers. By choosing to purchase from top-rated sellers, a buyer can feel more confident about the purchasing process on eBay.
eBay's Customer Support
Buyers who may be unfamiliar with eBay can visit the website's customer support centre. Here, they can find useful information about how to utilise eBay to its full potential. Buyers have the use of various self-service tools such as retracting a bid or finding answers to some of the frequently asked questions. eBay's user-friendly features include providing information on what to do if an item does not arrive on time.
Conclusion
As their name suggests, ballerina flats are based on the traditional satin slippers that ballerinas wear when dancing. However, the popularity of the ballerina flat as an everyday shoe style has seen the variety in category of footwear expand significantly. Women can buy ballerina flats for evening wear, sneaker-style ballerina flats for comfort, ballerina flats with a variety of embellishments, colours, patterns, and fabrics, as well as the classic quilted designer ballerina flat. When wearing ballerina flats, one should follow some style rules for the best results. An understanding of how ballerina flats may be worn with dresses or skinny pants or how they can dress up an outfit can help a woman create different fashion looks for herself. A woman who is looking for that perfect pair of ballerina flats that fit just right may find them online at eBay. The website offers a wide range of shoes in different colours, styles, and patterns, making it easy for a prospective buyer to find a pair of ballerina flats to enhance her wardrobe.