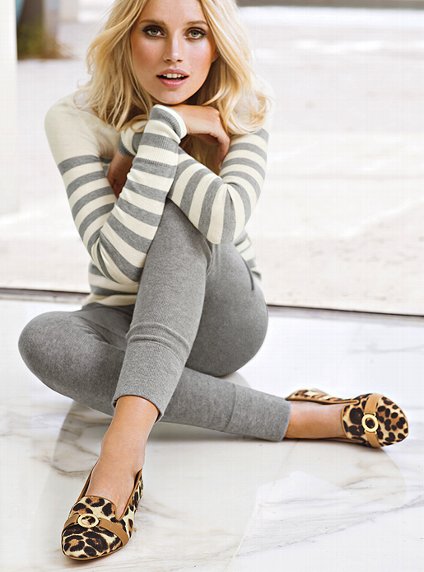 Loafers are a type of casual footwear made of leather that resemble a moccasin. These shoes slip on and have a low heel. Traditionally these shoes were worn only by men as casual and business footwear. In recent years, the style has been revamped and worn by women. As the shoe was redesigned for women, more and more styles became available. While men's loafers are typically come in solid colours, women's loafers are available in multiple colours and patterns.
Women's loafers can be dressed up or down as needed to work for just about any outfit or occasion. Hundreds of styles, designs, and colours are available to choose from. To find the right pair of loafers, shoppers first need to know how to style them and identify which types work with what outfits. This can mean the difference between sporting the latest trend and making a fashion mistake. Loafers can be worn in the office, for casual occasions, and with dressy outfits. After the right style has been identified, shoppers can start shopping for loafers that are the right colour to match the outfit and the right fit for their feet. eBay offers shoppers the largest selection of new and used loafers.
1. Loafers With Office Wear
When shopping for business wear, loafers are a comfortable alternative to other types of shoes typically worn by women in the office. The rubber sole and cushioned insole make them comfortable to wear for extended periods of time and can help to reduce foot fatigue for women who are on their feet all day. When putting together a business outfit with loafers, women have to be careful that the outfit does not appeal too casual.
Many women may have heard that loafers should never be worn with a suit, but the style can effectively be pulled off if the right shoes are matched with the right women's suit. To start, the loafers should have a slight heel. While they do not need to be stilettos, they should have slightly more lift than the traditional flats. High heel loafers are available exclusively for women. Though they don't fit the traditional definition for loafers, the shape and style of the shoes are based on the same design. These are dressier than traditional loafers as well.
Black leather loafers show sophistication and are dressy enough to go along with just about any suit. Patent leather and crocodile loafers are also two choices that are dressy enough to wear with a suit. Loafers are best paired with a trouser suit, but if there is enough of a heel on the shoes then they also work with skirt suits.
2. Loafers With Casual Wear
Loafers are casual shoes, so there are hundreds of ways to style them with casual clothing. Women can wear loafers with skirts, shorts,, and dresses for a comfortable and fashionable look. To maintain the casual appearance, women should opt for loafers that are flat or have a low heel. How simple or elaborate the design is depends on the wearer's preference as well as the outfit the shoes are being worn with.
3. Loafers With Trousers
Women should keep the outfit simple when dressing down loafers for a casual look. A pair of skinny jeans and a loose-fitting top are a perfect match. No matter what type of trousers a woman wears, they should never cover the ankles when wearing loafers. The ankle and the top of the foot should be visible between the loafers and the trousers. Additionally, wearing socks with loafers is never allowed. Stockings or tights are sometimes acceptable when wearing loafers with a dress or skirt, but for the most part bare feet are preferred for this look.
4. Accessorising Using Masculine Elements
Since loafers are traditionally men's footwear, adding other masculine elements to the outfit can balance out the look. A boyfriend blazer goes great with the casual look for chilly evenings. A fedora hat that matches the shoes and other accessories can also work for some women. Wearing long necklaces and dangly earrings adds a bit of feminine touch to the style to achieve the perfect balance.
5. Loafers With Dresses
Women who are looking to break away from wedges, stilettos, pumps, and other common shoes worn with evening wear might consider the loafer. These dressy loafers have a heel to give the wearer the right amount of lift to wear with a dress for a night out on the town. Typically women's loafers have a chunky heel, but some styles may have a narrow heel or even a platform.
When selecting a pair of loafers to go along with a party dress, women should lean toward a round or a pointed toe. For spring and summer occasions, a pair of slingback loafers with a simple decorative band across the top pairs nicely with a dress that falls just above the knee. In particular, shoes with a shiny finish are the best choice when trying to dress up these casual shoes.
Choosing the Right Pair of Loafers
Once a woman knows what style of loafers will complement her outfits, she can begin her search for the perfect pair of loafers. She can choose either a versatile pair of loafers or a pair to be worn with a specific outfit. Finding a pair of loafers that fits properly is also a key step in finding the right pair.
The Choice of Colour
Shoppers can find loafers in just about any colour imaginable. Unless they are trying to make a fashion statement, they should stick with conservative colours. Black, navy, grey, and brown are the ideal choices for loafers since they can easily be matched to multiple outfits. Any dark colour will do depending on the colours in the outfit, but bright colours should almost always be avoided. Most women will find it difficult to coordinate outfits with brightly coloured loafers.
The Choice of Fit
More important than how the shoes feel is how they fit. Since loafers are not worn with socks, a woman should not try on loafers while wearing thick socks. Wearing a bootie or stocking while trying on loafers will give the shopper a better idea of how the shoes will feel. If they rub or pinch the feet in any way, then they should be exchanged for a larger size.
When shopping for loafers online, the foot should be measured to ensure the shopper selects most accurate size. Since different manufacturers have different sizing scales, having the actual measurement handy is helpful when comparing shoes to find the right size. The measurement of the foot is taken from the back of the heel to the tip of the big toe.
How to Buy Loafers on eBay
If you do not know exactly what kind of loafers you want to buy, then eBay is the place to look. There are thousands of different pairs to choose from, so the inventory is larger than any you would find on the high street. You can find both new and used loafers on eBay in a wide variety of colours, styles, and sizes. Being able to effectively search eBay is important for finding the best deals and the perfect pair of loafers for your wardrobe.
How to Search for Loafers on eBay
A basic search is the simplest way to find the pair of loafers you're looking for. Enter keywords, such as "black tassel loafers", into the search bar to pull up any listings that contain those words. To reduce the number of results that are returned, specify a category within eBay to search, like Women's Shoes. Additionally, select options such as size, brand, price, or colour to narrow the results to a more manageable number. The Advanced Search feature is used to search for a very specific item and is useful when your search returns too many results to sort through.
Conclusion
The traditional casual loafer has evolved over the years to become a versatile type of footwear sported by both men and women. Because the shoes are stylish and comfortable, many women have included them as a part of their wardrobe as a go-to pair of shoes for any occasion. Loafers are available in many styles and designs, so they can easily be paired with a business suit for work or a pair of jeans for a casual look. The three main ways that women can style a pair of loafers are to wear in the office, with a casual outfit, or with evening wear. Knowing which types of loafers go along with certain outfits is critical to effectively pulling off this look. After the style has been chosen, the colour is selected to match the outfit and the proper size is chosen. Because a properly-fitted pair of loafers is so comfortable, women might want to have more than one pair of loafers in their closets. No matter which style or colour of loafers a shopper is looking for, eBay has a large selection of loafers to choose from, both new and used.