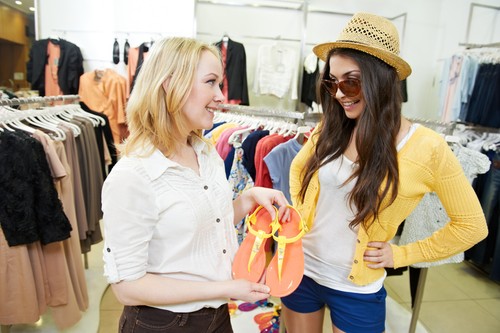 Slingbacks are a type of shoes that have a strap around the heel. The shoes could be sandals, open-toed shoes, or closed-toed shoes. The shoes are classified according to the type of strap used to secure the shoe to the foot. Some shoes come with a buckled strap that the wearer can adjust to improve the fit. Others might have an elastic band. Many have a strap that sits in a fixed position. The biggest disadvantage to this type of strap on slingbacks is that the strap may slide down on the heel and cause discomfort. Slingbacks are a comfortable type of shoe that go well with summer outfits where the legs and feet are exposed. Many women enjoy this type of shoe because of the attractive look and ease of putting them on.
Because there are so many styles and colours of slingbacks available, women have no problem finding the right pair to match any occasion. Slingbacks can have high heels, low heels, open toes, and closed toes. Likewise, slingbacks can have eye-catching decorations or simple designs. These versatile shoes can be worn around the house, with a business suit, or with a party dress. Knowing how to match these shoes with certain outfits is the key to finding the right pair for the occasion. With a few tips on how to style slingbacks and how to properly wear them, shoppers are well on their way to find the right pair to show off their personal styles. eBay is a convenient place to look for slingbacks in all colours, styles, and price ranges.
1. Formal Slingback Styles
Not all women are comfortable wearing dresses to occasions where formal wear is required. A perfectly tailored women's suit can be just as attractive and more comfortable to wear. Accessorising the tailored suit to match the formal wear is essential to pulling off the look. Because slingbacks can have a casual look, not all styles are appropriate for formal settings. When opting for a pair of slingbacks to wear to a formal event, women should stick with closed-toed slingbacks with a heel and a simple or classic design. Satin or silk slingbacks have a sophisticated look that go well with a women's suit.
2. Slingback Styles With Business Attire
Slingbacks are a comfortable and stylish choice to wear with business attire. Women need to stay away from shoes that are brightly coloured or have excessive decorations or embellishments. Flashy decorations, like rhinestones, are not appropriate for the workplace. Instead, they should opt for shoes that have a neutral colour and a simple or plain design. The heel should be low since high heels are not appropriate for business attire.
Once the proper slingbacks for business attire have been selected, pairing them with work attire is simple. Slingbacks are versatile and can be matched with just about any work clothes. Black and navy slingbacks have a sophisticated look to match the formal look of a pressed business suit. Light coloured slingbacks with a low heel flatter the legs when worn with a knee-length skirt and light coloured blouse. No matter which outfit a woman chooses, she should always wear colour-coordinated hosiery with her outfit.
3. Smart Casual Slingback Styles
Smart casual refers to a dressed down code of dress that still has a polished look. Women won't be able to wear their favourite jeans to work on smart casual days, but the right pair of slingbacks can dress up just about any outfit. A nice pair of trousers, a simple blouse, and a pair of mid-heel slingbacks are all that are needed to complete this look. The slingbacks do not have to be as conservative as they are in business attire. Instead they can have tasteful decorations, such as bows or buckles. Women also have a bit more freedom when choosing the colours, and can choose colours that match their outfit and other accessories.
4. Slingbacks With Evening Wear
Slingbacks are the perfect footwear choice to accompany a little black dress. If the dress is simple, then the shoes should have a bit of sparkle to add an interesting element to the outfit. Slingbacks embellished with rhinestones coordinate perfectly with other sparkly jewellery to create a look that is tasteful and not too over the top. If the dress itself is stunning, then the shoes should be toned down so they are not distracting. When wearing slingbacks with an evening dress, women should feel free to wear open-toed shoes no matter what time of year it is. Additionally, the higher the heel is, the better. High heels are known to make the legs look more attractive which is ideal when wearing a short evening dress.
5. Casual Slingback Styles
While it can be tricky to pair slingbacks with any of the above dress codes, women have no problem finding a pair of slingbacks to complete their casual looks. Slingbacks are available in a wide range of colours and materials, from denim to leather and satin to canvas. When it comes to selecting a pair of slingbacks for casual wear, the most important factor is comfort. For this reason, women should stick to flats or a low kitten heel. Open-toed slingbacks with a low heel go well with a pair of capri pants or culottes that show off the legs and a simple blouse and cardigan.
Do's and Don'ts of Wearing Slingbacks
Knowing which outfits to pair slingbacks with is only part of the process for putting together a look. The other part is knowing how to properly wear slingbacks. If women aren't showing them off as they should be, then they're not letting the shoes complete the outfit, as they should. Learning the do's and don'ts of wearing slingbacks means the difference between making a fashionable choice and a huge fashion mistake.
Do Show Off the Shoes
Slingbacks are meant to be shown off. They have an attractive look that allows the wearer to show off her shoes and her feet. This means that women should wear them with skirts, trousers, and dresses that don't cover the feet. Instead they should be cut just above the ankle. Cropped pants, capri pants, and knee-length skirts are the ideal choices when wearing a pair of slingbacks because they not only show off the shoes, but also allow women to show off their legs.
Don't Wear Socks
In many instances hosiery is not recommended when wearing a pair of slingbacks. For business attire and some formal occasions, hosiery is required. Women should stick to sheer, colour-coordinated hosiery for these purposes. Under no circumstances should socks be worn with slingbacks. If the weather is too cold, then women should opt for a different pair of shoes rather than trying to wear their slingbacks. If a woman is experiencing rubbing on her heel due to an ill-fitting strap, then double-sided tape can be used to hold it in place. Socks are never considered fashionable with a pair of slingbacks, even in casual settings.
How to Buy Slingbacks on eBay
There is no shortage of shoes on eBay, and slingbacks are no exception. You will find thousands of pairs of slingbacks, both new and used, on eBay across a wide range of prices. Whether you want heels, flats, casual, or dressy shoes, this online marketplace has them all. In order to find just the right pair of slingbacks for your purposes, you need to know how to search effectively and how to choose a reputable seller to buy from.
Searching for Slingbacks on eBay
Start your search by typing keywords to describe the shoes you're looking for in the search bar. A search for black slingbacks returns all of the listings that contain those words in the description. Since it is such a broad search, select options such as size, style, brand, and heel height to narrow down the selections to a more manageable amount. If you want to sort through all of the listings to see what is available, go to the Women's Shoes category and look for slingbacks under the Flats or Heels.
Find a Reputable Seller
Each listing for a pair of slingbacks should include a description of the shoes and a picture to help you make a purchasing decision. Additionally, a bit of information about the seller is included in each listing. Check out the seller's feedback score, total number of completed transactions, and comments left by previous buyers, so you can get to know the seller a bit better before making a purchase.
Conclusion
Shoes are one of the most important elements in a woman's outfit. The right shoes can either completely ruin the look or tie all of the pieces of an outfit together perfectly. With so many different types and styles of shoes available, it can be hard for some women to find just the right pair to show off their personal styles and stay within the restrictions of a certain dress code. Fortunately, slingbacks are a type of shoe that can work for just about any occasion and are flattering on all types of women. Rather than wearing classic pumps or sandals, women opt for slingbacks which offer something slightly out of the ordinary.
Since slingbacks can be dressy or casual, it is important for women to know how to style them properly for an occasion. In addition to finding the right style, colour, heel height, and material, women also need to know the correct way to wear slingbacks. With a little bit of guidance, slingbacks can be paired with any outfit to create a stunning look that flatters a woman's appearance and shows off her individuality. Whether she's looking for shoes to wear to a party or shoes to wear to work, she'll find just what she needs on eBay.