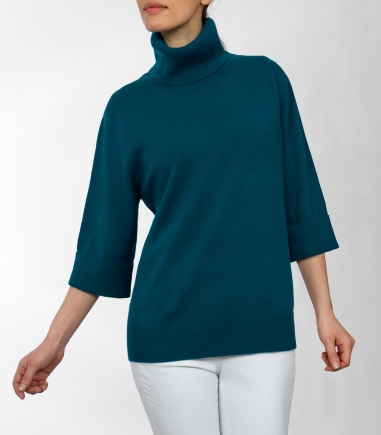 The polo neck jumper has always been a classic and stylish item for any woman's wardrobe. It may be layered for that warm wintery look, or it may be used as an attractive canvas and accessorised with something eye catching. Polo neck jumpers may be used to dress up an outfit, suitable to wear to work or on a dinner date, or they may be worn dressed down, with a casual pair of jeans and flats. From autumn through to spring, the polo neck jumper can be considered a staple in a woman's stylish wardrobe. The variations on the polo make it a very flexible go-to item of clothing.
Buying a polo neck jumper is easy. Women can head to a wide range of mainstream clothing stores to find a variety of polo neck jumpers of varying knits, colours, and patterns. Buyers also choose to search online at eBay for new polo neck jumpers to add to their wardrobes.
Style 1: Layer a Polo Neck Jumper
A great way to style any type of polo neck jumper is to layer it. A fine-knit polo neck jumper may be layered stylishly under a cute shift dress to create the classic sixties look. Try matching a brightly coloured polo neck jumper with a dark or plain coloured shift dress to add a bit of colour to the outfit. When layered with a polo neck jumper, one can take a shift dress from summer through to winter.
Alternatively, one may choose to wear a jacket, waistcoat, or heavy open knit cardigan over the top of a polo neck jumper. The polo neck gives added warmth and protection during the cold winter months while still looking stylish and interesting. In order to add depth to the layering, try wearing a patterned polo neck jumper underneath a plain outer layer.
Style 2: Accessorise a Polo Neck Jumper
Another great way to style a simple polo neck jumper is to accessorise it. A colourful or chunky necklace can look quite dramatic over a plain black or white polo neck jumper.. Try a long beaded necklace to create the illusion of a longer, slimmer figure. For a more elegant look, try matching a polo neck jumper with a beautiful, patterned silk scarf. One may choose a thin scarf or a long, flowing scarf for a more dramatic effect.
Women should not underestimate accessorising a polo neck jumper with some eye-catching earrings. For those women with long hair, wearing the jumper with a ponytail or bun and some sparkly or oversized earrings can be a great look. This style also works well on those with short hair styles.
Style 3: Dress up a Polo Neck Jumper
The benefit of a polo neck jumper is that it can be dressed up, suitable for wearing to the corporate office environment, business dinner, engagement party, or other special events. Try a figure-hugging polo neck jumper with a sexy pencil skirt and tailored jacket. Alternatively, to dress up a polo neck jumper, match it with tight dress pants or dressy jeans, a pair of high heels or boots, and a stylish bag. A cashmere polo neck jumper not only feels comfortable, soft, and warm, but it also looks very elegant and flattering. Fine-knit polo neck jumpers tend to look dressier than heavier, thick-knitted jumpers.
Style 4: Dress Down a Polo Neck Jumper
In order to dress down a polo neck jumper, try casual jeans, chinos, or capri pants with a cute pair of flats. Heavy-knit polo neck jumpers are ideal for winter weather and can look fashionably casual, making them ideal for lunch with girlfriends, a visit to the supermarket or the children's school run, or for a nice walk in the park with the dog.
The polo neck jumper also looks great when teamed up with a heavy winter coat. The heavy coat creates the fashion statement for the outfit, while the simple understated polo neck jumper provides warmth, comfort, and breathability.
A polo neck jumper is also able to dress down a tailored jacket. When paired with jeans and casual shoes, a tailored jacket helps to create a casual look, while still looking elegant.
Style 5: Polo Neck Jumpers for Most Seasons
Polo neck jumpers come in a range of lengths. Women who enjoy wearing dresses can try a long polo neck jumper with skinny jeans and boots or high heels. For a more casual look to the long polo neck jumper, adding a wide belt can show off a beautiful figure. When the weather begins to warm up a little, opt for a long polo neck jumper with a pair of stockings and flats.
Also on offer is the three-quarter sleeved polo neck jumper. Worn on its own, it is an ideal choice for those spring and autumn days when the weather seems unable to make up its mind.
Finding a Polo Neck Jumper to Fit
In order to find the right fit for any polo neck jumper, buyers are always advised to try the jumper on before making a purchase. Individuals looking to purchase the jumper based on size alone should be aware of the seller's returns policy, should the jumper not fit correctly. Some women like their polo neck jumper to offer a tight fit, while other prefer a baggier polo neck jumper. When choosing a particular size, buyers can utilise the following table. This table provides standard UK polo neck jumper sizes and their approximate measurements in centimetres.
| Jumper Size | 10 | 12 | 14 | 16 | 18 |
| --- | --- | --- | --- | --- | --- |
| Bust | 86 | 90.5 | 95.5 | 100.5 | 107 |
| Waist | 68.5 | 73.5 | 78.5 | 84 | 90 |
| Hips | 94 | 99 | 104 | 109 | 115 |
Buyers should be aware that sizes and measurements may vary amongst various brands and manufacturers. It is recommended that buyers verify measurements and sizing before making final purchases.
Tips for Wearing a Polo Neck Jumper
Fine-knit polo neck jumpers are ideal for layering, and may be worn in both casual and formal settings. Although thinner, a good quality cashmere or wool polo neck jumper is able to offer ample comfort and warmth, especially when paired with layers. Fine-knit jumpers also look flattering on a wider range of body shapes.
Thick-knit polo neck jumpers create a more casual look. However, a woman with a larger figure should be careful when choosing a thick-knit polo neck jumper as it can create an unflattering silhouette. Instead, the larger figured woman would do well to opt for a thin-knit polo neck jumper.. For the woman with a fuller bust, she can layer a polo neck jumper with a V-neck outer layer. This helps to create a longer body profile and draws attention away from the chest area.
When wearing a patterned polo neck jumper, be sure to match it with something plain. Alternatively, when laying a polo neck sweater with a printed outer layer, be sure to wear a plain polo jumper.
Buying a Polo Neck Jumper on eBay
Buying a polo neck jumper on eBay can be simple and straightforward. You simply need to type "women's polo neck jumpers" into the search bar on eBay's home page to get a long list of jumpers for sale on the auction website. To further refine your search, you may type a more specific phrase into the search bar, such as "women's size 12 black polo neck jumper" or "Gap polo neck jumpers". Alternatively, you may use the search category options that eBay offers to further refine the search. These options include searching by brand, condition, price, colour, or material.
Buy With Confidence on eBay
Those who may be new to eBay, and would like to know more about buying with confidence, can read up on all the various tips and tools that the website offers to ensure a great buying experience. Buyers can find useful information about understanding and utilising seller feedback as well as the various secure payment methods available. Potential buyers may also find helpful tips that aid in understanding listing descriptions.
Conclusion
Polo neck jumpers are ideal for most body types and are a simplistic style of jumper that can be worn in a variety of ways. A simple black or plain coloured polo neck jumper can be matched with a wide range of outfits to create a number of different looks. One can choose to layer it with tops, dresses, or jackets and accessorise it creatively. A woman may dress the polo neck jumper up for work or a special event or dress it down for casual wear. The easy availability of polo neck jumpers makes it a useful item to include in the wardrobe, as it is versatile enough to be worn during spring, fall, and winter. Women looking to purchase polo neck jumpers to complement their wardrobes find a comprehensive online resource in eBay, where a large selection of polo necks are available at competitive prices. At eBay, buyers can take advantage of the useful tips and buying tools to purchase with confidence.