A 500W PC power supply unit, or PSU, is ideal for personal computers, and most modern PSUs stick to ATX power supply specifications, which govern voltage tolerances as well as form factor. Such PC PSUs can come with single or multiple 12 volt outputs, and while some come with a complete set of required leads, some require users to buy the ones they require. Besides, people looking for replacement leads, or cables, also need to know just what to look for.
PC Main

The PC main connector, or P1, connects the PSU to the motherboard, and provides it with power. The connector with the PC main lead can have 20 or 24 pins, so check for compatibility with the motherboard in question. Using a 24-pin connector with a motherboard that has 20 pins is possible. In this case, certain manufacturers offer leads with two connectors, one with 20 pins and the other with four, and together they function as a 24-pin connector.
4-pin Peripheral
The 4-pin peripheral lead's use dates back to when PCs first entered the picture, when their use to power hard disks and floppy drives was common. These power supply cables still find use in providing power to additional video cards, add-on fans, and case lighting. They can even provide supplemental power to the motherboard, and certain PCI cards like FireWire 800 cards. These leads tend to come with four wires, where two black wires are for grounding, the yellow wire is 12 volts, and the red wire is 5 volts.
4-pin Molex
Leads with 4-pin Molex connectors follow a similar configuration to 4-pin peripheral leads, and people also refer to these as Berg connectors, mini-Molex, and mini-connectors. These are amongst the smallest to power floppy drives, and their use in providing auxiliary power to AGP video cards is not uncommon.
SATA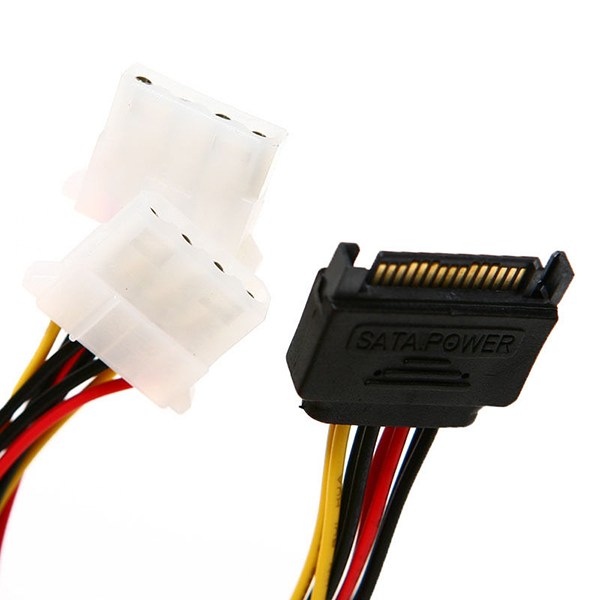 A good 500W PSU should have at least four SATA ports to power drives that use SATA power plugs. This power lead with a 15-pin connector largely replaced the 4-pin peripheral while adding support for 3.3 volts. In addition to a power cable, this lead also includes a data cable.
6-pin and 8-pin PCI Express Leads
People who use graphics cards should ensure that they get adequate power, and this is easy to accomplish with 6- or 8-pin PCI express leads. These cables provide such expansion cards with 12 volts of added power, and this is essential given that many video cards require more than 75 watts that the motherboard provides. Since these cables tend to draw power from a PSU's 12-volt rail, they provide only 12 volts. The main difference between 6- and 8-pin variants is that the latter supports higher wattages.