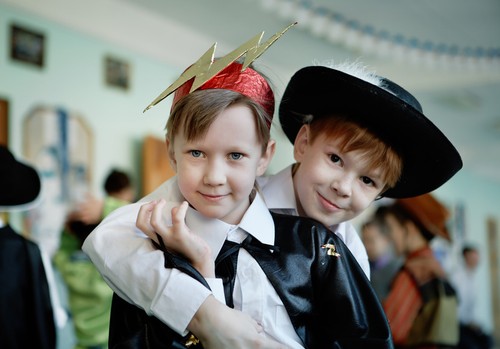 Drawing their inspiration from movies, cartoons, TV series, the pages of history and from nature, the manufacturers, costumiers and dressmakers behind the fancy dress industry never cease in their quest for the next subject. Their endeavours match the public appetite for putting on a disguise. An adopted identity can be a source of endless amusement. The immense popularity of fancy dress as a phenomenon means that parties, pageants, carnivals, festivals, themed mystery evenings and school fund-raising events are all on the increase. Childhood is hugely enhanced by the periodic donning of a costume and the assuming of a temporary identity. One of the most heart-warming sights is that of a whole family in fancy dress, venturing out to attend a fun social engagement.
As with most products in the marketplace, there are different levels of quality in the fancy dress line. Hence, at one end of the scale, a basic economy version of any given costume exists, while, at the other, a deluxe model is usually available, but at a price. The difference between the two ends of the spectrum tends to come down to the types of material used and the level of detail in the outfit's production.
So diverse is the costume business, that swimsuit versions of many characters also exist, meaning that even a pool party can be a fancy dress party. In this guide, six of the best all-time favourite adorable fancy dress costumes for boys are described.
Costume 1: Captain Jack Sparrow Pirate Costume
What better fantasy than to be a swashbuckling plunderer whose life is dedicated to sailing the ocean wave and striking terror into seafarers' hearts? By slinging on just a few choice items of clothing, the young lad of any age is transformed. And not just into any old pirate. Captain Jack Sparrow is the name. While it is possible to piece together the Jack Sparrow look from standard pirate costumes, the complete costume can be bought from many suppliers, most conveniently online.
The authentic Captain Jack Sparrow costume consists of the trademark long straggling black wig with a hint of curliness, topped by a rakish brown battered tri-corn hat. Hatless Jack just doesn't look the same. The upper half is dressed either in a brown pirate frock coat, which should have braid around the lapels and pocket flaps, or alternatively in a long brown collarless waistcoat. Beneath it, there should be a loose, crumpled white shirt, with the sleeves rolled up. The lower half of the body requires black or brown breeches and a pair of waders or other long boots.
The appropriate finishing touches are the heavy use of black eyeliner and optional application of a false moustache and goatee beard. Thus attired, no young boy can fail to create a stir. Parents will find a variety of complete Jack Sparrow outfits on sale. Some fancy dress manufacturers make the frock coat from plush, while other versions emphasise the more battered image that the famous pirate projects. It is a matter of personal choice, of course. For some, an item that will provide plenty of wear for years to come is the better buy; for others, a costumes future wear ability is less important than affordability.
Costume 2: Harry Potter Costume
Harry Potter costumes fall into two categories. The young party-goer can choose classic Harry Potter in the Hogwarts school uniform, or the other Harry variant, his Quidditch outfit. The first of these comprises most notably Harry's signature long black wizard's robe with the Hogwarts school crest, in addition to a white school shirt, Hogwarts tie and optional Hogwarts scarf. The addition of a standard black school trousers and black school shoes round off the outfit. The essential accessories are a pair of spectacles with clear lenses and black frames and, of course, a wand.
Equipped with the optional extra accoutrement, a white owl, complete with feathers, the newly transformed young man can sally forth as Harry Potter, knowing that he is well-protected from the forces of evil.
The difference when dressed for the game of Quidditch is that Harry wears not a black but a rich red cloak,, of which luxury versions in velvet are available to purchase. A little boy dressed for the magic game of quidditch is exceptionally adorable-looking
Costume 3: Roman Centurion Costume
A slightly older boy aged 8 or over can look particularly fetching dressed up as a Roman Centurion.. Conjuring up the ancient days of Roman occupation, this character strikes an interesting historical note among any gathering. The costume can be as elaborate as the parent wishes. The essential components are as follows: a short-sleeve white tunic reaching to above the knees, a voluminous cloak which fastens at the throat and is in a strong colour, normally red; armour on chest, legs, and forearms, open sandals and optional plumed helmet.
A helmet, if worn, goes a long way towards creating an impact. The gaiter-like arm and leg protection is often made from felt, foam, or other sturdy fabric, such as canvas, mimicking the leather of the original. Finished off with toy sword and possibly a shield, the centurion will win most battles, and may well carry away the fancy dress prize.
Costume 4: Shrek Costume
For an adorable costume, few can beat Shrek, the monster we all love to love. The original movie scored a huge hit which is why Shrek, with his amazing lime green skin, huge melancholy eyes and deep voice, is a household name. Any kid would be pleased to represent the amiable character, though possibly some would have difficulty replicating that Scottish accent.
The correct Shrek costume comprises just a few very distinctive items. These items include an extra large off-white vest, cinched with an outsize belt, a brown waistcoat and tartan trousers that taper slightly, all worn with brown medieval-style pixie boots. Padding to imitate Shrek´s ample girth helps with authenticity, and provides additional cuteness.
Shrek's big face is catered for with a mask. As with all costumes which involve a rubber mask, the purchaser needs to weigh up potential discomfort against the advantages of a great look. Skilled use of suitable shades of face paint and make-up can be a good alternative, of course. The bulging cheeks and ample mouth of the 'real' Shrek may need some skill to paint on. His cute eyebrows present fewer problems. The tiny jutting ears could be a challenge to devise. The advantage of a painted-on face is that expressions are possible; the disadvantage is that it taxes the acting skills of the party-goer. Nevertheless, any child arriving at an event as Shrek is certain to charm and delight the company.
Costume 5: Batman Costume
As selfless and daring crime busters go, it take 'official', 'licensed' or 'authorised' and take a moment to browse through images of the 'original', for example, from movie clips. On eBay, a significant benefit is the facility for asking the seller questions. Hence, any concerns about, for example, the weight of the costume, the breathability of the fabric or the constituents of the paint used in mask manufacture can be posed by clicking on 'Message the seller'. Speed of delivery is another aspect that can be controlled, to a degree. Most sellers offer either standard or first class postage. So, if that costume is needed in a hurry for an upcoming party, it should be possible to expedite its arrival.
Conclusion
Whether your child is a hero, a villain, a quirky character or a cuddly creature, the disguise a child dresses up in needs to perform the main function which is that of entertaining both the wearer and the assembled crowd. Parents or grandparents purchasing costumes should consider fit, durability, comfort and safety, as well as the visual accuracy of the look achieved.
Given that once a certain costume has had its inaugural outing, there is limited scope to be seen again in the same disguise, parents would be wise to budget for a small wardrobe of varied costumes. More traditionally, the dress-up chess helped with this purpose. With the convenience of buying from home, eBay offers a solution to dressing up young family members of all ages, where fancy dress is concerned. And whereas at one time the possibilities for dressing up the young males of the family were limited, today the list of characters of all types are extensive. For any purchaser who is at a loss for ideas, a quick peek through eBay's current offerings is sure to provide inspiration, as there is probably no larger selection of adorable costumes anywhere.