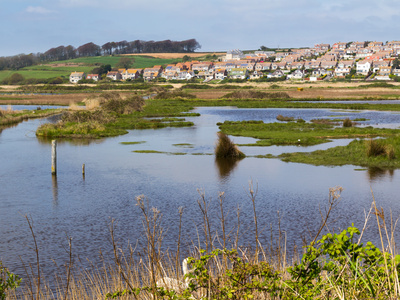 One of the most beautiful, temperate, and diverse counties in all of England, Dorset, is quite popular for summer holidays as well as weekend trips all the year-long. As the country's third most southern county and one less subject to the harsh winds of the Atlantic Ocean, Dorset enjoys year-round mild temperatures that make caravan holidays an excellent choice.
However, planning a caravan holiday in Dorset means more than booking a slot at a caravan park. The county, which covers approximately 2,653 square kilometres, is home to everything from stunning coastline to bucolic countryside, each offering a host of activities for adults and children of all ages. In addition, attractions in Dorset range from first class to budget friendly, making the process of planning a caravan holiday all the more difficult. Indeed, travellers are best advised to take special care in planning their caravan route in a way that allows hitting the best spots the county has to offer. Using these six caravan holiday ideas is a great way to begin that planning process.
Idea 1: Spend the Day at a Dorset Beach
Dorset has a lot to offer holiday travellers, but no one type of attraction is more popular or well known than the myriad of beaches along its 143 kilometres of coastline. There are several different options when it comes to Dorset beaches, the most popular of which are discussed in the table below.
Coastal Area

Description of Beach

Beach Activities/Notes

7 miles of sandy coastline including Sandbanks beach

Water sports

Swimming

Family friendly

Charmouth

Mixture of sand and pebbles

Part of the Jurassic Coast, includes the Heritage Coast Centre

Swimming

Fossil hunting

Christchurch

Includes Avon Beach, Friars Beach, and Highcliffe Beach

Swimming

Sandcastles

Water sports

Family friendly

Durdle Door and Man o' War Bay

Part of the Weld Estate

Near Durdle Door Holiday Caravan Park

Light swimming

Steep walk to beach

Hive Beach

Part of the World Heritage site, an isolated beach near Burton Bradstock

Includes Hive Beach Cafe

Swimming

Sand sports

Family friendly

Lyme Regis

Includes Cobb Gate Beach and Front Beach

Part of the Jurassic Coast

Swimming

Sandcastles

Fossil hunting

Family friendly

Swanage

Victorian seaside resort

Swimming

Sandcastles

Pedalo hire

Family friendly

Weymouth

Sandy beach with a variety of activities

Swimming

Sandcastles

Pedalo and swing boat rentals

Sunbed hire

Carnivalesque activities

Family friendly
Depending on the members of one's travelling party and their particular likes and dislikes, some of these popular Dorset beaches may be more suitable than others. However, one thing is for sure, there are many, many different spots along Dorset's coastline to visit on a caravan holiday.
Idea 2: Hunt for Fossils Along the Jurassic Coast
As popular as beach time along the Dorset coast has become, it is the more prehistoric nature of this area of southern England that puts it on the literal and figurative map of places to go. Taking a caravan holiday in Dorset sets individuals and families up for easy access to the fantastic Jurassic Coast and the many opportunities for fun and education that this geological wonderland provides.
About the Jurassic Coast
As a World Heritage site and one of the true natural wonders of the planet, the Jurassic Coast is a 155 kilometre stretch of land that travels from Swanage, Dorset east to Exmouth, East Devon. This area of geological haven includes evidence and fossils from several time periods throughout the earth's history. This includes the Triassic, Jurassic, and Cretaceous periods of the Mesozoic Era which covers roughly 180 million years of geologic history.
What to Do at the Jurassic Coast in the 21st Century
Visitors to the Jurassic Coast are in for a real treat at what is considered one of England's most fantastic natural wonders. They can begin by hunting for fossils along several paths throughout the county which includes a handful of well-respected caravan and camping sites. Ambitious visitors in good physical shape may even choose to walk along some or all of the South West Coast Path, a natural trail which runs the entire 155 kilometres of land and offers unbeatable views of the English coastline and a unique insider's perspective of the geological history of this area.
Idea 3: Take a Trip to Bennetts Water Gardens
Located in Chickerell, which is near Weymouth, Bennetts Water Gardens consist of eight beautiful acres of plant and animal life. With six of these acres dedicated to ponds and pond life, the beauty of Bennetts Water Gardens lies in photographic opportunities along with a commune with nature.
The area of Bennetts also includes a separate 'garden' of water lilies which includes over 150 different varieties. There is also a replica of Monet Bridge, which is located in Giverny Gardens in Paris. The site also includes a museum dedicated to describing the area, which was once a series of clay pits, as well as the history of Chickerell village.
Idea 4: Get Outdoors at Moors Valley Country Park and Forest
Located in Ashley Heath, right on the border of Hampshire, Moors Valley Country Park and Forest, or just Moors Valley Country Park, is an excellent choice for outdoor enthusiasts looking for a diverse array of entertainment options. Indeed, those who reserve a caravan slot in the greater Ashley Heath area may not find it too tough to spend their entire holiday right here.
The whole of Moors Valley Country Park spans for over 1,000 acres, primarily consisting of forest land. The activities offered thus range from gentle nature walks to more complex and thrilling treetop rope courses. Open since 1988, the centre offers entertainment and challenges for the whole family as well as a host of special classes, tours, and even child-centred arts projects and classes. There is also a fitness trail, Segway forest tour, cycling trails, as well as units available for hire, orienteering, a working railway, and massive a children's play space.
Idea 5: Participate in Outdoor Sports
Because of its diverse terrain and reputation as a tourist destination, Dorset is also well known as an outdoor and extreme sports haven that is unlike anywhere else in England. This is thanks in part to the year-round temperate climate that the county boasts, never averaging low temperatures below freezing and experiencing significantly less rainfall than other coastal counties. This leaves a great deal of room for outdoor sporting opportunities. Among the most popular choices are:
* Walking
* Cycling
* Horseback riding
* Golf
* Fishing
* Water sports
Both veterans to outdoor sports and newbies looking to try out something new while on holiday can find a large array of options throughout the county of Dorset. The convenience of a caravan holiday makes taking along equipment such as bicycles and rock climbing gear so much simpler than when travelling by other means.
Idea 6: Experience History at Dorset's Famous Homes and Castles
Dorset's location in the south of England has made it a popular spot for centuries. Seen as a great place for second homes as well as a key area for defence, there are many famous homes and gardens found in the county, along with a slew of castles and forts.
Among the most popular of these is Clouds Hill, the home of T.E. Lawrence (aka Lawrence of Arabia) in Wareham, the birthplace of Thomas Hardy in Dorchester, and Sherbourn and Lulworth Castles, the latter of which also includes a fort. Touring historic homes and buildings on a caravan holiday is quite easy as most historic spaces provide enlarged parking spots for larger vehicles.
How to Buy Provisions for a Caravan Holiday on eBay
Planning for a caravan holiday in Dorset can be really exciting. There is a reason that this region is so popular for travel amongst native Englishmen and women and the possibilities are truly endless. However, in the process of making those plans it often becomes apparent that travellers need additional provisions to make their holiday the best that it can be. The good news is that everything you need for a caravan holiday, including the caravan itself, can be found on eBay.
Searching eBay for Caravans and Holiday Provisions
Learning to use eBay to search for the items you want and need is an important aspect of taking advantage of its many benefits. Luckily the easy-to-use search bar can be found at the head of every eBay page.
This search bar is the first step in gathering the needed supplies for a caravan holiday. Users simply type in the general terms that outline a specific need, such as "camping supplies" or " caravan tyres", and then use the limiters provided by eBay to quickly find what is needed. Generally, several different options at many price points pop up, allowing buyers to price compare across sellers all on one convenient website.
Conclusion
Planning a caravan holiday in Dorset is an excellent way to stay close to home while still having access to the best of holiday activities. As a county with some of the best weather and most diverse tourist offerings in all of England, Dorset is truly a great holiday location. However, getting the most out of a trip depends as much on planning as it does on location.
To that end, there are several holiday ideas in Dorset that can help travellers set about doing this. Briefly, this includes visiting one of Dorset's many beaches, making discoveries along the Jurassic Coast, visiting Bennetts Water Gardens or Moors Country Park, experiencing great outdoor sports, and engaging with Dorset's special history through touring one of its many homes or castles.
Knowing what to do on a caravan holiday is the most important step that travellers can take in order to ensure that the real goal of holiday, relaxation and escape, is met without problem. The benefits of home provided by caravan and the beauty of the country through a holiday in Dorset helps travellers to easily accomplish just that.