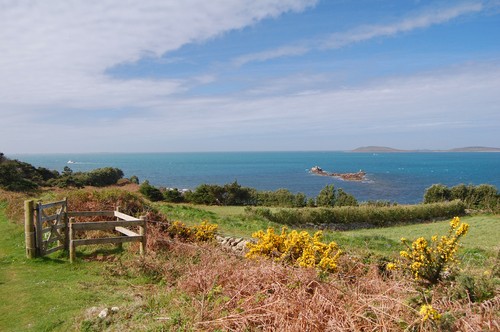 Getting away from the work week and regular routine is a desirable goal for most people. Taking a holiday, however, can become a pricey endeavour when one adds up the travel costs, lodging costs, and all meals that must be eaten in restaurants. A popular way to significantly reduce the cost of holidays, making them more feasible, is to embark on a caravan holiday. Whether one decides to purchase his or her own caravan or lease one for the duration of a trip, taking to the road with both lodging and kitchen significantly reduces the cost of a holiday while adding a bit of nomadic independence. A caravan holiday also offers the traveller much flexibility in the duration of the stay: travellers may change course without suffering any steep cancellation fees from hotels or other lodgings. Types of caravans range from the most simple of covered sleeping accommodations to more elaborate setups with kitchen and lavatory facilities.
There are many wonderful caravan sites across the English Isles with a wide range of amenities including swimming pools, laundry services, and even recreation rooms that host activities. Travellers can choose caravan sites based on both the amenities offered and the site's proximity to any desired sightseeing or activities. Regardless of the type of caravan and location of the holiday, planning ahead is key for an enjoyable stay.
What is a Caravan Holiday?
A caravan holiday is a popular form of getaway. Travellers may either rent a caravan or purchase one's own caravan that hitches to a vehicle and serves as a mobile accommodation. Caravan holidays can involve a singular destination or several destinations depending on the amount of time available. Providing sleeping quarters and usually lavatories and kitchens as well, caravans are parked in campsites where a variety of additional amenities are provided. These may include grilling spaces, laundering capabilities, and even recreational centres with planned activities for visitors.
Types of Caravans
There are several types of caravans available, ranging from the most basic to the most high-end vehicles. Some provide more space and capabilities, while others are small and rustic in nature. The following chart includes several types of caravans and their descriptions.
| | |
| --- | --- |
| Type of Caravan | Details |
| | Light enough to be towed by a small vehicle; fits a double mattress that covers the surface area of the floor; may contain basic cooking tools in some versions |
| | Unique feature is the expandable roof, which allows for fuel economy as well as easier storage than taller models |
| | Collapse significantly and must be set up each time it arrives at a campsite; small size makes storage easier and lowers fuel costs |
| Conventional Caravans | Most common and popular form of caravan; single-axle; usually sleeps from two to six people, has cooking facilities as well as washrooms |
| | Steering on the road is easier but parking and storage more difficult |
Choosing which caravan best fits an individual's needs takes some consideration. Before purchasing a caravan or choosing which caravan to rent, one should decide what type is best suited to one's needs. The length of a trip, how many people need to sleep in the caravan, and what additional accommodations are needed are a few of the criteria that should be included in the decision-making process.
Six English Isles Caravan Holiday Locations
There are countless possibilities and destinations for a caravan holiday, each offering its own unique features, including landscape, possibilities for outdoors activities, shops, and sightseeing opportunities. The following are six popular options that provide a variety of caravan holiday experiences for all types of travellers.
Cotswolds
The Cotswolds are one of the most popular destinations in the British Isles; among its many sights to see are the famous Roman cities such as Bath. Ancient towns that have remained relatively untouched for centuries can be experienced in the Cotswolds as well, with landmarks such as the limestone walls that are considered an architectural marvel. Shakespeare's birthplace is also in this region. Nearly all caravan campsites in the Cotswolds are family-friendly.
Isle of Wight
The Isle of Wight is one of England's largest islands and is located in the English Channel. During one point in history, this diamond-shaped county was its own independent nation; at other times it has been the home famous persons such as Alfred, Lord Tennyson and Queen Victoria. The Isle of Wight has several charming towns worthy of exploration, many beaches, and a number of campsites to serve as home base.
Lake District
William Wordsworth and Beatrix Potter are two of the notable natives of the Lake District. This mountainous region in North West England is famous for the magnificent landscape features, including waterfalls, lakes, and greenery. The Lake District itself is a National Park. In addition to the natural beauty, there are many towns with plenty to see and do. Campsites including Troutbeck and Ravenglass provide several on-site activities to supplement all of the traveller's adventures in the Lake District.
Scotland
Scotland is a small country rich with caravan camping possibilities. The landscape of the country itself is diverse, and seeing the country by caravan is an excellent way to take in all of the sites, both natural and manmade, including the many lochs and castles. Scotland owes its rugged landscape to the fact that it was covered in ice during the last ice age, while its history as both an occupied and independent land is equally rugged.
Wales
Ideal for active and adventurous travellers, a caravan holiday in Wales provides many opportunities for viewing unique culture as well as outdoor activities. From the cliffs, scenic beaches, castles, ancient Roman remains, ancient tombs, and sacred circles, Wales is full of sites to see. Moreover, one can never lack in physical activities. Kayaking, horseback riding, caving, diving, and climbing are just some of the adventures available. Caravan campsites within Wales are also full of planned activities for guests.
London
When one thinks of a caravan holiday, London might not be the first, or even the second or third, destination to come to mind. But this leading city, rich with sightseeing opportunities both historical and cultural, can be experienced while staying a short distance away in a caravan campsite. For example, Theobolds Park, a large campsite, is just thirty minutes outside of the city. While in London, those traveling by caravan should be sure to visit Buckingham Palace, Big Ben, The Tower of London, and Westminster Abbey.
How to Buy Caravan Holidays on eBay
To locate and purchase caravan holiday packages on eBay, use the general search bar found on most eBay pages and type a simple keyword such as 'caravan holiday'. You may choose to restrict your search further in a number of ways. One way is to select a subcategory, perhaps including those for accommodation or short breaks, to lower the number of displayed results. You can also choose a price point to limit your results to those within your budget. Another way to view more specific results is to add more keywords to your search: simply add another word or phrase to the search bar. For example, if you wish only to see caravan holidays for Wales, adding Wales to the search bar eliminates any other caravan holiday listings.
Once you have narrowed down your listings to one or several, take the time to read the details carefully. Note any restrictions on the accommodations, such as a no-pets policy, maximum number of people, and any dates during which the caravan is unavailable. Pay strict attention to any and all requirements related to payment, including deposits, refund policies, and extra charges. Click on the name of the seller to be redirected to each individual's eBay feedback page where you can read comments from past buyers and learn the eBay feedback rating that is based on past transactions. You can also use the eBay feedback page to contact the seller with any questions or concerns about the listing.
Conclusion
Planning a holiday can be stressful and expensive. The costs of food, lodging, activities, and travel add up very quickly, sometimes pricing travellers right out of the experience. With a certain amount of research and planning, however, those looking to get away for a weekend, a week, or even longer, can do so by taking a caravan holiday. With a bit of research and pre-planning, travellers can confidently select the best caravan holiday to suit their wants and needs.
Whether travellers decide to make an investment in the purchase of a caravan or rent one for the duration of the trip, there are several reasonably priced options depending on the desired accommodations. Caravan campsites offer a wide variety of amenities, which vary from site to site, including laundering services, recreational activities, and other possibilities to provide comfort and convenience for travellers. They are often situated close to scenic areas of interest, making the viewing of sites of interest possible. Whether travellers plan out their own caravan holidays or purchase pre-planned adventures through eBay or other vendors, knowing the options helps make for an enjoyable holiday.