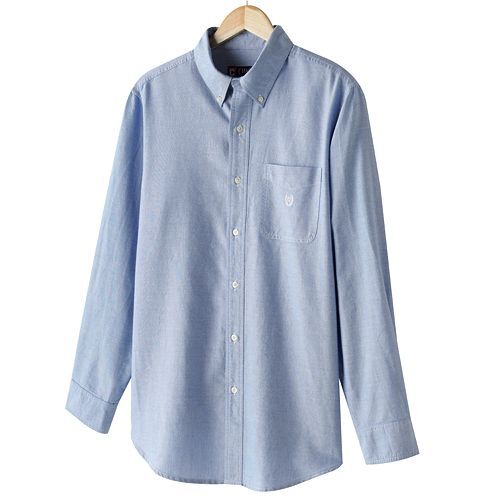 When putting together a wardrobe, there are certain staple items that every man should be sure to include. There are six casual shirts that should be among those items. The term "casual" is used much more broadly than it used to be, and it has become much more acceptable for casual clothing to appear in the workplace. Many men's casual shirts are incredibly versatile and can be dressed up or down with other wardrobe items depending on the occasion.
It's easy to become overwhelmed with the vast selection of menswear. In order to save time and money and to avoid frustration or confusion, it is best to do some research prior to shopping. A man should become familiar with exactly what each of the six essential kinds of casual shirts are, as well as with some of the other terms and concepts that will be encountered while shopping. The guide below outlines the six casual shirts that every man should have as well as how to find and buy them.
The 6 Casual Shirts Every Man Should Have
There are six essential casual shirts that every man should have on hand. The following is a list of those shirts, along with some additional information that will help a man to understand the terms and concepts he will likely encounter while shopping.
1. Check Shirts
Check shirts have been a fashion mainstay for decades. The classic patterned shirts were once associated with a more rugged style, but have become a men's casual wear must-have. They can now be found in several types of material and in a wide variety of brand names. Men are advised to have at least two or three check shirts in their wardrobe. It's best to purchase them in various degrees of heaviness so that one will be available in all types of weather.
2. T-shirts
The T-shirt is a classic clothing item and every man should have more than a few in his wardrobe. Usually made of cotton, T-shirts are short-sleeved, uncollared casual shirts. The shirt gets its name from the fact that its shape resembles that of the letter "T". They are typically very low maintenance in terms of washing and care. This kind of top can be worn alone and also works very well as an undershirt to go beneath more formal shirts.
3. Golf Shirts/Polo Shirts
The polo shirt was initially designed to be worn while playing golf or tennis. Polo shirts are most commonly made from cotton or cotton blends. The polo is considered casual wear, but looks nice enough for dining out and can be worn on casual days at most offices. A good polo shirt allows a man to be cool and comfortable while still maintaining a somewhat polished look.
4. Rugby Shirts
Rugby shirts were similarly used only for the playing of their namesake sport, but have earned a place among the mainstays of men's casual wear. Rugby's are considered to impart a very masculine look to their wearer. Classic rugby shirts have long sleeves, but short-sleeved polo rugby's are also available.
5. Sweatshirts
Sweatshirts are usually thought to be another absolute must for any man's wardrobe. Usually made of cotton, sweatshirts are soft, warm, and breathable. Sweatshirts are essentially the cool weather alternative to the T-shirt. Men should aim to have at least two good sweatshirts in their collection, preferably one with a hood and one without.
6. Casual Sweaters
Casual sweaters are a step up from sweatshirts in terms of formality. There are several types of fashionable casual sweaters that can easily be taken from a casual lunch with friends to an evening date with just a change of trousers. Men should have more than one casual sweater in their closets, preferably in a variety of colours and textures. Casual sweaters come in many styles including button-up, zippered, and turtleneck.
What to Know About Casual Shirts
Many of the casual shirt types on the list come in various types of fabrics. The fabric used to make a garment impacts its durability, breathability, and often its cost. Different materials will feel differently against the skin, as well.
The table below shows the types of fabrics most commonly used for men's casual wear, along with some basic characteristics of each.
| Type of Fabric | Characteristics |
| --- | --- |
| Cotton | Cotton is an all-natural fibre and allows a lot of breathability. The majority of men's shirts are made from cotton or cotton blends. |
| Polyester | Polyester, a synthetic, is fairly lightweight and tends to be highly wrinkle resistant. It is a bit less breathable than cotton and typically feels stiffer against the skin. |
| Silk | Silk is a natural fibre that is harvested directly from silkworms. It is extremely soft and very delicate. |
| Lycra | Lycra is a synthetic material often used to make sports and fitness clothing. Lycra stretches easily and is very lightweight and breathable. |
| Wool | Wool comes from the shorn coats of sheep. Wool tends to be very thick and warm, making it ideal for cold-weather garments. |
| Linen | Shirts made from linen are lightweight and breathable. True linen is naturally derived from the flax plant. |
The list above is not inclusive, but it does provide a brief summary of fabric materials available for shirts.
The Different Fits of Men's Casual Shirts
Men's casual shirts are also categorised by fit. In order to purchase shirts that are most suited to one's body type and personal style, it's important to know what is indicated by each kind.
Slim
Slim-fit shirts are tailored to fit snugly around the arms, chest, and waist. They follow the contours of the body more closely than other types of men's shirts.
Fitted
Fitted shirts are also tailored but do not fit as tightly as slim-fit style shirts. A fitted shirt still has a bit of a tapered-waist look, but is slightly more boxy in appearance than slim-fit shirts are.
Regular
Regular-fit shirts are not tailored to curve inward at the waist, arms, or chest. Their lines are squared and they are more forgiving if a man wants to draw attention away from an ample stomach.
Relaxed and Loose Fit
Relaxed fit shirts and loose fit shirts are not tailored inward and some are even sewn so that the garment expands outward at the waistline.
Stretch fit shirts are made of a material or blend that allows for some expanding. Stretch fit is found often among T-shirts and fitness wear. Stretch fit was originally created to allow for a full range of body movement while performing athletic endeavours.
Getting the Right Size
First, any man shopping for a new shirt should know his size. If one's size is not known, measurements are easy to take. To get a proper reading, a man should have someone else take his measurements for him. Once the neck, chest, shoulder width, and arm length have been measured it will be easy to figure out which size of casual shirt will fit correctly. It is common for there to be a slight variation in the way that each brand cuts their sizes. One label's "small" might be equivalent to a "medium" in another. Most sellers on eBay, for example, have size charts for the brands they carry to help buyers translate their measurements into the appropriate size. Getting the proper size is imperative in terms of how the garment will look and feel when worn.
How to Buy Men's Casual Shirts on eBay
There is a vast selection of men's casual shirts on eBay. A shopper can find all of the necessary items to complete his wardrobe in a wide variety of brands, sizes, styles, and colours. One of the major benefits of shopping on the site is that there are many sellers to choose from. Another good feature is the ability to browse a much wider selection than at any physical shop.
Finding the Right Shirts on eBay
Anyone can get started looking at men's casual shirts on eBay by having a look through the men's clothing sections of the site. From here, menswear can be searched by clothing, brand or designer, size, fit, and material. Items can also be sorted by price. Each individual seller has a profile with information for buyers about their products, location, shipping method, and history on eBay. More specific terms can be entered directly into the search bar on the site in order to yield more accurate results.
Conclusion
Many men are unaware of the characteristics that differentiate one type of shirt from another. These concepts are simple to understand, and making an effort to do so will be rewarded when a man ends up with a top-notch wardrobe. Casual shirts are not just for lounging anymore and have an important place in the everyday wardrobe. Making sure to have the casual shirts necessary for a complete set of looks can help a man to be more prepared for whatever professional or social situation he may find himself confronted with. Today's casual wear is versatile and can be used in conjunction with more formal pieces to dress up a look when needed. Besides being aware of which kinds of shirts are required to create a well rounded wardrobe, understanding the options available in terms of style, material, and fit will go a long way toward enabling any man to buy with confidence.