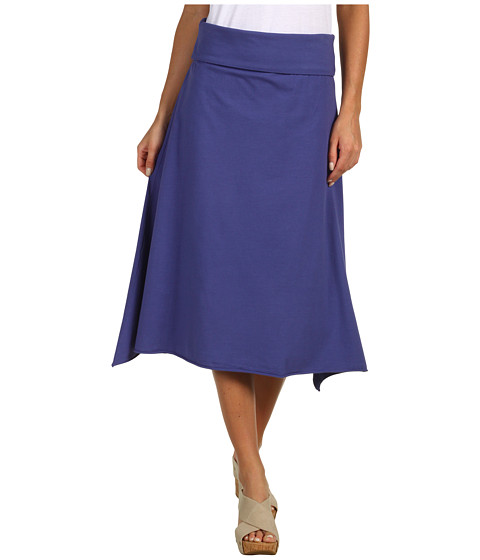 Skirts can be lovely and ladylike or strong and chic, and women have been wearing them for millennia. One general fault of skirt design is that the hemlines are so often cut straight across the legs. This is not always the most graceful or flattering look for a woman, particularly if the hem cuts across a wide part of the calf or thigh, and it can certainly become boring. Wearing an asymmetrical skirt is a wonderful way to maintain a feminine look while adding some visual interest to an skirt-and-top combination.
Women should keep in mind, though, that pulling off an asymmetrical skirt takes a bit of know-how and aforethought. This type of skirt is not a garment to simply be thrown on with any blouse or jumper; it requires the right top, the right shoes, and the right accessories. The following list of six do's and don'ts will help women of all fashion personalities work an asymmetrical skirt.
1. Do Be Familiar with Different Types of Asymmetrical Hemlines
Not all asymmetrical skirts are created equal. Some are cut quite short in the front, like a mini, while the back is long and may even fall into a train. (Technically, these skirts are symmetrical in that the left and right side look the same, but they are classified as asymmetrical because of the uneven or high-low hemline.) Other asymmetrical skirts are longer on one side and shorter on the other. Still other skirts feature what is called a handkerchief hemline, where the hem goes up and down all the way around the bottom of the skirt and hangs in points. Each of these types of hemlines creates a distinctly different look.
2. Do Decide on a General Length
An asymmetrical hem refers only to the unevenness or angle of the cut, not to the length. There are many different lengths available in all skirts, including asymmetrical styles, even though the skirt may be longer in one area than at another. While the micro-mini does not lend itself well to an asymmetrical hemline (a micro-mini offers enough visual interest), a woman may choose a short or mini asymmetrical skirt for a bit more coverage than a regular mini; extra fabric may fall at the back or one one side, depending on the design. A short skirt is great for lengthening the legs or showing off naturally long legs on a tall woman.
A knee-length asymmetrical skirt can work both at the office and for cocktails, depending on the fabric, colour, and overall look of the outfit. A calf-length asymmetrical skirt or full-length asymmetrical skirt may have a breezy, bohemian feel or be formal enough to attend a wedding. A petite woman should be careful not to wear a skirt too long, as this will make her appear as if she is drowning in an oversized skirt; however, a well-fitting longer skirt can make her appear a bit taller, since her leg line is not bisected as high up as a taller woman.
3. Do Get the Perfect Size
An asymmetrical skirt with an elastic waist may come in general letter sizes, since the waistband can adapt somewhat. A skirt with a rigid waistband and a zipper closure is likely to be sized by numbers. Because of its eye-catching, unusual hemline, an asymmetrical skirt must fit just right. This is not the type of skirt that one can just pull on or borrow from someone else. The lines must fall correctly from all angles.
Numeric Size Chart
Shoppers can consult the following chart to confirm their current skirt size by matching their measurements. While sizing standards may vary by manufacturer, this is a good general guide.
| Waist Measurement in Centimetres | Hip Measurement in Centimetres | UK Women's Clothing Size |
| --- | --- | --- |
| 58 | 83.5 | 4 |
| 60.5 | 86 | |
| 63 | 88.5 | |
| 68 | 93.5 | |
| 73 | 98.5 | |
| 78 | 103.5 | |
| 83 | 108.5 | |
| 90.5 | 116 | |
| 98 | 123.5 | |
| 104 | 129.5 | |
| 110 | 135.5 | |
| 116 | 141.5 | |
Numeric sizes are more specific than alphabetic sizes because they indicate a more precise fit.
Alphabetic Size Chart
Letter sizes usually cover two numeric sizes. The chart below indicates which sizes are represented by which letters, although these may vary somewhat from one apparel company to the next.
| Letter Size | Number Sizes |
| --- | --- |
| | 4 to 6 |
| | 8 to 10 |
| | 12 to 14 |
| | 16 to 18 |
| | 20 to 22 |
Again, these sizes are typically for pull-on skirts with stretch, as opposed to skirts that button or zip. Letter sizes are generally found in more casual and less-expensive clothing.
4. Don't Overlook Colour
An asymmetrical skirt may look absolutely gorgeous on the hanger and on a woman's body, but it still must be worked in with the rest of her wardrobe. Unless the garment is being worn to a one-time event, such as a party or wedding, it should work with a few different pieces in order to maximise its value. Otherwise, a woman may end up considering her purchase a fashion mistake. For this reason, the colour should be considered as an important element in the buying decision.
As far as colour goes, multicolour prints are lovely but can be limiting and, when combined with an uneven hemline, can make an asymmetrical skirt look too busy. Solid neutrals, such as blacks and greys for winter and beiges and whites for summer, are most versatile for career wear and those women who have smaller minimalist or mix-and-match wardrobes. A pretty colour is nice for the woman who has plenty of clothes or is dressing up for a special event.
5. Don't Over-Accessorise
A skirt with an asymmetrical hemline should be the focus of the outfit. Such a skirt has a simple beauty in its design and does not need to be accented with fancy shoes, lots of jewellery, or a fussy top. Keep the rest of the look relatively sleek and sophisticated. In warm weather, a body-hugging knit tank or tee with sandals looks fantastic. In cold weather, a simple sweater and boots look great.
6. Don't Forget Tights or Leggings
Certain styles of asymmetrical skirts are either sheer or very short at some points and are meant to be layered over tights or leggings. Hosiery also helps to transition an asymmetrical skirt from warmer to cooler weather. Examples of sheer materials used for skirts include chiffon, unlined lace, thin silk, and linen. These look great with coordinating leggings for a more casual look. Tights can be worn in the winter with heavier fabrics, such as corduroy, leather, suede, and wool.
Where to Find Asymmetrical Skirts
Asymmetrical skirts are less common than traditional skirts, and they come into and go out of fashion, but there are usually a few styles to choose from at any given time. Typically, there will be more of a selection at more fashion-forward boutiques, design houses, and large department stores. Other clothing retailers, such as discount stores, independent clothing chains, and outlets, may also carry skirts with asymmetrical hems. Used asymmetrical skirts may be found at consignment shops, thrift stores, yard sales, garage sales, and online auctions.
How to Buy Asymmetrical Skirts on eBay
You can find plenty of different asymmetrical skirts right on eBay, both brand new and pre-owned. By doing a keyword search for "asymmetrical skirts" from the homepage, you will be immediately directed to all item results that include those words in the title; most of these will be listed in the fashion portal. Once you have arrived here, you can then click on a variety of category filters to further narrow down the results.
Conclusion
The asymmetrical skirt category is actually quite broad. Women should be familiar with different types of asymmetrical hems, as they can look very different. Additionally, different lengths on these skirts should also be considered, particularly in relation to a woman's body type and height, as well as the occasion. Skirts with uneven hems should also be sized exactly right so that they fit perfectly and look good from all angles. Getting a good colour is important so that the skirt makes an overall attractive outfit and also blends with the entire wardrobe. Wearers of asymmetrical skirts should be careful to accessorise correctly and not draw attention from the design of the skirt, while also knowing when to cover up exposed legs with tights or leggings, even if just for a more casual or alternative look.
An asymmetrical skirt is more difficult to wear than a regular skirt, but this is not to say that it is best left to fashionistas. Just a bit of fashion savvy and attention can have anyone looking great in an asymmetrical skirt. Following these six basic do's and don'ts will help anyone achieve the fashionable look she desires.