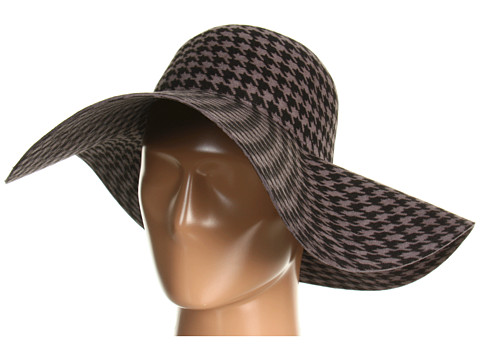 The hat has been topping off stylish attires for centuries. Throughout the years, this piece of headgear has lent its usefulness to situations ranging from safety and ceremonial symbolism to military ranking and fashion statements. At one time, the hat was seen as a measure of social status. During the early 1800s in England, the top hat was exclusively worn by members of the upper and middle class. By the time the mid-century mark rolled around, it was a fixture in all social classes. The bowler came along in 1850. Also known as the Coke, this hat, originally made for made for gamekeepers, was widely adopted among the middle and lower class, and became hugely popular after being seen early Charlie Chaplin films.
A nice hat can enhance the presentation of any outfit. Unfortunately, not everyone is able to pull off the look with success. This guide of do's and don'ts will explain how to properly wear a hat in head turning fashion.
1. Do Know What's Available
Anyone who thinks a hat is just a hat is setting themselves up for a disappointing and potentially embarrassing situation. Despite being embedded into the fabric of society for centuries, many people are still getting it all wrong. For the man who is interested in covering up his head for whatever reason, knowing what options are available is a definite do.
| Hat Type | Characteristics | Material | Occasion |
| --- | --- | --- | --- |
| | Rounded, small brim in front, silk lining inside | Wool, tweed, cotton | Flat caps go good with everyday attire and make an ideal topping for trench coats. |
| | Creased at the top centre, full rounded brim | Felt fabric | Fedoras stand out in formal occasions, and even add a touch of professionalism in business settings |
| | Cylindrical crown, flat top | Felt fabric, straw | Pork Pie hats offer versatility that allows them to fit in at semi-formal and informal affairs |
| | Single dent down the top centre | Felt fabric | Homburgs bring classic style to formal occasions of all kinds |
| | Round crown, hard surface | Felt fabric | The bowler hat puts the finishing touch on formal attire, or a clever costume |
| | Front visor, round body | Wool, tweed, cotton | The newsboy cap is often worn in casual settings, but complements professional attire when matched with the right outfit |
There are many different styles of hats to choose from, and with those different styles it's all about what the wearer feels comfortable with and what suits their personality. When choosing the proper hat, personality is one main factor that should be taken into consideration. By knowing which style of hats are available and their features, it makes the decision more simple to make.
2. Don't Get Hat Hair
Some people avoid wearing a hat due to the fear of the dreaded condition known as "hat hair". After wearing the piece for several hours, they remove it to find that their hair is either smashed flat, static clung towards the ceiling, or a mangled combination of both. Luckily, this condition can be avoided with a little preparation.
Get the Right Size
Wearing a hat that is too small is a common cause of hat head. An ideal fit allows the wearer to slide a finger between the inside band of the hat and their head.
Choose the Right Material
Some materials are notorious for hat head. Wool, cotton and other materials that reduce static electricity are good at fighting against it.
Avoid Hats and Wet Hair
Hats should only be worn with dry hair. If a person's hair is either wet or damp, it will dry underneath the hat and take on its unappealing shape.
Nurture the Hair
People with hair that is vulnerable to static electricity are prone to hat hair. These individuals can combat this problem by using moisturizing products that hydrate the hair, while reducing frizz and friction.
3. Do Match Hats with Outfits
A hat wearer isn't doing their headgear justice if it doesn't match their outfit. If a man is sporting a black suit with red pinstripes for the evening, a black fedora fixed with a red feather on the side could top off this distinguished look just right. On the other hand, a man donning a green sweater may want to unify the look with a red pork pie. A guy going for a casual presentation could achieve it by putting a newsboy cap on top of a T-shirt and pair of jeans.
Basing what hat to wear on one's clothing is an effective method, but caution should be exercised when material is thrown into the mix. A wool flat cap could be overkill on top of the wool sweater that demands enough attention on its own. In this case, a cap made of tweed or cotton would probably make for a more fitting look. When it comes to matching hats and outfits, an individual may find that it is best to play around by mixing and matching several different styles. This will provide an opportunity to visualise the results and get a better feel for what might work
4. Don't Forget the Face
Choosing something that accentuates the shape of the face is essential to pulling off a hat of any kind. The goal here is to give the facial proportions as much symmetry and balance as possible. Following is some advice on matching hats and face shapes.
Round
A hat with a broad brim can help bring balance to a full face. The fedora is a classic example.
Square
A person with a square face will want to avoid square crowned or tapered hats that give them a boxy look. A bowler or Homburg can balance the jaw lines typical of square faces.
Long
People with long faces are encouraged to avoid hats with long crowns, and opt for something that shortens and balances it out. This goal can be achieved with a fedora or pork pie.
Large Jaw
An individual with a prominent jaw should avoid hats with brims and crowns that are either too big or too small. A fedora or pork makes a happy medium.
5. Do Honour Hat Etiquette
The rules of hat wearing are not enforced or upheld to the same degree as past times, but a little honouring of tradition never hurt anyone. Here are some etiquette tips to be applied by the serious hat enthusiast.
| Wear It | Tip It | Remove It |
| --- | --- | --- |
| Outdoors | When asking a woman or elderly person for directions | In the presence of National Anthem or country flag |
| Sporting events | When a woman asks for assistance | In a place of worship (unless instructed otherwise) |
| In an elevator | When meeting a woman for the first time | In public buildings such as courthouses and post offices |
| On public transportation systems | When receiving thanks from a woman after providing services | In the presence of a funeral ceremony |
| In public buildings | When meeting an older gentlemen | In someone's home as a guest |
The venue in which you are wearing your hat in is important to remember to remove it out of respect. One doesn't want to seem rude or not concerned with being respectful, that is why it's important to remember the etiquette of wearing hats.
6. Don't Put Every Egg in One Hat
A nice hat can add the missing touch needed to complete the perfect look. With that said, there is only so much even the most stylish accessories can do. Someone who leaves out of the house overdressed or underdressed should not expect a hat to save the day. Such an approach could lead to a situation where the headgear backfires by drawing more attention to their questionable choice for attire. In these instances, a hat is usually best left on the rack. The moral of the story is that it pays to know when and when not to wear a hat.
Know Your Size
There are many key factors to keep in mind when purchasing a hat. One of the most important is knowing the size you need. Some hats come in small, medium, and large, but because everyone's head is different, it is best to get some measurements before you buy. With a tape measure handy, you can refer to one of the many hat size charts online to determine which sized hat will best fit your head.
Where to Find a Good Hat
Hats can be found in a variety of local shops, boutiques, and other retail stores. There are locations that sell them alongside other apparel, those that sell them exclusively, and those that specialise in certain types of hats. Finding something that looks and fits good can be a chore being that the selections at some locations are more varied and attractive than others. For this reason, many consumers are taking their search for hats online. There are many online storefronts to choose from, but a wide selection and impressive track record makes eBay as good a choice as any.
How to Buy a Hat on eBay
If you want to purchase a hat on eBay, you can begin your journey by using the search box on the homepage. You can also use the Advanced Search function. This feature comes in handy for the shopper who wants to narrow down their search by specific criteria. For example, if cost is one of your top concerns, you may want to conduct your search based on price. Searching for hats by price on eBay is a great way to find something that accommodates your budget. Depending on the type of hat being purchased one will find many different results with just searching for a simple "hat&". In order to find a specific hat a more detailed search would be required. No matter the results there are bound to be literally thousands of hats to choose from. In that amount, one of those should strike the fancy of the wearer.
Conclusion
At one point in time, a man wouldn't be spotted outside without a hat of some sort on his head. It was even rare to see young boys leave the house without a cap. The hat isn't the everyday accessory it once was in the past, but got on the road to a comeback in the early 21st century. Quite a few high profile figures have played a contributing role in its resurgence, including Boy Richie, George Michael, Prince, David Beckham and Phil Collins among many others. And while the concept of wearing one couldn't be simpler, pulling it off can be harder than it looks for the fashionably challenged. By getting acquainted with the do's and don'ts of wearing a hat, you can make sure your selection is effectively serving its purpose with style, whether it's complementing a new shirt or simply to keep your head warm on a chilly afternoon.