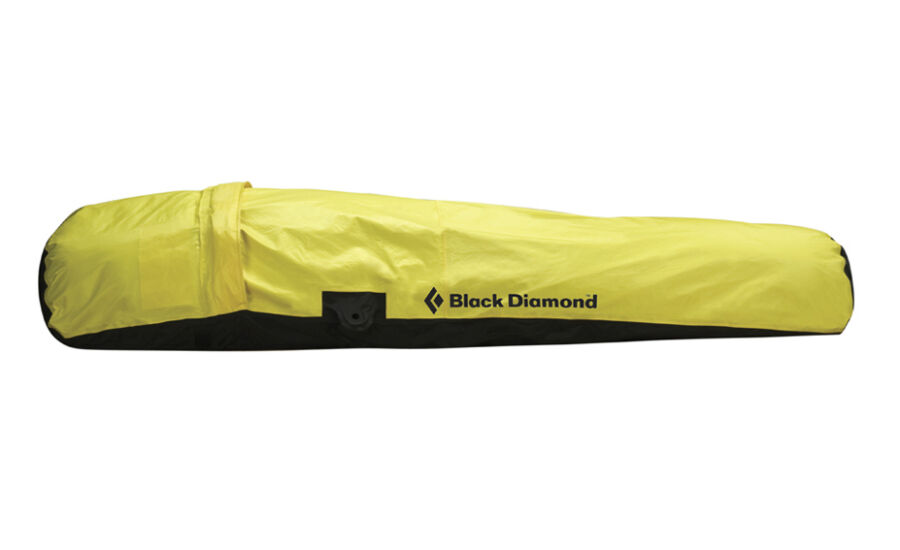 Before embarking on a camping trip there are a few absolute essentials that every camper will need, whatever the occasion. That sinking feeling that something important has been forgotten can be avoided by following a few easy tips about what to bring and why. This guide will help to make sure you are prepared for camping with some handy advice, as well as what to look out for when you are buying supplies. Each of the essentials listed below is available from eBay in numerous styles, and in both new and used condition.
1. Tent
Tents come in many shapes and sizes, but all include an outer sheet (rain-sheet) and groundsheet, a frame of plastic or metal poles, and will be secured by lines attached to pegs.
Size
The most important aspect of a tent to consider is its size; whether the tent is for personal use or to share between several campers. Remember that the specification "two person" can be a snug fit for two adults and their belongings, so it may be best to overestimate the size necessary and avoid a potentially cramped environment.
Style
The style of the tent is another crucial factor to consider: weight, durability, and ease of assembly will all vary considerably between designs.
If the tent is for a brief camping trip, perhaps a music festival or a hiking weekend, then lightweight frames are important for mobility.
Dome and Hoop tents are quickly assembled, using arching poles to provide a curved roof for protection from rain.
Alternatively, the classic triangular Ridge tent offers the best water drainage at the expense of increased vulnerability to strong winds.
Lengthy camping trips and family holidays will require a sturdier frame to provide an indoor living area and cope with the potential for extreme weather.
Frame tents come in a wide range of sizes and rigid poles make them more secure, but their weight can be difficult to manage without vehicle transportation.
A larger frame tent is ideal for extended family camping and they will more frequently offer separate compartments for sleeping and living areas.
Brand
Popular and trusted brands for tents include:
Vango
Hi-Gear
Coleman
Outwell
Wild Country
Advice
Because of their durability, buying used tents is a popular and affordable option as they will develop wear and tear slowly. The tent may even have been purchased for one specific occasion. When buying a used tent from eBay, always check the Item Specifics for any damage or missing parts. Replacement parts can be easily found on eBay, as can spare pegs, lines, tent repair kits, and peg mallets.
It is also advisable to familiarise yourself with the tent's components and assemble it prior to the camping trip. Difficult weather can make a first-time assembly particularly challenging.
2. Rucksack
The available space within a rucksack is measured in litres (L) and there should be a clear description of the amount of pockets and straps it offers.
Style
Lightweight backpacks are perfectly suitable for storage, but prolonged exposure or heavy contents may stretch their capabilities.
If carrying a tent and other essentials then packing the remaining gear into a lighter pack for temporary transportation can ease the burden considerably.
Younger campers will also be more comfortable with a small and compact pack on their shoulders.
Daypacks offer a middle ground between backpacks and rucksacks, and are designed for long walks and hiking.
Some daypacks will include special slots for holding extra water bottles to supply a long walk.
Larger rucksacks may conveniently include a removable daypack.
Hiking and military-style rucksacks are larger and more hardwearing, and can carry a great deal over long distances without compromising their contents.
Heavy duty polyester and canvas materials are weather resistant and capable of withstanding prolonged exposure.
Hip belts and padded shoulder straps will ease the distribution of weight. The majority of weight should be carried on the legs and not the shoulders.
Zipped pockets and compartments help to separate the contents of larger bags.
Brands
Popular and trusted brands for rucksacks include:
Gelert
Highlander
Berghaus
Jansport
Karrimor
3. Cooking Supplies
Depending upon the length of the trip, a few picnic lunches will not sustain a camping trip forever, and few campers can guarantee the success of a camp fire. The basics of what to bring for cooking supplies, and what to look out for, are outlined here.
Advice
Camping stoves are affordable alternatives to a camp fire and are much more reliable. Many offer only a single hob burner but multiple hobs can be useful, especially in larger groups.
Always check when buying from eBay that suitable fuel containers are available or preferably provided. If concerned about delivery and potential damage, it is always possible to contact the Seller directly for further information.
Automatic lighters will prevent the need for matches and a built-in pressure safety device is also recommended. Lightweight windshields are available, and often included.
Modern kettles, pots and pans typically come in aluminium and stainless steel varieties.
Aluminium is preferable for its light weight and heat conduction.
Stainless steel is more hardwearing and less reactive to other elements.
Warning
Camping stoves can be dangerous and it is important to perform a thorough maintenance check before operating them. If bought second hand, from eBay or elsewhere, double check the seals and hoses are sufficiently secure and no cracks are visible along the seams.
Never let children operate camping stoves. When the stoves are ignited ensure they are attended at all times.
4. Sleeping Bag
A sleeping bag's thickness is designated in grams per square metre (GSM), which will indicate both the weight and comfort of a particular bag.
Size
The larger and thicker sleeping bags are typically 300 - 400gsm and sacrifice mobility for comfort. Wintry temperatures or solitary sleeping arrangements may warrant the extra cost, and sleeping bags can always be unzipped if they become too warm overnight.
Lighter sleeping bags are available from around 100gsm and are perfectly comfortable on summer trips when even the heat trapped inside a tent can be sufficiently warm. They are not suitable for high altitudes or particularly cold conditions, but if chillier weather unexpectedly emerges then a sleeping bag's thickness can always be bolstered by wearing warm clothing inside.
Sleeping bag insulation comes in two varieties of material: down and synthetic. Down sleeping bags are extremely warm for their bulk and weight, but they are often more expensive and susceptible to water damage. Synthetic insulation is more waterproof than down and the materials are easy to clean and maintain. However, they lose heat more quickly and more bulk is required to achieve the same level of warmth
Style
Sleeping bags are generally available in single, double and children's varieties. There are also two standard shapes, square and mummy, as well as gender specific styles available to better accommodate a man or woman's physique.
| | |
| --- | --- |
| Square | Rectangular in shape, square bags offer more freedom of movement but at the cost of allowing cold air to circulate. |
| Mummy | Named for the Egyptian mummies, these more restrictive bags offer better heat retention and hoods to nestle the head. |
| Single | Length typically between 180cm and 230cm. |
| Child | Length typically between 137cm and 170cm. |
| Double | Width typically between 137cm and 160cm. |
| Male | Broader at the shoulders. |
| Female | Broader at the hips. |
Brands
Popular and trusted brands for sleeping bags include:
Outwell
Easy Camp
Mountain
Snugpak
Vaude
Advice
Remember that pillows may have to be purchased separately, and even if included in the lining of the bag's hood they will not necessarily provide the same level of comfort and support as a regular pillow. Standard and inflatable pillows are available separately on eBay.
5. Sleeping Mat
A sleeping mat is a necessary addition to a sleeping bag. A firmer platform to rest the sleeping bag upon will prevent any small objects beneath the groundsheet from becoming uncomfortable in the night. Mats and airbeds will provide a level surface for better rest outdoors.
Style
Foam roll mats are inexpensive and easily carried. They are predominantly produced as single person mats but larger double mats are available.
They should include a strap or bag to prevent them unrolling during transportation.
Airbeds provide a greater level of cushioning but do require inflation with a hand or foot pump.
Some airbeds will self-inflate with an integrated battery pump at a higher cost.
Airbeds are not easily punctured but do be careful to check the item description for any holes or tears in the fabric, and as a precaution it would be wise to pack a puncture repair kit.
6. Tables and Chairs
Camping chairs are popular and widely used by anglers and festival goers alike, and a large variety of camping chair is available from eBay. The basic design is inexpensive and an essential for comfortable meals, a break from hiking, or just to relax and admire the view.
Style
The standard camping chair consists of a frame of metal tubing and a suspended fabric seat, with or without arm rests. Camping stools are also available. They are designed to be collapsible for ease of transport, and the hollow steel frame is both lightweight and sturdy. They can include a bag to contain them in once folded. Camping tables are widely used for family outings, and will serve to make cooked meals in the outdoors more civilised.
Style
Some camping tables will only provide a stable surface for food, but larger models will also include seats as a portable picnic bench. Camping tables utilise a folding metal frame like a camping chair. They are typically made of aluminium, a lighter material than steel, for easy transportation.
How to buy on eBay
Whilst deciding on the essential camping accessories that you want to take on your camping adventures, it is also important to guarantee a safe purchase on eBay by following these helpful steps:
When the camping accessory has been found, it is important to check out the seller of the product. Check for a selling history, feedback, their description and any other details that can be sourced i.e. the camping specialist stores will have an eBay store (which offers a safe option).
Read the item's description carefully to make sure that all the information is provided by the seller. If more information is required, please do not hesitate to get in contact with the seller by using the 'ask the seller' question. If the product is second-hand, be sure to understand if there are specific faults with the product.
Check to determine if there are any returns policies for the camping accessory product. This returns policy will give you peace of mind when making the final purchase.
Fully understand the postage and packaging detail to determine if there is insurance cover, recorded delivery, or whether the seller delivers internationally.
The last purchasing decision to check is the method payment. eBay offers a diverse range of payment options, but it is critical to determine whether the seller takes the payment method that you require.
Summary
Camping doesn't have to be stressful. A comfortable place to sleep, hot food, and an easy set-up will make a camping trip just as relaxing or exciting as it was meant to be. With the right preparation and the essential supplies, anyone can enjoy the great outdoors. Buying online will always offer the greatest range of products, and at eBay, you can be sure to receive a full description and a competitive price.