You just bought a new tablet and wondering what accessories you need? Below is a list of six must-have accessories to protect your tablet and make it easier to use.
1. Tablet Case
A tablet case should be the first accessory you buy for your tablet. Tablets are a big investment and you want to protect it.
The case not only protects it from falls, but from scratches you get from regular use. If you don't like bulky cases, look for a slim tablet case.
2. Screen Protector
Right after you put the case on your tablet, put a
screen protector
on your tablet's screen. The screen is one of the more expensive parts to replace and without it, your tablet is useless. Protect it immediately. When installing the screen protector, be sure to follow the directions that come with it.
The screen protector will not alter the way you use the tablet. It will just protect it from scratches. A
slim glass screen protector
will give you the same feel as the tablet's screen.
3. External Keyboard
Having an
external keyboard
for your tablet is a necessity if you do a lot of typing. Typing short blurbs is ok on the tablet's keyboard, but if you are typing long emails or a research paper, you will be glad you have an actual keyboard.
You can buy
tablet cases with a keyboard
and that works great if you need the keyboard all the time.
4. Stylus
A
stylus
gives you the option to take notes on your tablet like it's a piece of paper. My son finds taking notes in his university lectures with a stylus is helpful. He can easily draw a diagram which is harder to do when typing notes.
He will record the lecture and then use the stylus to draw things or make notes that he wants to remember. The stylus has helped him become more efficient with note taking. Plus it's real easy to send notes to someone who may have missed the lecture.
5. Headphones
Headphones
give you the ability to listen to music or watch a movie while in a crowded place. It's a great way to focus on something when you are in a loud room. My kids wear headphones often when they do homework. They listen to music they like and they don't hear all the sounds of the house.
6. Wireless Flash Reader
You may be wondering what a
wireless flash reader
is and why you need one for your tablet. Tablets have a limited amount of storage. Some let you upgrade with an SD card, but for those that don't, a wireless flash reader is like an external hard drive.
The wireless flash reader connects to your tablet (and can be used with smartphones too) via WiFi. You can store movies, music, photos or anything else on it.
Now you are set to go out into the world with your new tablet. You should be able to conquer any task using your tablet.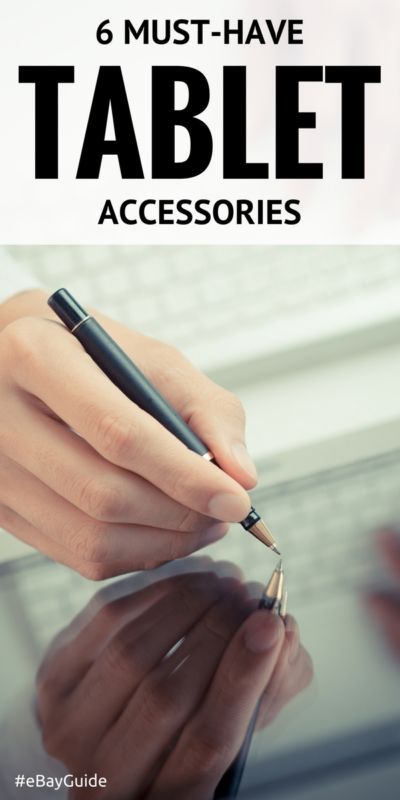 You bought a new tablet and not sure what accessories you need? Here is my list of 6 must-have tablet accessories. Enjoy your new tablet! #eBayGuide