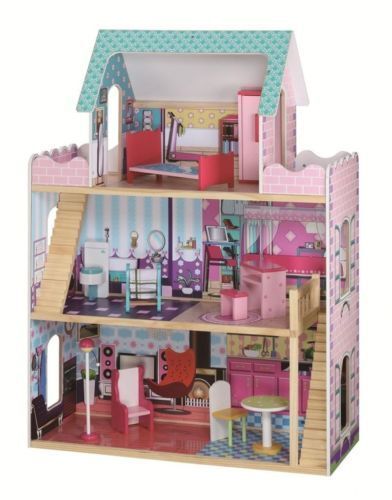 Doll houses are miniature representations of a house, for use with a collection of dolls, or as a collectable item in its own right. Doll houses have long been popular, both as toys for children and as intricately detailed crafts.
A wide range of different types of doll house are available to suit various age ranges and interests, whether a simple toy is required, or the materials are needed for a modeller to build their own. Doll houses are widely available on eBay.
1. Encourages Imaginative and Group Play
Doll houses can be a good toy for encouraging imaginative and group play. The doll house can provide a basis for creative play, providing a backdrop for the use of dolls, or other toys. Group play is also a possibility, and doll houses, particularly larger models which can accommodate group play, encourage this. These qualities are among the reasons that doll houses have remained popular toys.
2. Variety of Styles
Doll houses are available in a wide range of styles, to suit all kinds of tastes and interests. A widely used way of differentiating between the different styles of doll houses is by the era of architecture they are modelled after, as it is common practice for doll houses to be based on houses, and other buildings, of the past. Children's toys will often offer a more simplistic representation of the era, while some collectors may strive for as accurate a representation as possible. There are a few key popular styles.
Tudor Style
Tudor style houses are based upon the architecture of the Tudor period, which covers the years 1485 to 1603. This style is often favoured by more delicate and expensive collector's items, though toys featuring this theme are also available. Tudor style doll houses will often feature thatched or tiled rooftops, and white exterior walls featuring wooden beams. Early style glass windows may also be featured on models, which were beginning to enter into common use during this period.
Georgian Style
A popular style for many doll houses is the Georgian period, styled after architecture in the years 1714 to 1830. Widely available in the form of both toys and collectable houses, this style of house often offers the larger models, featuring numerous rooms and stories. These houses also feature many large windows, mimicking real life architecture from the time. Smooth, coloured exterior walls also often appear on this model, as well as tiled rooftops. Those designed for children may often feature brighter, less realistic, colours.
Victorian Style
The Victorian era is another popular historical style for doll houses, stretching from 1837 to 1901. A wide variety of different styles fall into the Victorian era, ranging from simple doll houses similar to those in earlier periods, to more grand styles influenced by Gothic buildings. Victorian doll houses often feature many large windows, chimneys, and decorative patterns and can include towers, large entrances and other features.
Edwardian Style
Edwardian style doll houses are styled after those built in the relatively short period of 1901 to 1910. These houses are often large, and feature numerous large windows similar to Georgian period models. The exterior and structure of these houses often mirror those of the real Edwardian period, having relatively few ornaments and being of a generally simpler, less ornate design. This type of house is also often of a lighter colour than those from earlier periods.
Cottage Style
Cottage style doll houses are styled after modern day cottages. These can feature a number of architectural features from past era, such as Tudor era beams and thatched rooftops. These doll houses are often among the smallest available, featuring only a few rooms and often only one story, and are a popular choice as both toys and collectables.
3. A Range of Different Building Types
There are many different kinds of building are available in doll house form. These can vary between domestic and commercial properties, and are popular toys and collectables.
* Houses are among the most popular and widely familiar type of doll houses. These can range greatly in size, from small two room cottages to large, multi-storied townhouses, and vary greatly in the time and style they represent.
* Shops are another widely popular type of doll house, and are often used alone, or added to a collection to provide variety. Shops can often feature the signposts and designs of different types of shops, such as bakeries and cafes, while others may provide a blank slate for a modeller to add to. Many of this type of doll house are smaller in size than other types, though very large department store models are available.
* Mansions are among the largest type of doll house available. These are similar to houses in style and content, but are modelled after the dwellings of the wealthy. They often feature many rooms and multiple stories, and are also often among the most intricately detailed and decorated.
* Many different sizes of doll house are also available. Larger items are suitable for those with a large collection of dolls, and the space to store it. Doll houses with a number of different stories and rooms can be found, and this is a key way in discerning the size of a doll houses.
4. Suitable For All Ages
Different kinds of doll houses can be found which are suitable for all different ages, such as simple toys for children to elaborate, handmade houses for collectors.
* Modern doll houses are often among the most affordable houses available. Many of those most suitable for use as toys for children can be found in this category. Plastic doll houses are a popular choice for this purpose, and modern toy doll houses can include all kinds of features such as working doorbells and other electronic sound effects. Many more affordable collectors' items are also available here.
* Vintage doll houses are often desirable collector's items, and are less widely available than modern doll houses. These will often be made of wood, and can feature intricate detail and numerous small accessories such as handmade furniture. This kind of doll house is a popular choice for adult collectors.
* Kits are a good choice for modellers and adult collectors. This type of doll house is often arrives featuring only the shell of a house, with no decoration or accessories, or the parts and raw materials needed to build one. This allows a great deal of customisation in how a doll house is built, though it can take time and skill to successfully build one.
5. Many Accessories are Available
Many different accessories are available for use with doll houses, and can be useful for both children and collectors. A wide selection of dolls are available for use with doll houses, and can include from human dolls to those based on animals. The dolls themselves offer a range of accessories such as clothing and shoes.
A wide array of furniture can also be found, often styled after similar eras to the doll houses. These can vary from detailed wooden models for collectors, to chunkier, plastic items more suited to children. Often popular with collectors are very small accessories such as plates and cups, which can add a greater level of detail to a doll house. Structural additions such as staircases are also popular among kit builders and modellers.
6. Numerous Materials are Available
There are a number of different materials widely used in the construction of doll houses, and the different materials offer different benefits, making them suitable for different users.
* Plastic is a popular material for more modern doll houses, and can be found on both those designed as toys, and smaller scale detailed collectables. Many of the modern toys are built out of plastic, as it is a cheap and durable material. Plastic kits are also available, which are popular among modellers and are often of a much smaller scale than wooden houses.
* Wood has remained a popular choice of material for many years, with both vintage and modern doll houses often being made of wood. The cost of a wooden doll house can vary greatly depending on the detail, size and age of a particular house, though wooden houses are often the more expensive option. Many wooden doll houses are detailed collectors' items, though simple wooden toys are also popular.
* MDF, or medium density fibreboard, doll houses are among the most affordable type available. These are a popular choice for collectors who intend to carefully store their doll house, as MDF can be a fragile material. Due to the ease with which MDF can be worked with, it is also a popular choice for kit builders.
How to Buy a Doll House on eBay
A wide variety of doll houses of different sizes, types and styles can be found on eBay. Doll Houses can be found under the Dolls & Bears section, in the Collectables & Antiques category. Results can be organised by categories such as price, condition, and distance to seller as well as by style, theme, and number of rooms. It is also possible to sort between the Auction and Buy it Now buying options, which provide flexibility in how a doll house can be bought.
Key information about an item, such as the material or style of a doll house, is generally prominently displayed in the item listing, making it easy to quickly establish if an item meets and specific requirements. Further information can be accessed on the item page, and includes information about the seller such as item reviews and feedback ratings. This ensures a purchase can be made in confidence. If any further detail is required, it is also possible here to ask the seller a question regarding the item.
If a specific item is required, it may be easier and more effective to use the search function available at the top of every page. Information on effective use of the search function can be found on the Search Tips page.
Conclusion
Doll houses are a popular toy and collectable, and are available in a wide range of styles, themes and sizes. They can be enjoyable to collect, and can also encourage constructive play in children. An array of different accessories are also available, to add variety and depth to a doll house. A wide variety of doll houses are available on eBay.