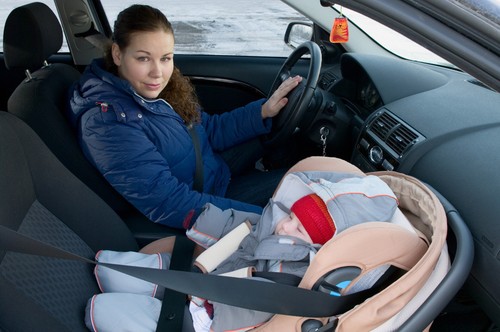 When consumers set out to buy a new car for their families, safety is typically a key factor in the selection. Parents want a car that employs the latest technology but still provides value for the money. The sedans on the road today are packed with standard features such as anti-lock brakes, multiple airbags, and electronic stability control, making them some of the safest vehicles families can drive. Yet, manufacturers continue to push the bar higher on safety. Features once only seen on concept cars, such as autonomous emergency braking systems and lane assist systems, are now available on everyday vehicles.
With a long list of safety features and numerous models to choose from, selecting a safe family sedan can quickly become overwhelming. Organisations like the European New Car Assessment Programme (NEAP) crash test specific models and publish lists every year giving each of the tested models a star rating based on test performance. These studies give consumers an unbiased resource for identifying and choosing a sedan with safety at the forefront of its design. Each one of the six models listed below received the highest marks in safety tests and all use the latest safety technology offered by their manufacturers.
Sedan 1: Audi A3
The Audi A3 is a premium compact sedan with ample boot space and seating for five. Controls for both the radio and mobile devices are built into the steering wheel, meaning drivers can remain focused on the road while changing stations or switching to a CD. Three-point inertia seat belts limit movement in a head-on collision. The airbags feature adaptive technology which allows them to adjust to the level of impact and the position of the seat.
Systems such as active lane assist and pre-sense bring this car to the top of the safety list. Audi's Lane Assist uses cameras in combination with data about speed and trajectory to prevent unintentional lane departure. Audi Pre Sense is a long range radar system that helps drivers mitigate or avoid accidents by detecting vehicles up to 80 metres ahead. The Audi A3 offers excellent crash protection for adult and child occupants. Electronic stability control and front and rear seatbelt reminders round out this sedan's safety feature list.
Sedan 2: BMW 3 Series 320d
With the performance and reliability expected from BMW, the 320d is a solid choice for a safe family sedan. It offers plenty of cabin space for both front and rear occupants and an amply-sized boot. Standard equipment includes an alarm, six airbags, and a dynamic stability control system. This system incorporates anti-lock brakes, cornering brake control, and traction control create a dynamic stabilisation system when braking and cornering. The optional active security package features lane change and lane departure warning systems.
BMW also offers BMW Assist, an automatic emergency call system that not only includes roadside assistance, but also sends an SMS message to a BMW call centre in the event of an accident. This advanced system provides detailed information to the call centre about the location of the incident as well as the number of front seat occupants, deployed airbags, seat belt status, and whether a rollover occurred. These safety features work together to provide an impressive level of safety. The BMW 320d was given high marks in the three areas tested, adult occupant, child occupant, and pedestrian safety, which resulted in a five-star rating by NCAP.
Sedan 3: Skoda Octavia
The Skoda Octavia combines the features of both a sedan and a hatchback with their signature twin door tailgate to create a versatile family car. Skoda's long list of safety features ensure top marks for their vehicles in crash tests. Electronic stability control and seatbelt reminders for front and rear occupants are standard features. The Octavia's multi collision brake system automatically applies the brakes to prevent or mitigate a subsequent impact after an initial collision. Front assist monitors activity in front of the vehicle, and warns the driver of approaching danger.
It features anti-slip regulation and electronic differential lock, which prevent wheel spin and slippage during acceleration or when driving on low traction surfaces. An active bonnet, which lifts in the event the vehicle strikes a pedestrian, provided good protection to the head of the pedestrian by increasing clearance between the bonnet surface and the hard structures in the engine bay. Crash tests showed good protection for all body regions for adult and child occupants.
Sedan 4: Toyota Avensis
Practicality, reliability, and quality are the top characteristics of every Toyota. The Avensis combines a fuel efficient performance engine with a number of safety features to create a comfortable family sedan. Standard features include not only traction control, supplemental restraint system airbags, and seatbelt reminders, but vehicle stability control and brake assist, which applies additional pressure in an emergency braking situation to ensure the ABS system works to its maximum potential. Electronic brake force distribution evens out brake force between wheels to compensate for differences in loads.
Vehicle stability control prevents skidding to maintain stability in sharp corners and on slippery surfaces. Lane keeping assist and lane departure warning systems use cameras and alarms to alert drivers to drifting and lane departures, and can apply corrective force if needed. The pre-crash safety system uses radar to predict potential collisions and trigger a series of audio and visual warnings. With all these advanced safety features, it is no wonder the Avensis earned a five star rating in NCAP's assessments.
Sedan 5: Volvo S80
The S80, Volvo's flagship sedan, is both spacious and well built. With a top quality interior and hallmark Volvo engineering, it bridges the gap between standard family cars and luxury executive sedans. A roomy cabin, large boot, and plenty of interior storage ensure space for the whole family and their belongings. As with all Volvo cars, its safety ratings are top tier. Six airbags, traction and stability control, and active head restraints are standard. A blind-spot warning system and active cruise control, which keeps the vehicle a set distance from a car in front and even automatically slows the vehicle, are optional.
Volvo's City Safety system, another standard feature, detects impending low-speed collisions and applies the brakes to avoid or minimise the impact. A driver-set speed limit device and a seatbelt reminder system also come standard. The advanced Personal Car Communicator improves the traditional car security system with a transponder that senses and alerts the driver if someone is still in the car after the alarm is activated. A strong record of safety during crash tests make the Volvo S80 a top pick for a safe family sedan.
Sedan 6: Chevrolet Malibu
One of Chevrolet's best-selling sedans, the Malibu is relatively new to the European market, but has already earned high marks by NCAP for a number of safety features. Airbags, electronic stability control, and a seatbelt reminder come standard on this well-priced, fuel-efficient family sedan. A lane departure warning system and rearview camera make it a top safety pick. The Malibu scored maximum points in both front and side impact tests, and the reactive head restraints performed well in rear collision tests.
How to Buy a Family Sedan on eBay
When shopping for a new or used family car, consumers can head to eBay Motors for a wide selection of sedans with top safety ratings. Shoppers can search for a family sedan by selecting the specific make and model of the vehicle they want or by the type of car desired. A number of refinements, such as mileage, year, transmission type, and fuel type, make it simple to narrow results to a manageable list. A search can be limited to a certain area or within a certain number of miles from a specific postcode.
Shoppers can look for vehicles listed by certain sellers, or they can search for left hand or right hand drive vehicles with a few clicks of the mouse. For buyers who know exactly what they want, they can search by price, number of doors, and even colour. eBay Motors has an extensive inventory of parts and accessories as well.
Conclusion
Not surprisingly, safety is one of the top considerations when consumers set out to find a family sedan. Euro NCAP rates vehicles based on their performance in a number of tests and provides consumers reliable ratings and data. By choosing a top-rated safety pick, families can rest assured they are getting a vehicle that offers the maximum level of protection for driver and passengers alike. These cars not only meet minimum statutory safety requirements, they exceed them.
With standard features such as electronic stability control, active head restraints, and speed limiters, modern vehicles do an excellent job at preventing accidents and avoiding serious injury in an impact. As technology improves, car safety features get more advanced. The safest sedans employ sophisticated systems that automatically slow vehicles to avoid impact and individually control wheels and brakes to prevent slipping and skidding. These and other safety features available allow consumers to purchase peace of mind along with their new family sedan.