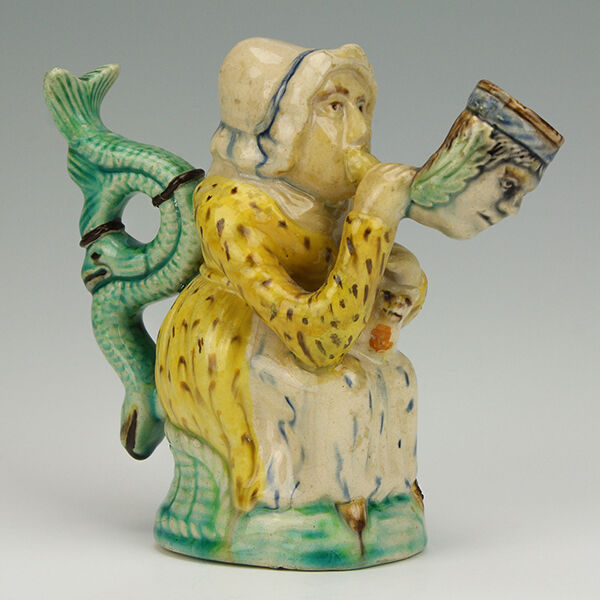 Figurines are a type of ceramic statuette. They are often given as gifts to mark special occasions or they can be used to decorate a shelf at home; each piece tells a story. They come in a wide array of sizes and types. Popular figurines often depict the image of a person or an animal. They may be collected because of the characters they depict, their manufacturer, or the historical importance of the time period in which they were produced. Figurine collecting is a popular hobby for people of any age, whether for personal enjoyment or as an investment.
Pre-c.1840 date-lined figurines are highly collectible. Those that are difficult to find often sell for a large price as they are highly valued for both their beauty and craftsmanship. When purchasing figurines that date before 1840 at retailers such as eBay, buyers should learn about the long-standing history of the pieces and familiarise themselves with the various factors to consider throughout the purchasing process.
A Brief History of Figurines
The idea of figurines goes back many centuries. Although the original purpose of figurines is unknown, it is believed that they were used in religious or ceremonial rituals as they are often found near to ancient burial grounds. Perhaps one of the oldest and most widely recognised figurine is the Venus of Willendorf. This was excavated in 1908 near Willendorf, Austria. It is thought to date back as far as 24,000 BCE.
Factor 1: Manufacturer of Pre-c.1840 Date-Lined Figurines
When searching for pre-c.1840 date-lined figurines, buyers should consider the manufacturer of the piece. Popular manufacturers before 1840 include Meissen, Dresden, Royal Doulton, and Royal Staffordshire. These manufacturers and their descriptions are listed in the table below.
Figurine Manufacturer

Description

Meissen

First manufacturer to produce fine porcelain figurines

Ornate figurines, animal statuettes, harlequins, and table services

Used the crossed swords mark to identify their pieces

Dresden

Sometimes mistakenly identified as Meissen

One of the most famous features is the "Dresden Lace"

Real lace is covered in liquid porcelain and then applied by hand to the figurine

Used a cobalt blue crown for their mark

One of the most famous makers of porcelain ware

Founded in 1815 in England by John Doulton and John Watts

Company is still around today

Figurines known for their delicately translucent, yet sturdy body

Three core ingredients in porcelain: calcined bone ash, china clay, and cornish stone

Known for its exquisite modelling techniques

Produced figurines called series ware, which took inspiration from Shakespeare's plays, Charles Dickens's stories, nursery rhymes, and Robin Hood

Used a special "Royal Doulton" mark containing the letters "HN" for the designer Harry Nixon and numbers indicating the year of manufacture

Dates back to the 1700s

Figurines depict political figures or scenes

Hand painted, often by women and children

Originally crafted for display in middle class English homes

Many of the figurines lack intricate details because the workers that finished them were not usually artists
Although some people collect figurines based on personal interest or the characters that they depict, the majority of collectors choose to categorise their figurines according to the manufacturer. Buyers should examine each figurine carefully for the manufacturer's mark.
Factor 2: Material of Pre-c.1840 Date-Lined Figurines
Most figurines created before 1840 are made of porcelain. However, some manufacturers chose to use earthenware. When buying figurines, it is important to consider the type of material the piece is made from as this determines its quality and desirability.
Porcelain
Porcelain, also referred to as china, is one of the most popular types of materials for pre-c.1840 date-lined figurines. Before 1709, porcelain could only be found in China. This increased the price of the material significantly. However, in 1709, Europeans discovered how to make porcelain. This led to the founding of the Meissen factory and a soaring popularity in porcelain figurines. Unlike modern figurines that are often mass produced, those created before 1840 are handcrafted and highly collectible. Porcelain is durable, yet has delicate features, making it highly coveted. The material is easy to shape and it is easy to add fine details.
Earthenware
Earthenware looks similar to porcelain. However, this material varies significantly in both its price and quality. Although it is much cheaper to produce, making it more affordable, earthenware tends to break or chip easily. In addition, it is porous and absorbs liquid easily.
Factor 3: Types of Pre-c.1840 Date-Lined Figurine
While the material from which the figurine is made and the manufacturer who created it are important things to consider, buyers should also bear in mind the type of figurine they wish to collect. There is a wide range of figurines available, so it may be helpful to narrow down a theme, such as animals or literary figures.
Factor 4: Condition of Pre-c.1840 Date-Lined Figurines
It is important to consider the condition of the pre-c.1840 date-lined figurine before buying it. The condition of the piece is highly likely to influence its value. Figurines that are in mint condition are highly coveted because they look exactly as they did following their production and have been well cared for to maintain their original features. These pieces are extremely expensive. On the other hand, the value of figurines with a small chip, scratch, or a slight discolouration is greatly decreased. It is also important to check the piece for any marks that cannot be removed. Buyers should always examine the figurine closely for any signs of wear or tear that undermine its condition and value.
Factor 5: Certificate of Authenticity for Pre-c.1840 Date-Lined Figurines
When purchasing a pre-c.1840 date-lined figurine, buyers should ask about a certificate of authenticity. This certificate signifies that the piece is genuine. It usually comes from the manufacturer or the figurine's artist. In addition to determining the figurine's legitimacy, a certificate of authentication is needed when insuring the piece and can help in the resale of the item at a later date. If the original certificate of authentication is missing, the value of the figurine may be undermined. It is important to note that if the figurine has been removed from its original box or case, then this may decrease its value.
Factor 6: Rarity of Pre-c.1840 Date-Lined Figurines
The rarity of the figurine is likely to influence its value heavily. If the manufacturer only produced a limited number of pieces, then it may be more difficult find a particular figurine. This often increases the value. In some cases, only a specific number of pieces were released for sale, while in other cases, the figurines may only have been produced for a short period of time. The production of open edition figurines was not limited and some designs could still be in production. These figurines are often found with less difficulty and may be regarded as less valuable.
How to Buy Pre-c.1840 Date-Lined Figurines on eBay
There is a wide selection of pre-c.1840 date-lined figurines available on eBay. Buyers can search for these pieces from the eBay home page using keywords, such as "Pre-c.1840 date-lined figurines" and then narrow down the results using the eBay filters. They can include more detail in the search terms, such as the manufacturer of the figurine, its material, and its condition. This can help buyers to find a particular piece from the large quantity that eBay has to offer. Alternatively, buyers can choose to search for figurines using eBay's advanced search feature. Searching using this method allows buyers to limit their results by the item's location or to figurines listed by Top-rated sellers.
Buyers should inspect the condition of the pre-c.1840 date-lined figurine carefully before purchasing. In the event that any questions remain unanswered after reading an item's description, buyers are encouraged to use the "Ask a question" link that can be found on every listing page. This link allows buyers to communicate with sellers directly and learn more about the figurines. The majority of sellers are happy to provide any additional information in order to promote a positive transaction.
Conclusion
The history of figurines dates back thousands of years. These pieces reached the height of popularity during the eighteenth century partly due to the sudden increase in porcelain production. Today, pre-c.1840 date-lined figurines are highly sought after items. These collectibles were manufactured by well known companies such as Meissen, Royal Doulton, and Royal Staffordshire.
When searching for figurines created before 1840, buyers should consider the type of pieces they would like to collect. There are a wide variety of themes, including animals and historical characters. Buyers should also bear in mind the condition of the figurine as this will affect its value directly. It is important to ask whether the piece has a certificate of authenticity and if it is included with the purchase. This can provide information as to the legitimacy of the figurine. eBay offers a wide selection of pre-c.1840 date-lined figurines to enhance the collection of any enthusiast.