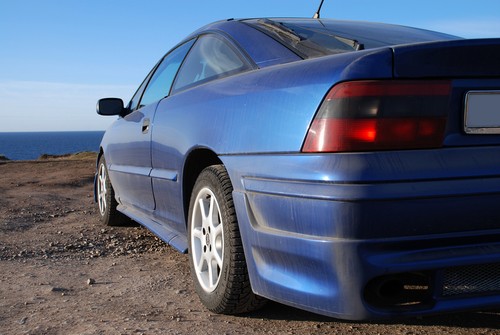 In the 1980s, the Vauxhall Cavalier was one of the most popular cars sold in Britain. Essentially a restyled Opel Ascona, the Cavalier quickly took on a life of its own. First gaining ground in the company fleet car market, Vauxhall also brought in the sales to families by offering many different engine options with very good fuel economy. This, combined with the solid driving experience led many to become loyal to the Cavaliers, even 15 years and more after Vauxhall stopped the production of this model.
When looking to purchase a Vauxhall Cavalier, buyers should keep several points in mind. First of all, deciding on a budget before starting a search is important. Since many Cavaliers may have rust or other mechanical issues, the total cost spent on the car is likely to be more than just the purchase price. Also, understanding which cars belong to the three different generations of Cavaliers helps buyers know exactly what they are getting. Since Cavaliers still have a fan base, it is fairly easy for buyers to research cars before making a decision. Finally, details such as car inspections and vehicle history checks can ensure that buyers do not have any surprises after taking ownership.
Tip 1: Decide on a Budget for a Vauxhall Cavalier
If a buyer is looking for a used car such as a Vauxhall Cavalier, it is likely that there is a limited budget to consider. However, when looking at Vauxhalls, people need to keep in mind that cheaper is not always better. Cars with rust, engine problems, and alignment issues may be lower in initial price but end up costing much more to repair and to maintain. Before starting to look for a Vauxhall Cavalier, buyers should think about what they consider to be a fair price for a car in excellent condition.
Tip 2: Understand the Vauxhall Cavalier Generations
Vauxhall Cavaliers were in production from 1975 to 1995. There were three generations of Cavaliers in total. Knowing the different generations as well as the different models can help buyers make the right decision in choosing a car. The first generation of Cavalier was produced between 1975 and 1998. The second generation was produced between 1981 and 1988, while the final generation was produced between 1988 and 1995.
| | | |
| --- | --- | --- |
| Generation | Engine | Facts |
| Vauxhall Cavalier Mark I | 1.3 litre, 1.6 litre, 1.9 litre, 2.0 litre engines available | Restyled Opel Ascona, sports car version 'Silver Aero' never mass produced; few in modern existence |
| Vauxhall Cavalier Mark II | 1.3 litre, 1.6 litre, 1.6 litre diesel, 1.8 litre, 2.0 litre | Restyled Opel Ascona C, second best selling car in 1984–85; only 6,343 in existence in 2006 |
| Vauxhall Cavalier Mark III | 1.4 litre, 1.7 litre diesel, 1.7 turbodiesel, 1.8 litre, 2.0 litre, 2.5 litre | Restyled Open Vectra A; top family car sales in 1990 |
As a large family-size car, the Vauxhall Cavalier was one of the most popular cars in the United Kingdom during its run. Even though this model is no longer made today, it still retains some of the popularity as a used vehicle. In part, this is due to the good performance of the engines and the excellent fuel economy even compared to modern cars.
Tip 3: Check the Car's Body
A used car seller should be able to send out detailed photographs of the body of a car. Buyers can request photographs of the wheel arches as well as other parts of the body. Any sign of rust should not put off a purchase. However, it is important to know the possible extent before agreeing upon a purchase price.
Check for Rust
Rust in the wheel arches is common for an older Vauxhall, but, if the original and subsequent owners took some care, it is not inevitable. Additionally, depending on the extent of the rust, a buyer may not need to spend a great deal of money to manage it. Buyers who are looking for a used car to drive for a few years may be happy with some moderate rust on the wheel arches. On the other hand, people who prefer a car that shows little to no rust may end up spending some money on repairs. In this case, it is important to get an idea of any rust damage before agreeing on a price since repairs only add to the amount spent on the car.
Check the Tyres
Another area to check is the tyres. Uneven tyre wear can indicate poor alignment or a suspension problem. Tyres that have been rotated regularly should show more even wear; however, they may also indicate alignment problems. Also, buyers may not want to have to replace tyres right away. They can ask for the amount of tread left on the tyre to be measured. While tread measurements vary, they can be an indicator of when a tyre may need to be replaced.
Tip 4: Verify the Car's Mileage
Vauxhall Cavaliers were very popular as company cars. As such, many were driven by employees who may have put a high number of kilometres on the car and possibly did not give the same care to the car as a private owner would have done. Buyers should verify the mileage on a car they are interested in to have an idea of the ultimate longevity of the engine before major repairs will be needed.
A vehicle history check such as an HPI report is always an option. A buyer can expect mileage averaging between 10,000 and 12,000 kilometres per year. If a buyer finds a car that has unusually low mileage, this can be an indicator of 'clocking' the speedometer. It may also simply be that the car was not driven very much. In order to feel comfortable with the purchase, buyers should order a vehicle history check.
Tip 5: Drive the Car
When possible, buyers should test drive a car to understand any possible issues. A thorough test drive includes a hard acceleration, hard turns, and hard braking. Trying the parking brake is also important. If there are any problems with the engine, the test drive should surface at least some of them.
Tip 6: Get a Mechanic's Inspection
A mechanic's inspection is also a good idea when buying a new car. Buyers can ask a shop, an individual mechanic they trust, or even a good friend who understands Cavaliers to do a thorough inspection of the car, including engine and brakes. As with all cars, there were occasional problems reported. One of the more common ones was a cracked bulkhead around the steering column, which is an expensive repair.
While some Vauxhall Cavaliers are known as designed for easy maintenance, that does not mean that possible major repairs should be ignored as they may end up costing more than the worth of the car. If the car is not local to the buyers, they may want to ask the seller for an inspection report. Again, surfacing any potential problems allows buyers to know exactly what they are committing to and gives some leverage when considering the price of the car.
Buying a Vauxhall Cavalier on eBay
Once you have decided to buy a Vauxhall Cavalier, you can find a number of different options on eBay. After you run a search for Vauxhall Cavalier, you can look through the listings for the models available. When buying a car, it is ideal to be able to see the car in person and possibly even have a test drive, so you may want to look for local eBay sellers. You can do this by sorting any search on Distance: nearest first. If this is the first time you have used this option, you may need to enter your postcode.
One of the key strategies in buying a used car on eBay is to inspect the listing closely and to ask questions of the seller. The seller should be willing to provide detailed photographs to show the car's condition. In the case of the Cavalier, pay extra attention to the wheel arches and the lower parts of the car. Any sign of rust, while common, may be cause to either inspect the vehicle in person or keep searching for the right car. Sellers should also be willing to answer any questions in a straightforward manner. For example, make sure you understand the number of owners the car has had, the number of kilometres, and the service record of the car. If you like, you can always order a vehicle history report as described above in order to ensure the information you received is correct.
Conclusion
Buying a Vauxhall Cavalier can be an exercise in automobile nostalgia. One of the most popular cars in Britain in the 1980s, Cavaliers were both an excellent family car and a choice company car. Their solid fuel economy coupled with good handling and roomy interior continue to make them a popular choice for an inexpensive used car.
When looking for a Vauxhall Cavalier, buyers should keep in mind that many of these cars were used as company cars in the 1980s. As such, they may or may not have had the same care taken of them as of a privately owned car. In addition, a good strategy for buying a Cavalier includes having a good idea of the exact budget a person is willing to spend and understanding which generation the car belongs to. Checking the vehicle history, inspecting the car body, and verifying the mileage are also key pieces to the car search. Of course, a test drive and a mechanic inspection are also recommended. Once the search for a Vauxhall Cavalier is on, buyers are likely to find the right car for them on eBay.