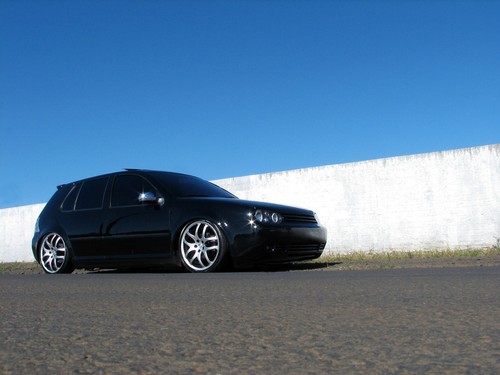 Volkswagen owners that wish to customise the body of their cars have several options available. One of the most visible changes is a new paint job. Decals, graphics, and tinted windows can create a unique visual appearance. Drivers can also consider adding spoilers, side skirts, and bumpers, which are sometimes bundled together in body kits that allow buyers to obtain compatible parts easily. It is even possible to change the hinges on a Volkswagen's doors so they open in different directions.
Most changes to a Volkswagen's body require spare parts or work performed by specialist mechanics. When considering changes to a vehicle, it is useful to research sellers and garages before committing to have any work done. Spare parts and accessories for Volkswagens can be purchased from car parts dealers and online retailers. Marketplaces like eBay have a high number of listings for Volkswagen body parts for all models. Shop around to find the best selection of parts.
Body Change 1: Custom Paint Job
One of the best ways to separate your Volkswagen from the pack is to get a custom paint job. Volkswagen models are typically produced with a limited number of colour options, so choosing a colour that the factory does not use can immediately create a unique look. A new paint job is also a great way to restore the appearance of an older vehicle. If spare parts like spoilers and side skirts have been added, a paint job can unify the appearance of the car. Custom paint jobs are typically performed at specialist garages.
Clear Coat
Volkswagens are produced in the factory with a clear coat over their paint. This non-pigmented finish helps to protect the paint against scrapes, scratches, and the effects of sun and adverse weather conditions. Although some garages charge extra for the addition of a clear coat to the car, this option can pay for itself over time.
Decals and Graphics
In addition to a new paint job, buyers can consider adding decals and graphics to their car. These can be obtained for any part of the vehicle's exterior, including windscreens, windows, doors, and bonnets. Decals and graphics can have brand logos, racing stripes, or elaborate art designs. Many companies can create custom designs based on the interests of the buyer.
Body Change 2: Tinted Windows
Tinted windows not only change the appearance of a car, but also provide privacy for the driver and passengers. Window tinting is accomplished by applying a thin plastic film to the glass. This can be done by specialist garages that cut the window tinting to fit the exact size and shape of a Volkswagen's window, which means that the full range of vehicles can have their windows tinted.
It is also possible to purchase DIY kits from online sellers. These kits are an inexpensive alternative to having the work done professionally. However, the application process needs to be done carefully to prevent bubbles and wrinkles from appearing on the film. Look online for instructions on how to apply window tinting to a car at home.
Body Change 3: Door Hinges
One of the most striking alterations that buyers can make to the body of their Volkswagen involves the door hinges. By purchasing a conversion kit, it is possible to change the way that the door opens. Gullwing doors and rear opening doors can both be added to a Volkswagen. These products are available from online retailers.
Gullwing Doors
Gullwing doors swing upwards when opened instead of out to the side. They require a conversion kit that replaces the Volkswagen's existing door hinges with vehicle-specific fittings. It is important to choose these products according the model and year of the car to ensure proper performance. Look for gullwing doors for Golf and Jetta models, amongst others.
Rear Opening Doors
Rear opening doors, commonly known as suicide doors, have their hinges located on the rear end of the door. This allows them to open backwards. Consider adding rear opening doors to two-door Volkswagens or the rear doors of a four-door Volkswagen to create a distinctive look.
Body Change 4: Spoilers
Spoilers are some of the most popular additions available for Volkswagens. They not only add a new look to the car, but can improve its performance. Spoilers are produced in several different materials, which affect the overall cost of the product, as well as performance. The following table lists common materials used for spoilers along with a brief description of each of them.
Spoiler Material

Description

Very inexpensive

Fragile when impacted

Liable to dry out and crack

Inexpensive

Durable and resistant to damage

Built with a resin filling

Very expensive

Lightweight

Good durability

Aluminium

Lasts longer than other materials

Liable to bend
Spoilers can be added to nearly every model and year of Volkswagen, including Beetles , CCs, Jettas , Passats,Rabbits, and Golfs. As with all spare parts for Volkswagens, it is important to choose items that are compatible with the model and year being driven.
Body Change 5: Side Skirts and Bars
In addition to spoilers,side skirts and side bars are some of the best options for adding a new look to a car. Although they do not add performance to the vehicle in the same way as a spoiler, they can still enhance its visual appearance. Choose skirts for a sleek look and bars for a more aggressive appearance. Chrome side bars can also add shine to a Volkswagen. Side skirts and bars are often included in body kit packages along with spoilers and bumpers.
Body Change 6: Front and Back Bumpers
Buyers can also choose to replace the front and back bumpers of a Volkswagen. These products can have a significant impact on a car's appearance; this is especially true for front bumpers. Many models of bumpers are available.
How to Buy Parts to Change the Body of Your Volkswagen on eBay
A number of body parts for Volkswagens can be purchased from the sellers oneBay.. These items can be found by conducting keyword searches from the home page. For example, enter " Volkswagen Golf spoiler&" to see all listings tagged with those terms. You may refine the search results by adding other keywords, such as the car's year or a material. eBay also has category links that can be used to filter listings on the site. If buyers have a specific part in mind, or a set budget, then they can use the advanced search feature to find the items quickly.
Review Item Listings
Take a moment to review item listings before committing to a purchase. Look for the full price of the Volkswagen body parts, along with the delivery charges. It is also useful to check the seller's accepted forms of payment. Determine the seller's chosen delivery methods and the date that the part is expected to arrive. Read the full item description and look for a specification sheet from the manufacturer. Compare this information with the available photographs to understand the specific item being sold.
Seller Feedback
Sellers on eBay have a feedback rating that reflects the satisfaction of buyers within the past year. Look for this information along with the number of completed transactions to determine a user's reliability and level of experience. You can view additional details in the seller's full profile. If you have any questions for the seller, then contact him or her directly by using the "Ask a question" feature.
Conclusion
Drivers that wish to add personality to their Volkswagen can find several parts and accessories to change its body. One of the most significant alterations a buyer can make is the colour of the car. A custom paint job allows owners to select colours that are not available from the factory. Choose to have a clear coat applied over the paint to ensure that it lasts well over time. It is also possible to add distinctive decals and graphics. These can be logos, racing stripes, or other designs. Many companies can create custom graphics.
Drivers can change the style of the doors on their vehicle, as well. Gullwing doors recreate the look and feel of a Lamborghini by swinging upwards. Rear opening doors are great on two-door and the rear of four-door cars. It is possible to replace the front and rear bumper of a Volkswagen with spare parts. Spoilers and side skirts can also add a new look. These products are often bundled and sold together in body kits along with other parts. Tinted windows not only change the vehicle's appearance, but add privacy too. Window tints can be added by a specialist garage or at home with a DIY kit.
The high number of listings on eBay means that there is competition, which creates reasonable purchase prices for body parts. The number of options available allows owners to create a custom Volkswagen that matches their personal style. eBay sellers have a range of parts to change the body of your Volkswagen.