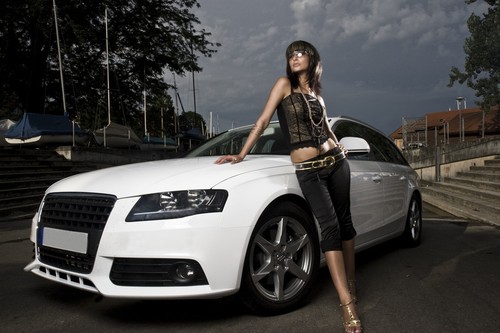 Many individuals purchase vehicles and like to incorporate a variety of customisations to make the car their own. Customising a car can improve its look, performance, or both, and it can turn a car from standard fare to a one-of-a-kind vehicle. When it comes to customisations, the possibilities are virtually limitless. Car owners have the option of incorporating just one or two customisations or really decking their car out.
It is up to owners to determine how they want to customise their cars. There are plenty of common options that are fairly easy to complete and do not cost a fortune. Those who are new to car customisation may want to try a few of the more common options available before getting involved in anything too advanced. This allows car owners to decide if investing the time and money on customisations is for them. The parts and accessories for the customisations listed below are available at traditional automobile retailers. However, shopping for these parts can get expensive. By shopping on eBay, prospective buyers can not only get access to newer types of customisations but they can also purchase the accessories at lower prices.
The Ways to Customise a Car
Options to customise a car include improving its performance or handling, changing the exterior look, and altering the interior. Which options are chosen depends on what the car owner's preferences and goals are. The following list explores a variety of options, including interior and exterior customisations and performance upgrades that just about anyone can accomplish.
1. Gear Shift Knob Replacement
Replacing the factory gear shift knob with a custom knob is a great way to test the waters for vehicle customisation. The larger gear shift knobs in a car are the ones that are typically upgraded. Owners can benefit from a variety of knob designs, including some with rhinestones and some wrapped in leather. It is fairly simple to switch out the gear shift knob, so even individuals who are not too handy with the screwdriver should be able to take on this upgrade fairly easily. There are two main ways that gear shift knobs are attached: they either have threads on the inside of the knob, or there is a small screw that holds the gear shift knob onto the gear shift level. Models with a small screw typically require the use of an Allen wrench.
2. Body Customisation
There are quite a few customisations that can be done to the body of a car, from simple modifications such as adding a spoiler to more elaborate upgrades such as changing out the bonnet or the grill on the vehicle. One can even get a new paint job so the car is a colour not offered by the manufacturer. When replacing bumpers or other body parts, vehicle owners may need to have these parts painted to match the existing paint job, something to keep in mind when deciding on customisations.
Individuals who want to customise the body of a car can either purchase parts individually or together in a body kit. A body kit contains items that are designed to work together to change the look of a car's body.
| | |
| --- | --- |
| Kit Name | Contents |
| | Front lip, rear lip, and a pair of side skirts |
| Bumper Replacement Kit | Front and rear bumpers |
| Full Body Kit | Bumpers, side skirts, and additional pieces |
When shopping for body kits, prospective buyers need to determine which body parts are available for the make and model of vehicle. Some cars offer spoilers, air dam bonnets, and side skirts, while other kits include fenders and other parts. Lip kits are fairly easy to install, while bumper replacement and full body kits tend to be more difficult. Individuals who have no experience working on cars may want to hire a professional to perform the more difficult upgrades or enlist the help of a friend who has done this type of work before.
3. Chip Tuning
Individuals who are interested in improving a car's performance may want to consider purchasing electronic control unit (ECU) tuning software. This software tweaks a vehicle's engine so that it performs at its peak rather than at the settings from the factory. Adjusting a car's ECU settings can boost the car's power, increase petrol efficiency, and reduce the car's emissions.
There are other ways to improve a car's performance, most of which are quite costly and require major modifications to the engine. Purchasing ECU software and making modifications to the car's on-board computer is a great place to start for individuals who want to increase a car's power without spending a fortune or taking the engine apart.
4. Aftermarket Wheels and Tyres
Replacing a car's factory tyres and rims with custom aftermarket parts is another great way to customise the look of a car. Vehicle owners have several options when it comes to wheels and tyres. The first option is to replace the factory rims or wheel covers with custom alloy wheels. This is a fairly simple upgrade, but changing out both the wheels and the tyres involves more labour and costs more money. Car owners can replace existing tyres with low-profile, wide, or even larger tyres.
5. Seats
There are plenty of customisations vehicle owners can make to the seats in a car. Some of these options, such as installing seat covers, are inexpensive and easy to carry out. Others options are also available, such as replacing the factory seats with racing seats or other aftermarket seats. Car owners may also choose to have the existing seats reupholstered, an option that is between seat covers and custom seats in difficulty and price. Vehicle owners could opt for leather seats or fabric seats in a wide range of colours.
6. Headlights
Changing a car's headlights from halogen bulbs to LED bulbs is another easy and inexpensive way to customise the look of a car. For individuals who want a more unique look, it is also possible to install lights with a different shape to completely change the look of a car. When considering changing a car's headlights, prospective buyers should confirm that the headlights they plan to install are legal for use where they live.
Shopping for Parts to Customise Your Car
It is necessary for the car owner to determine the areas of the car that are to be customised, as this both dictates the parts needed for the project and where they can be purchased. Prospective buyers can look for parts in conventional stores such as the local auto body shops. Car dealerships may have a limited supply of custom parts for some vehicles, but prospective buyers can find a wider selection and better prices by shopping online. When looking online, shoppers should be sure to consider the selection of custom car parts available on eBay before making a purchasing decision.
Buying Parts to Customise Your Car on eBay
eBay offers listings from thousands of sellers, which means prospective buyers should have no trouble finding the perfect custom car parts at great prices. If you are ready to take a look at the available listings for custom car parts on eBay, you should first decide what type of part you want to search for. Because the custom car parts category encompasses so many types of products, searching simply on custom car parts may yield too many results to sort through. If you are looking for a gear shift knob or a lip kit, search on those phrases instead for a more refined search. Once the search results load, you can narrow down the results by vehicle make, model, year, and price.
Before making a purchasing decision on eBay, a prospective buyer should read through each listing carefully to confirm that the parts are compatible with the make and model of the vehicle in question. Buyers should also factor in the seller's shipping fees when comparing the prices on listings. Take the time to read through the return policy so that the parts can be returned if they are not compatible, or if you change your mind.
Conclusion
Customising your car is a great option if you want to create a unique look for your car. It also works if you want to learn how to perform upgrades and general repairs on your vehicle. When looking for items to customise a vehicle, there is such a wide range of options to consider that one can create a truly custom look by mixing and matching a number of parts.
When embarking on a project that involves customising a car, the prospective buyer first needs to determine the types of parts that are required. This in turn helps the buyer determine where to shop for the parts. Car owners can find great parts at low prices online. eBay, in particular, is a valuable resource that one can use to look for parts to customise a car. The website offers a wide array of products in both new and used conditions, and buyers can be sure to find great deals that accommodate both their customisation needs and budgets.