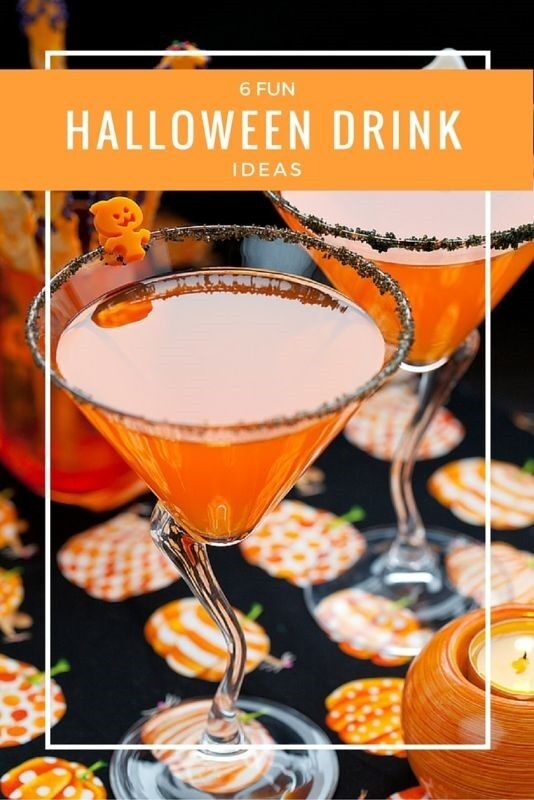 Halloween is one of the best holidays for festive cocktails and mocktails. The sky is the limit for oddball colours, glassware and even props to dress up your favourite drinks.


Use Sanding Sugar
As seen in the top photo, rimming a glass with orange or
black sanding sugar
is an easy way to add flair to a Halloween cocktail. Fill a container to the same depth you'd like the sugar to appear on a glass rim. Dip the glass into the water and then into a container holding a small amount of coloured sanding sugar. Easy peasy.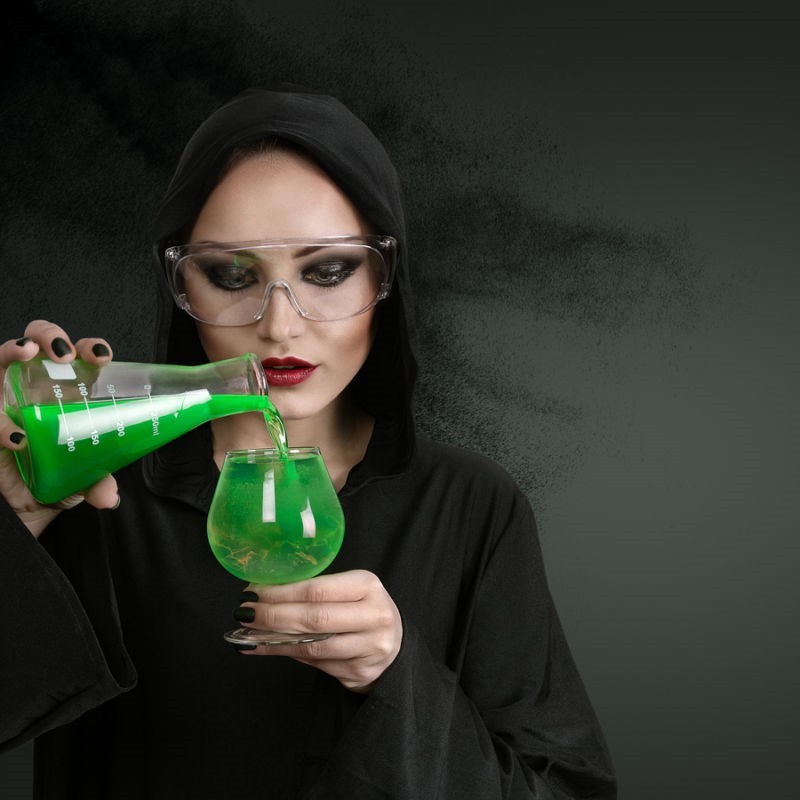 Add a caption
Pour pre-mixed drinks from large beakers and glass flasks or drink directly from smaller ones.
Science Lab-Like Beakers and Flasks
Skip regular glassware and opt for something a bit cooler. Beakers are fantastic containers for spooky drinks or you can opt for
Erlenmeyer flasks
(pictured above) with straws. While you could pour drinks from larger sizes, use a straw and drink directly from smaller versions, too.
While it would look particularly cool (and many people do it) to drop a sliver of dry ice into the beaker or flasks, use caution. It should sink to the bottom but a piece of dry ice in the mouth might ruin the party for someone. Definitely do your homework.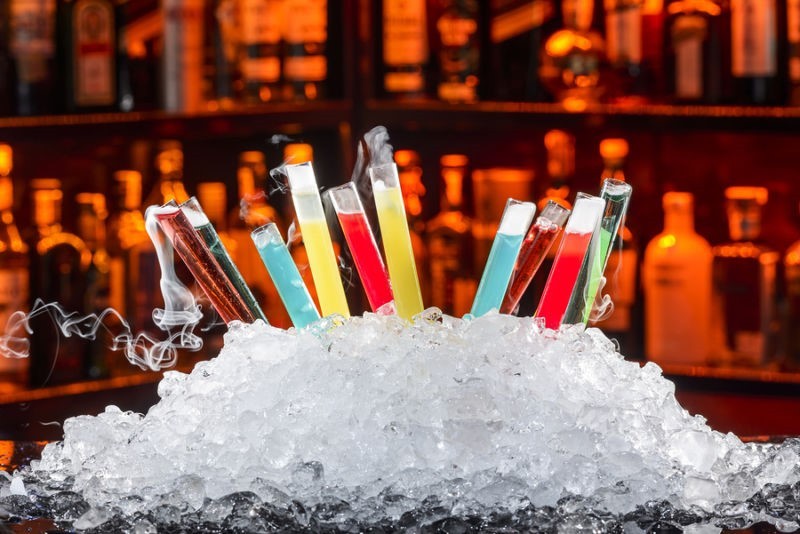 Add a caption
Use test tubes as a fun way to present Halloween drinks.
Test Tubes
Pouring shots or just looking for something creative? Try using test tubes as a fun way to serve a Halloween cocktail. While you could buy real glass versions,
special test tubes designed as shot glasses
might be more practical.
Whatever you decide, make sure to have a place for guests to deposit used glasses so that they aren't vulnerable to breakage or rolling off the kitchen sides.
Test tube racks
are perhaps a good idea if they don't already come with your purchased set.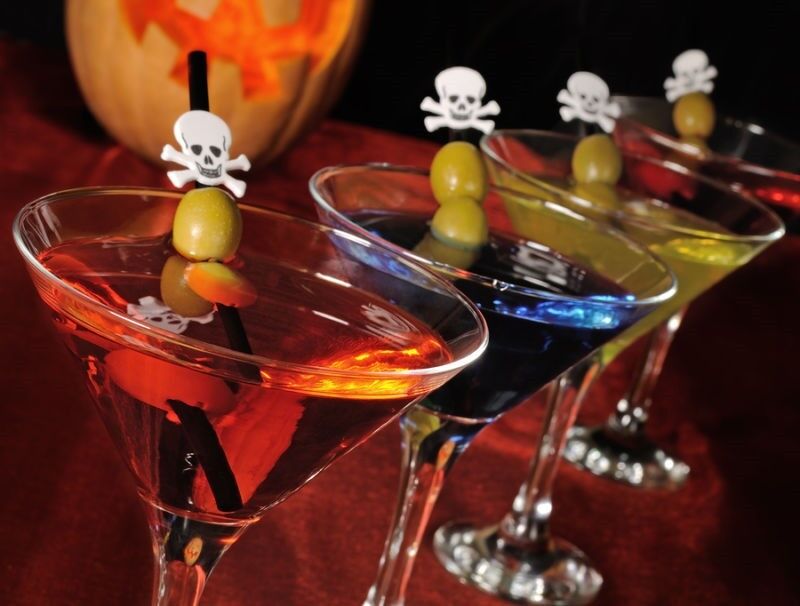 Add a caption
Colour your favourite martini and string a Halloween cocktail pick with olives, pickled onions or another garnish
Buy Halloween Cocktail Picks
Adding Halloween cocktail picks full of olives or even just stabbed into a wedge of lime adds flourish to a standard cocktail especially if you're opting to serve good gin and tonics or other cocktails that won't necessarily benefit from adding colour to the drink itself.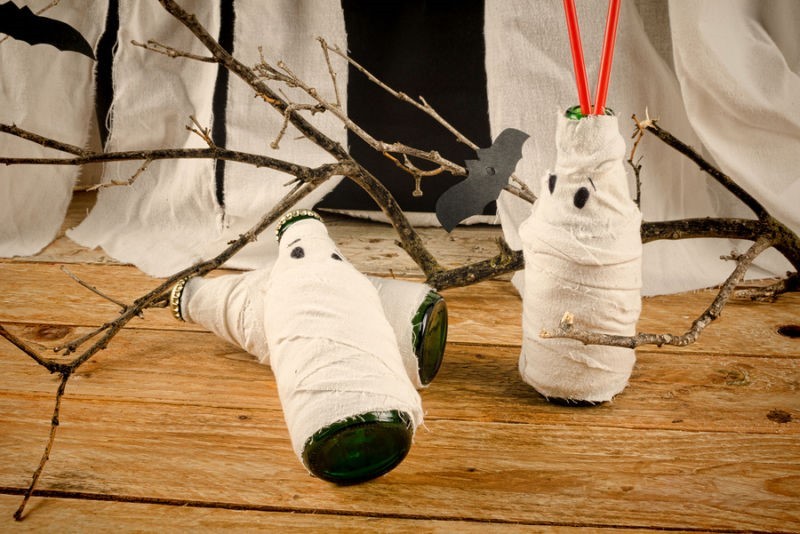 Add a caption
Wrap bottles and cans with gauze to make them look like mummies.
Make it a Mummy
From soda cans to bottled water to beers, wrap drinks with
gauze
to make them look like a mummy. This is a project that the kids may enjoy. Then, use a Sharpie marker to create spooky eyes.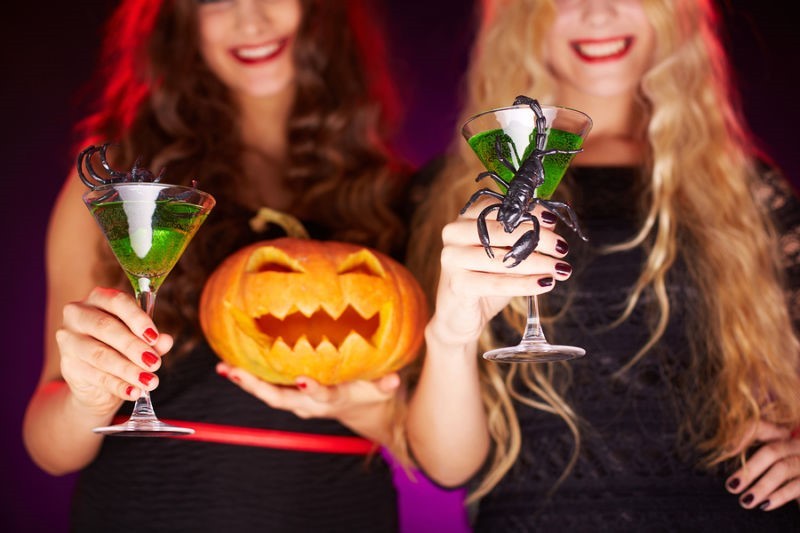 Add a caption
Drape critters off the side of drinks, like the scorpions above.
Use Critters
With a variety of cheap
plastic bugs
on the market, it's possible to use edible glue to hang them on glasses (depending on the weight of the bug) or perch them on the side. Be mindful that dropping them in the glasses could be a choking hazard.
If edible creatures are preferred, opt for gummy worms.
For those who shy away from chemicals in food colouring, a number of
natural food colouring
options are available. Though they are often not quite as strong, they do work well for mixing colourful Halloween drinks.
How do you dress up your Halloween drinks?
Written by:
lajollamomblog