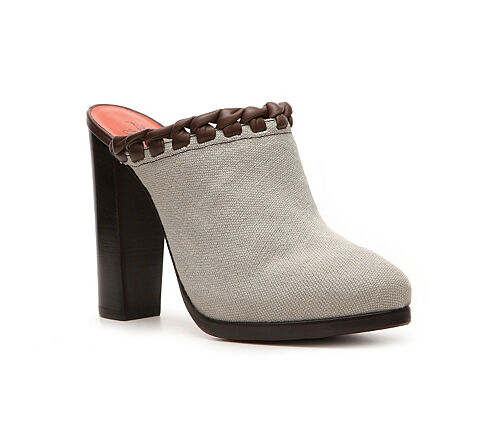 Mules refers to a simple type of shoe that is backless. Mules are a closed-toe shoe that is backless that does not need to be tied or buckled in order to be secured on the feet. Mules come in just about any style shoe. Likewise, these shoes can be made from just about any type of material, including leather, cloth, vinyl, suede, and more. These shoes slide onto the feet for convenient and comfortable wear. With so many different designs for mules, women will find that these shoes can be worn with just about any outfit, no matter how casual or formal the outfit is. Certain designs go better with different styles, so it is important to pair the right mules with the right outfits in order to pull off the right look. Shoppers can find mules with several different soles and heels. While they are most commonly worn with business attire and casual outfits, mules can also be worn with some dressier fashions, too.
Before buying a pair of mules, shoppers should know which shoes to pair with which outfits and how to determine if a pair of mules is suitable for casual or formal wear. Once women learn how easy, comfortable, and stylish mules can be, they'll want to have at least one general purpose pair of mules in their closets. Whether looking for a pair of mules to wear to a dinner party or a pair of mules to wear every day, there are thousands of styles to choose from on eBay.
1. Moccasin Style Mules
Mules are mostly worn with casual outfits. Rather than choosing a pair of trainers or a pair of clogs, women can spice up their outfits by wearing mules instead. Styles for mules vary greatly from trainers to moccasins to flats. Knowing what to pair casual mules with is the key to looking classy instead of looking like a person is wearing slippers around town.
Moccasin style mules come in a few different varieties. Some are made from leather and have fringe to decorate the tops of the shoes. They might also have beadwork or embroidery for additional decoration. These shoes can be found in just about any colour, and because they are backless, go best with a pair of jeans or other long trousers. With the soft, flat sole, moccasin style mules are comfortable enough for a casual outing. With their classic moccasin style, these shoes can complete any casual outfit.
Another type of moccasin style mules comes in the form of a slipper. These shoes may have a suede exterior and a fleece or fur-like interior. These shoes also go best with long trousers or jeans to keep the feet warm in cold weather. Depending on the type of sole that the mules have, they might just be worn around the house as slippers.
2. Mules With a Rubber Sole
Mules are also available in a trainer with a thick rubber sole, with tread. These shoes have the same appearance as trainers, and they might even have laces for appearances only. While these shoes aren't ideal for exercise or athletics, they are great for casual fashion. Mules with rubber soles go best with long trousers. Because these shoes have a faux-sneaker appearance, the open heel in the back needs to be covered by long trousers.
3. Mules With Floral Prints
Mules are an excellent choice for summer wear because of their casual and comfortable appearance, yet they are still dressy enough to wear with a summer dress for a fun and feminine look. In particular, mules with floral prints provide an added touch to a light-coloured summer dress. Women should opt for a mule that has a pointed toe and a kitten heel. This provides a slight lift to the legs, but the shorter height makes them much easier to walk in.
4. Mules With a Stiletto Heel
Although mules are not typically worn to formal events, there are a few styles that can be pulled off with evening wear. When it comes to formal wear, women should go for shoes that have a heel or a decorative pattern. One thing to keep in mind when shopping for a pair of mules is that the chunkier the heel, the more casual it will appear. When looking for mules to wear with an evening gown or other formal dress, women should look for mules that have a thin heel like a stiletto.
In some instances an open-toed shoe can be classified as a mule. This is usually true when it comes to mules with high heels. While low-heeled mules might not be formal enough for certain occasions, some have higher stiletto heels. These are usually open-toed but might also be closed. Shoppers can find these shoes in just about any colour or material to go along with any evening dress. The high heel lifts the legs to make them more attractive. These mules go best with full or tea-length evening dresses.
5. Mules With Rhinestones
In addition to high heel mules, decorative mules go well with formal evening wear. Some mules are stitched with beads or sequins, while others might be dressed up with rhinestones. Mules with straps that cover the toes may be studded with rhinestones to add sparkle and shine to an evening gown. They are also flattering to the toes while adding style and class to the entire ensemble.
6. Mules With Business Attire
Mules are not always off-limits when it comes to dressing conservatively for work. Simple mules in a solid colour go fantastically with business attire. Women should stick to black, navy blue, and brown mules so that they match any business suit or dress without being too distracting or busy. When choosing a pair of mules for business attire, women should stick to low or kitten heels. These are easy to walk in and comfortable. Leather is an ideal choice for a solid pair of mules for business purposes. They not only have a classic look but are also sturdy.
Wearing Mules With Hosiery
Because there are so many different types of mules and so many different styles, there are times when hosiery can and should be worn with the shoes. Trainer type mules should be worn with socks just as with other trainers. Dress socks can be worn with low heel mules under long skirts and trousers. When wearing mules with a short skirt, they can be worn with sheer stockings or bare legs. Women should always wear mules with dress socks or some sort of stockings as a part of business attire.
Trying on Mules
It is important for shoppers to try on mules before purchasing them. The wearer's heels should not hang over the edges of the shoes. Instead there should be a little bit of room around the edges and the heel. Having heels hanging over the edges is unattractive and can also be painful after a while. Usually if the foot does not fit on the heel, then the toes won't comfortably fit inside the shoes either. Since different shoe manufacturers use different sizing scales, it is important for shoppers to try on shoes prior to purchase. This gives them an idea of what size to look for with certain brands. Walking around also helps to determine if the shoes will be comfortable as well.
Shopping for Mules
Any shop that sells women's shoes carries mules. Because it is such a popular design for women's shoes, there will likely be several styles to choose from. Women who are looking for used mules or vintage styles can shop thrift stores and garage sales for great deals. If the selection in your area is slim, then you can also shop for mules online. Most major retailers allow shoppers to browse and shop their inventory online to have the shoes shipped directly to the doorstep. eBay is a large online marketplace that has a huge selection of new and used mules to choose from.
Finding Mules on eBay
To begin your search for mules, simply type "mules" into the search bar on the eBay home page, or any page on the eBay website. This action will take you to a results page that lists all the current listings for mules. First, you should sort the listings by the gender of the wearer, and then you can filter the listings by applying various filters. You can choose the type of heel, brand, size, colour, and more to make it easier to find the perfect pair. If you have something specific in mind, then you can always use the Advanced Search feature to search for them directly.
To avoid the hassle of having to exchange mules later, make sure that you read the item description very carefully. If the the size is not specified in the item description, make sure that you contact the seller by going into the seller's profile and clicking on the contact link. If the size is not in UK shoe size, you should consult a conversion table.
Conclusion
Mules are a versatile type of shoes that are available in hundreds of different styles and designs. Women can wear mules with everyday casual outfits or fancy evening gowns. Knowing how to determine which mules are casual and which mules are formal, as well as how to pair these mules with certain outfits can make it easier to find the right pair to complete an outfit. Casual mules can be paired with jeans for a stylish and comfortable look that can be worn every day. Simple leather mules can be paired with a suit for a classy look for a business meeting. Mules with heels flatter the legs when worn with an evening gown. There are no limits to how mules can be worn, and with so many styles, designs, and colours to choose from, women will want to have at least one pair in their wardrobes. Whether looking for something fancy or something more laid back, shoppers can find thousands of styles of mules on eBay.