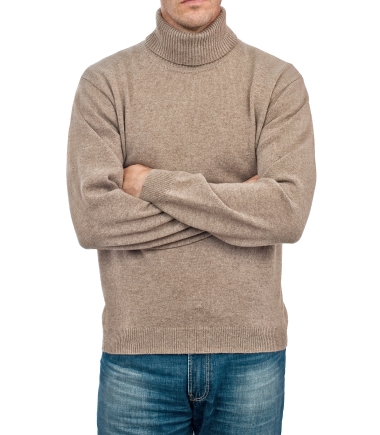 The polo neck dates back to at least the 15th century, where it was worn exclusively by royalty and aristocrats. By the late 19th century, the sweater became more mainstream, as athletes, office workers, and military personnel donned polo necks for everyday wear. Since then, polo necks have gone in and out of favour with the fashion-conscious citizens of the United Kingdom. Many men eschew polo necks because they believe the sweater diminishes masculinity. However, manufacturers have incorporated varied polo neck designs that now attract men to the jumper.
Men can buy polo necks from men's clothing boutiques that specialise in selling bundled articles of clothing that present a layered look. eBay, which is the leading online auction site, may be a man's best venue for finding a reasonably priced polo neck. Some eBay polo neck sellers offer nearly mint condition polo necks at discounted prices. Before men shop for polo necks, they should understand the six ways to style a men's polo neck top and the most popular styles made famous by world class designers.
What Is a Polo Neck?
The polo neck goes by the name of turtleneck in the United States and Canada, and the name skivvy in Australia. In the United Kingdom, this garment is referred to as the polo neck and it usually comes in the form of a jumper. Polo necks are made with a close-fitting, high collar that folds over at least once to cover the entire base of the neck. The mock polo neck represents a simpler style of the standard polo neck. Mock polo necks have soft folds that stand up around the neck just as the fold of standard polo necks. However, both ends of the mock polo neck tube that forms the collar are sewn into the neckline. The mock polo neck is easy to manufacture, and thus, men more often see mock polo necks in the marketplace than they see authentic polo necks.
6 General Ways to Style a Polo Neck Top
Polo necks receive bad publicity within the men's fashion world. Many men are afraid to wear polo necks due to the less than masculine reputation the jumper garners. However, men can wear polo necks in style the same way that Sean Connery has done throughout his rich life.
1. Larger Than Life
A general styling rule to follow is that polo necks look best on taller, slimmer men. Polo necks can draw too much attention to heavier men's necklines, which typically present a chunkier look than a heavier man wants. Slim men want to wear clothing that builds their slender frames out, thus projecting more of a masculine look. Cashmere polo necks contain the thickest material, and they should be styled after a man styles his hair.
2. The Upscale Look
Polo necks present a dressy appearance when a fitted fine-gauge dark coloured polo neck is worn, instead of layering a sweater over a dress shirt. Dark polo necks are a stylish undergarment for men who wear suit coats, especially double-breasted suit coats. Make sure the neck roll remains even around the neck. Men accomplish this by flipping the neck roll over the nose and then folding it evenly all the way around the neck. The suit coat should not have any pads to bolster the shoulders. The polo neck does the job of adding stature to the suit coat.
3. Casual Style
Soft cotton polo necks have more room around the neck, which means the roll falls further away from the neckline than polo necks made with other materials. This presents a more laid back look that men can wear to casual social events, such as backyard parties or sporting events. The casual look allows men to pair the polo neck with other casual layers, such as a denim jacket or gilet. Casual polo necks do not require a perfectly even neck roll. In fact, a slightly dishevelled neck roll enhances the casual appearance. Shades of blue or brown provide the colours for looking casual in a polo neck.
4. Simple, Yet Elegant Style
The middle ground between an upscale and casual polo neck style is the simple, yet elegant look. This style pairs a dark coloured polo neck with a pair of classic designed flannel trousers. Men can comfortably wear this style during the cool, rainy months. Polo necks are one of the most difficult articles of men's clothing to pull on and take off. The simple, yet elegant polo neck style allows men to keep their polo necks on inside, as well as outside.
5. Movie Star Style
Steve McQueen made this style famous by wearing a trench coat or leather jacket over a polo neck. Not only does the movie star style present a balanced layered look, it also exudes independence. Men who want to present the glamour image should consider pairing a lighter coloured polo neck with a long trench coat or sleek leather jacket.
6. Bad Boy Style
On the flip side, men can transform the sleek Hollywood movie star look into more of a bad boy persona by pairing a dark coloured polo neck with a dark trench coat or leather jacket. This style has become popular with the increase in the number of movies and television shows that depict bikers and other tough blokes combining the two dark layers.
Popular Polo Neck Styles
Men can cut to the chase and follow any of the following polo styles to look sharp in both casual and formal settings. The style chosen depends on a man's personal taste or the fashion statement that he wants to make.
Bamford Cashmere
The pure cashmere polo neck manufactured by Bramford comes in a wide variety of colours that allow men to mix and match polo neck outfits. This style consists of a simple design made with luxurious cashmere. Men pair the Bramford Cashmere polo neck with dress pants that present a casual, yet classy appearance. Fashion experts recommend combining the brown or black Bramford polo necks with patent loafers and matching belts to add a little spice to the attire.
BR Monogram
This is the ultimate polo neck for promoting the layered look. The snug-fitting polo neck works best when paired with a cardigan or a dark coloured blazer. Try adding colour to an outfit by wearing the purple BR Monogram polo neck with a charcoal or black suit jacket. This polo neck works well with rich fabrics, but men should wear solid coloured polo necks. Grey wool slacks and solid black shoes pair well with the BR Monogram polo neck.
French Connection Armagnac Polo Neck
For a more casual appearance, men can wear this 70 per cent lambswool, 20 per cent angora, and 10 per cent nylon polo neck. The striped print and ribbed cuffs work great with a nice pair of solid coloured denim jeans and casual shoes, preferably well-buffed leather loafers. Some fashion experts claim this style of polo neck accentuates a man's cerebral projection.
Pringle 1815 Argyle Roll Neck Knitwear
The 100 per cent wool Pringle polo neck is a soft, finely knitted jumper that pairs wonderfully with darker jeans. Men can wear the 1815 Argyle polo neck as an alluring substitute for typical shirts that are worn for a night on the town. The flattering, yet restrained diamond pattern is appropriate for both a date and the office holiday party.
Ben Sherman Lothario Polo Neck
As the best polo neck for everyday wear, the polo neck made by Ben Sherman provides men with the greatest versatility. The 100 per cent wool design that features ribbed cuffs and waistband possesses elegant lines and a simple striped design. Men can wear this style of polo neck with jeans, trainers, and a subtle leather coat or dress it up by pairing it with dark trousers and a tweed jacket.
Men's Polo Neck Top Size Chart
It does not matter how a man styles a polo neck, if he does not receive accurate measurements of the neck, chest, and arms. The most impeccably styled polo neck has no value when it is too tight around the chest and neck or too long on the sleeves. Here are the proper measurements for UK men's polo necks in centimetres (cm):
| | | | | | | | |
| --- | --- | --- | --- | --- | --- | --- | --- |
| UK Size | XS | S | M | L | XL | XXL | XXXL |
| Neck (cm) | 33-34 | 36-37 | 38-39 | 40-42 | 43-45 | 46-47 | 48-49 |
| Chest (cm) | 84-86 | 89-94 | 96-102 | 107-112 | 116-122 | 127-132 | 137-140 |
| Sleeves (cm) | 80-81 | 82-84 | 85-86 | 87-89 | 90-91 | 91-93 | 93-94 |
Men should remember that these are general corresponding measurements. For example, some men may have larger than average neck sizes for their chest proportions. Verify any measurements taken with a men's clothing sales professional.
Buying Men's Polo Necks on eBay
Men can find all of the popular polo neck styles on eBay by simply typing a few keywords into the search engine and then navigating through search result pages to find the seller that matches their shopping criteria. Type specific keywords into the search engine to reduce the number of search result pages. For example, type "men's polyester polo necks" or "men's large polo necks" to narrow your search. You can also search for polo necks by using the name variants, such as turtleneck and skivvy. Once you find a polo neck seller that meets your buying needs, click on the seller's product page to review accepted payment methods and delivery terms.
eBay promotes the site's top-rated sellers by placing a ribbon icon next to qualified seller product photographs. The top-rated sellers have established reputations for selling quality products at reasonable prices. You can also review customer feedback on seller product pages. Look for sellers who have received consistent positive reviews over the past year. The ideal eBay seller has received positive reviews for selling men's polo necks. Once you form a business relationship with an eBay seller, you may be able to buy directly from the seller's eBay store.
Conclusion
As with the stock market, polo neck sweaters have a history of wild vacillations in popularity. They may be extremely popular one decade, followed by a decade of commercial dormancy. Recent design innovations have produced polo necks that can be paired with a wider selection of men's clothing. Instead of sporting a posh look, men can now present casual, simple, upscale, and even bad boy polo neck appearances. Styling polo necks requires men to choose the right jackets, coats, and waistcoats that promote the layered look.
Polo necks come in a number of colours and design patterns that further expand the possibilities for wearing the jumper. Darker coloured polo necks work better with one type of suit coat design, while lighter coloured polo necks pair perfectly with formal waistcoat designs. The best way for men to find the right pairing for polo necks starts with personal preference, followed by a healthy dose of a sales professional's fashion acumen. Armed with knowledge, men can find the right type of polo neck for any occasion, thus allowing polo necks to be relevant for more than a decade.