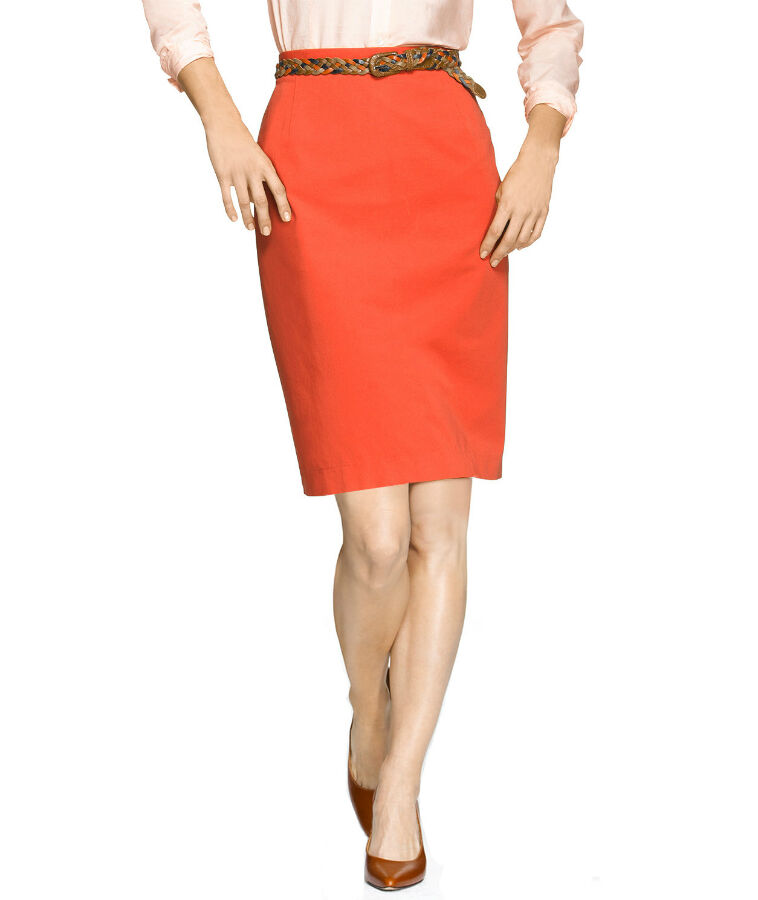 The pencil skirt has become a staple item of clothing in many a woman's wardrobe. This iconic skirt was made famous by Christian Dior in the late 1940s. Women looking to purchase a new pencil skirt or looking for different ways to style their pencil skirt can follow six useful style tips to achieve a great look. Women can learn how to dress casual with a pencil skirt, how to mix and match a pencil skirt to create outfits suitable for the office, and how to style the skirt for evening wear. They can also discover tips for wearing patterned or plain pencil skirts and some great fashion ideas for wearing pencil skirts with boots.
Pencil skirts are sold at many high street clothing stores, department stores, and designer fashion stores. Prospective buyers can also find pencil skirts online at various sites, including eBay. At this auction website, a buyer can search through the vast array of skirts for sale to find the desired skirt at a competitive price.
Style 1: Go Casual with a Pencil Skirt
Pairing a pencil skirt with textured fabrics can help create a casual look, as does pairing with a printed T-shirt or brightly coloured accessories. Try a tasselled scarf, a summer tank top, or interesting belt in bright yellows, greens, oranges, or pinks. For an overall casual look, dress down a pencil skirt with comfortable flats or a relaxed knit jumper. A pencil skirt also goes well with a leather or a denim jacket that can create a casual look. An oversized jumper can be a great way to go casual with a pencil skirt, and nothing says casual confidence like a cute pair of brightly coloured ballerina flats.
Style 2: The Pencil Skirt in Office Attire
The plain black or grey pencil skirt is among the most iconic of office attire outfits. The tailored and sleek look of the pencil skirt offers fashionable professional confidence for any woman. Pair a plain coloured pencil skirt with a fitted button-down cotton shirt tucked in at the waist. Add a tailored jacket and high heels for a corporate look, or opt for a soft button-up blouse in a feminine colour with matching court shoes for a more feminine office look.
When looking for a pencil skirt for the office, try choosing block coloured fabrics that are neither too thick and heavy nor too thin and clingy. A 100 percent cotton or cotton-blend pencil skirt with lining is an ideal choice for women looking to expand their office attire options.
Style 3: A Pencil Skirt for a Night Out on the Town
A woman looking to wear her pencil skirt for an evening out may dress it up with a sexy top and high-heeled open-toed shoes or strappy stilettos. A plain black pencil skirt looks great with a sparkly silver or grey top that can add a bit of shimmer to the outfit. Try teaming the skirt with a fitted strapless top or shoestring V-neck top for that important date, or choose a feminine blouse with a pastel coloured pencil skirt and sequined court shoes. Team it with matching clutch and dangling earrings for the ultimate outfit for a night out on the town.
Style 4: Ways to Style a Patterned Pencil Skirt
Patterned pencil skirts are ideal for a woman with a straight body shape, as it can help to create an hourglass figure. Patterned pencil skirts are great for casual or evening wear. Wearing a patterned pencil skirt to the office depends on the type of office one works in and how flexible the dress code is. For casual wear or a hot date, a leopard print pencil skirt can look very sexy. For a simple yet striking outfit, try a leopard print skirt matched with a simple black fitted t-shirt and patent leather high heels. If the weather is a bit cold, throw on a black leather biker jacket for an edgy look.
Patterned pencil skirts look great in thin fabrics that cling to the body and move with a woman's body. A buyer should find the right tailored cut when purchasing a printed pencil skirt so that she gets a skirt that complements her body shape. When wearing a patterned pencil skirt, it is a good idea to keep the rest of the outfit fairly plain. Successfully matching a patterned skirt with a patterned top is not the easiest of tasks.
Style 5: Ways to Style a Plain Pencil Skirt
Plain pencil skirts are available in a wide range of colours. The plain black pencil skirt is considered very versatile, as it can be easily transformed from casual wear to office wear and evening wear. Skirts in brown and beige colours are also ideal for office environments, and they are suitable for teaming with casual autumn and winter outfits. The benefit of a plain pencil skirt is that one can choose to wear a plain top or a patterned top with it. Print tops look great with plain skirts, and one may go a little bit wild with eye-catching shoes or accessories.
Style 6: Styling a Pencil Skirt with Boots
Wearing a pencil skirt does not mean that one should be limited to wearing only high heels with it. Sleek looking ankle boots can look great with a pencil skirt. If choosing boots with studs, buckles, or other embellishments, buyers should be sure to keep other accessories to a minimum. Let the boots speak for themselves.
Be sure not to discount wearing long boots with a pencil skirt when the weather cools down. Long boots with cute heels can keep a pencil skirt looking chic and feminine, ideal for wearing to the office or out at night. For a more casual look, try slouchy boots in soft suede fabrics.
Finding a Pencil Skirt to Fit One's Body Shape
The pencil skirt is a versatile style of skirt that can suit virtually any body shape. An hourglass figure can look sleek and sexy in a pencil skirt that is fitting but not tight. A skirt that sits low on the waist or hips can help elongate a woman's torso, suitable for the hourglass figure. The woman with full hips and thighs should opt for a pencil skirt that tapers in a little at the hemline. A pencil skirt with a plain wide waistband is ideal for the woman with a tummy to conceal, and fabrics that offer some stretch are likely to offer more comfort. For the straight figured woman, a skirt that is nicely tapered at the waist and hemline may be a great option. Choosing thick or patterned fabrics help create a feminine hourglass figure.
When it comes to pencil skirts, finding the right fit is useful for ensuring maximum comfort. The following table provides a list of pencil skirt sizes and the approximate corresponding measurements in centimetres.
| Skirt Size | 6 | 8 | 10 | 12 | 14 | 16 | 18 |
| --- | --- | --- | --- | --- | --- | --- | --- |
| Waist | 60.5 | 63 | 68 | 37 | 78 | 83 | 90.5 |
| Hips | 86 | 88.5 | 93.5 | 98.5 | 03.51 | 108.5 | 116 |
The table above offers approximate skirt size measurements, and these may differ between different clothing brands. When purchasing a pencil skirt, a woman should keep in mind the ideal style of pencil skirt that complements her body shape.
Buying Pencil Skirts on eBay
eBay is an online auction site designed to help a buyer find almost any sort of item for sale. This website offers a wide range of pencil skirts from sellers in varied locations around the world. Buyers can benefit from eBay's simple search methods, secure payment options, and various tools that make shopping easy.
eBay's Simple Search Methods
Buyers looking to purchase pencil skirts on eBay can start by typing "women's pencil skirts" in the search bar on eBay's home page. With this simple search, buyers are presented with a long list of skirts available for sale on the website. In order to further refine search results, buyers may use the various search category options available. These options allow buyers to search by size, length, condition, price, material, brand, or colour. To search for a specific type of skirt, such as a size 10 black pencil skirt or a corduroy pencil skirt, buyers may simply type either of these phrases into the search bar.
Conclusion
A pencil skirt is a slim-fitting skirt that extends down to, or just below, the knee. It has a straight, narrow cut that helps create a very feminine silhouette. This is a versatile style of skirt that can be worn casual, at the office, or dressed up for a night out on the town. A patterned pencil skirt can be styled to create a fashion forward outfit, and a plain pencil skirt may be styled with various eye catching accessories to seamlessly take the wearer from daywear to evening wear. A pencil skirt can even be matched with a wide range of shoe styles, including boots. To achieve the right look, buyers should understand how a pencil skirt is designed to fit on the body, and finding the correct size skirt is important for the wearer's overall comfort. Finding the right pencil skirt can be achieved online at eBay, where buyers are offered a wide range of pencil skirts to choose from in various colours, fabrics, brands, price ranges.