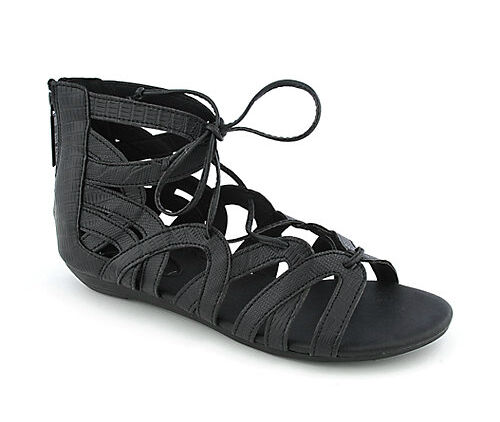 Gladiator sandals have made their stamp in the modern day fashion trends as footwear that are lightweight, versatile, and stylish. They are seen in the city with jeans, on the runway with cute, summer dresses, and on numerous celebrities and in every situation, from Emily Blunt on the red carpet, to Jessica Stroup on her boat. The shoes are characterized by a T-strap build. Several smaller straps attach the soles of the shoes to a center strip on top of the feet. The heels are left bare and more straps wrap around the ankle and attach to the center strip.
The sandals are comfortable because they are held securely on with many straps. When the feet can move around too much within the shoes, the rubbing and friction can cause sores. For example, flip flops often rub blisters onto the top of the feet. In addition to this, the gladiators are lightweight and open so that the feet can breathe. This can be invaluable during the warmer months when other shoes are too restrictive. Outside of their comfort, gladiators are very versatile in that they can be worn casually as well as formally. Not many types of footwear go well with jeans as well as a dress.
It is all of these benefits that makes the sandals so popular amongst women and celebrities. Wearing them is not necessarily as easy as it sounds, though. Many ladies struggles with figuring out how to wear the shoes in a stylish and flattering way. These tips will help any woman find the right gladiator sandals to recreate the perfect fashionable, celebrity-inspired look.
History of the Gladiator Sandals
As their name suggests, the gladiator sandals came from the Roman fighters between the 1st and 6th centuries. Gladiators were armed men who fought to the death in arenas for public entertainment. They either went up against other gladiators, wild animals, or criminals who had been sentenced for punishment. Even women and children fought for a very brief period of time. The gladiators themselves were not public heroes like the movies and fictional stories often make them out to be. Most of them were slaves or criminals who were forced to fight by their masters. Only a few of the men were volunteers.
The gladiator games were extravagant forms of entertainment that many politicians used to gain popularity and votes from their citizens. It was expensive and difficult to find wild animals just as it was to find and train the men. Even though the majority of the men were slaves or criminals, they still had to be bought by the gladiator school or a sponsor. An untrained fighter could not provide as much entertainment if he was killed right away. The sport did not fade away until wars ensued with neighboring empires and the demands on Rome's wallet as well as the men forced the sport to end.
7 Ways that Celebrities Wear Gladiator Sandals
Since there are many styles of gladiator shoes and different ways to wear each one, it is easy to feel overwhelmed and avoid purchasing them alltogether. However, they are highly attractive shoes that should not be overlooked and our celebrities can help us wear them just as fashionably as they do.
Style 1: Go Gold with Gwyneth Paltrow
Gwyneth Paltrow pulls off her unique sassy style by sporting gold metallic gladiator sandals with buckle straps and small heels. She accentuates the gold by contrasting it with her black skinny jeans, dark blazer, and floral blouse.
The nice thing about gladiators is that they can be worn with casual jeans or other trousers. When wearing the flat sandals, only wear them with skinny jeans or trousers that are narrow at the ankle. Looser jeans can be worn with high heels, however they still look more stylish with skinny jeans.
Style 2: Jessica Stroup's Studded Elegance
Jessica knows what she is doing with her beach babe look. The brown gladiator sandals feature decorative studs across all the straps and she compliments them with short shorts, a loosely knit top, and a large, floppy hat. This girl is ready for the sun.
Style 3: Getting Dressed Up with Emily Blunt
Emily Blunt shows her fans how to go fancy in gladiator sandals by sporting 4-inch heels with criss cross straps that reach her ankles. Her asymmetrical black evening gown is accented by a wide, gold belt that brings the whole outfit together.
Gladiator sandals can look great when worn with dresses. Flat sandals are more casual and they compliment sundresses the best. High heel sandals complement both sundresses and more formal ones depending on their material and style. If wearing a solid coloured dress, try some sandals with extra embellishments like buckles or rhinestones for fun.
Style 4: Mary-Kate Olsen and Her Distressed Knee-Highs
Mary-Kate successfully pulls off a difficult look with knee-high gladiators, cut-off shorts, a loose top, and a large blazer. This goes to show everyone not to be afraid to be adventurous. Mix and match apparel together to create a disorganized fashion statement.
Style 5: Naomi Campbell's Bohemian Fringe
Celebrity Naomi Campbell makes a bold move with her gladiator sandals that are embellished with leather fringe all the way down the front. Her simple and sophisticated white dress that ends above the knees complement the shoes that are demanding all the attention. Do not be afraid to try some gladiators with a little extra decoration like these.
Style 6: Classic Simplicity with Leighton Meester
Leighton reminds everyone that they do not have to go all out to wear gladiators. Traditional blue skinny jeans with a simple top and flat gladiators is all she needs to start her day in comfort and style.
Style 7: Sarah Jessica Parker Goes Bold and Bright
No one is limited to the traditional brown leather gladiators and Sarah Jessica knows that. Her bright blue gladiators stand out in a crowd and go nicely with her plain black skirt and white cardigan. Always remember to spice up an outfit with a little bit of colour.
Some Fashion Tips to Help Women Dress Like Their Stars
Before putting on gladiator sandals, be sure to groom well. These sandals expose almost the entire foot to the world. Trim and manicure the nails and wash the feet with a rough pad to loosen up any dead skin. Painting the toenails is also a subtle way to add a little color to the outfit.
Also try to match the width of the straps to the size of the feet. For example, women with larger feet should stick with the sandals that have wider straps, and those with small feet are complemented best by sandals with narrow straps.
Where to Shop for Gladiator Sandals
Gladiator sandals have become popular over the last few years, though not quite enough to be considered one of the most common types of sandals. Most average shoe shops will only have one or two styles of gladiator sandals for women to choose from, so finding the perfect pair could require a lot of travel time. In addition to this, these shoes are really only kept in stock during the warm months, so those who want to buy them ahead of time, or who still enjoy wearing them in autumn, will have to find them online. Luckily, online websites like eBay stock thousands of shoes and they are sold year round. Having more shoes to look through means that women can find exactly what they want rather than settling for what is available in the local shops.
How to Purchase Gladiator Sandals on eBay
eBay is one of the world's favorite shopping hubs because people can find everything they need in one place. Their apparel section is organized in a way that women can easily shop for, and put together, entire outfits from hair accessories to footwear. To find the gladiator sandals, simply type what you want into the search bar. For example, type "Gladiator Sandals", High Heel Gladiators", or "Beach Gladiator Sandals". Once you have pulled up a list of shoes, enter in some of your personal criteria to narrow down the results. Select whether you want new or used shoes, enter your price range, and then sort the listings by price. This will eliminate some shoes so that you do not have to waste your time browsing through hundreds of products you are not interested in.
Once your search is customized, start looking through the shoes and adding the one ones you like to your wish list. By doing this, you can later go into your My eBay page to re-evaluate and compare the gladiators that you selected.
Conclusion
Whether dressing up for a date or spending the day around town in jeans, gladiator sandals can get the job done. They are fashionable with trousers, shorts, skirts, and dresses. With the right guidance, all women can wear these sandals just like their favourite celebrities. Walking around in style is no longer limited to the famous. Anyone can find these great shoes and use them to complete an outfit. With the help of these tips, women can pick out the type of gladiators they want, wear them like the popular celebrities, find new and used ones online without having to travel to many different shops, and enjoy their new stylish look as well as the admiring stares from those around them.