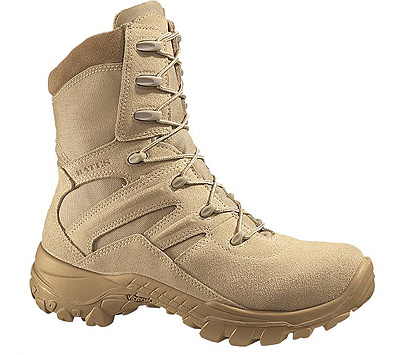 Plimsolls and casual loafers dominated the fashion landscape in the past, but boots look to be the next staple of a man's wardrobe. With styles that range from classy boots to work boots and more, men of all ages can find a proper boot quite easily. Attractive men's boots can be found through both bricks and mortar stores, as well as through online marketplaces such as eBay. Occasions that range from a formal event, to a casual hang out, are all opportunities to show off a nice boot. Due to the rising popularity of men's boots, a variety of celebrities are making fashion statements regarding interesting boot choices. Choosing a style of boot is important, but selecting a way to wear boots is even more so. Celebrities and fashion icons often wear boots under jeans, unlaced, over pants, and even with the lip overlapping the pant cuff. Figuring out how to wear jeans is most easily accomplished by taking a glance at celebrity inspired ways to wear men's boots.
1. Wearing Men's Boots Under Jeans
One of the most classic ways to wear a men's boot is to pull a pair of jeans on over boots. Clint Eastwood, Daniel Craig, and even Lamar Odom, have been seen wearing a pair of men's boots underneath a pair of jeans. This is most definitely a more casual option, and should only be worn as such. Although not constructed as a look for semi-formal and formal events, this jean and boot tandem is more than adequate for everyday use.
Selecting a style of boot for wearing underneath a pair of jeans is actually easier than one might imagine. Since most of the boot will be covered by the pant leg, wearing boots that are broken in, and thus more scuffed, is a perfectly acceptable option. Searching for used boots is an avenue many take to save a bit of money, and used boots are best worn disguised by a pair of pants. Make sure to factor in comfortability in with the style, specifically when considering to wear men's boots under the jeans.
2. Wearing Men's Boots Under Dress Pants
A dark pair of boots, effortlessly worn underneath a pair of dress pants, is a fashion trend in which many celebrities have taken part. Brad Pitt continuously compliments his custom made suits with unique custom made boots. Individuals who desire to stand out should consider wearing a high priced, or even made-to-order pair of boots, under their suit pants. Taking advantage of a more uncommon look is not only a way to draw attention, but a way to appeal to a variety of groups of people.
When pairing boots with a pair of dress pants, individuals should be more selective with what boot lies underneath the pants. A more rounded toe is a quality option for those deciding upon this style. A custom-made boot that matches the colour of a suit, or pair of dress pants, is likely the most aesthetically pleasing option. Consider shopping through online marketplaces such as eBay to peruse through a wider selection.
3. Wearing Men's Boots Over Jeans
Anyone looking for a more hip hop style, or a younger aesthetic, is likely to see boots worn over jeans as the premier option. Rappers like Jay-Z and Lupe Fiasco, are consistently seen wearing boots over their jeans. This style leads to a bit of bunching of the jean, so be sure to select a pair of jeans with a reasonable amount of space around the calf. Although some indie rockers wear skinny jeans with boots over them, the style is most often pulled off by those with baggier jeans.
Boots that have a bit of eccentricity designed into the lip and ankle support, are constructed for wearing over jeans. In fact, Jay-Z's own line of Rocawear boots showcases the embellished boot over jean style. Darker coloured boots can also look appealing when worn with a pair of darkly faded jeans. People who want to stand out from the crowd or join a younger one, however, should consider brighter colours when wearing men's boots over jeans.
4. Wearing Boots Unlaced
Another young fashion movement is to wear boots over jeans, without lacing or tieing the boot. Asking which rap stars wear boots in this style is not the question. Asking what rap stars haven't, seems to be the better question. From Lil' Wayne to Shaq, most celebrities have tried out the unlaced boot look. Brands such as Nike and Adidas, manufacture men's boots that are designed with this style of wear in mind.
Unlike dressier boots, and pairs designed for wear under pants, those wearing boots unlaced should search for more brightly coloured options. With a large portion of the boot displayed to the public, shopping for a more attractive, striking aesthetic, is a sure fire way to be noticed. Although a more urban style, wearing boots unlaced is increasing in popularity. As one of the most comfortable boot wearing styles, it is no wonder this trend has enjoyed such longevity and growth.
5. Wearing Military Style Boots
Military style boots are not restricted to military members. Whether it is a dark, durable pair of boots or a more genre specific camo design, individuals find military boots to be an enticing options. Eminem, Usher, and countless male models are seen wearing military style boots from day to day. Although not the most formal option, wearing military style boots with jeans is an adequate everyday choice.
Determining which military boot to wear can tend to be a difficult task at times. These types of boots are not the most comfortable option, but do tend to work well in harsh environments. Those who ride motorcycles or hike, should consider military boots as a viable option. Various brands such as Doc Marten's, produce military style boots but they do tend to be quite expensive. Due to their durability, used military boot options are often available through online marketplaces such as eBay.
6. Wearing Boots with Lip Over Pants
One of the trendiest ways to wear a pair of boots is to keep the lip over whatever pair of pants is worn. Celebrities from the singers in One Direction, to The Black Keys, are commonly spotted wearing the tongue of their boots over their pants. Although this style is usually paired with jeans, dress and casual pants can also blend well into this style. In order to more easily wear this style, selecting a boot with a larger lip is essential.
Determining which type of pant is best coupled with this style can be quite burdensome at times. For a more comfortable option, consider wearing jeans with tighter calve areas. Perhaps the easiest types of pants to pair up with wearing boots with lips upturned, are those labelled as skinny jeans. This style is directed more towards the younger generation of people, but is also a stylish option for those looking to make a fashion statement.
7. Wearing the Classic Work Boot
Wearing the classic work boot is a staple of modern society. This look, however, does not have to be restricted to construction workers and road workers. Ben Affleck and other stars choose this look to display a kinship with the common man. Although the look is embraced by many male celebrities, the actual functionality of such a look is the main appeal.
One of the only ways to wear work boots, is to tuck them under a pair of light coloured jeans. Work boots tend to be somewhat dull in colour, and as such are not designed for formal or semi-formal events. Individuals who tend to walk in tough terrain, or lift heavy objects, consistently find classic work boots to be a necessity. Wearing work boots is also quite popular amongst those searching for a more subdued style option.
How to Buy Men's Boots on eBay
Celebrities from all areas are consistently seen wearing boots of various kinds. Purchasing these boots, however, can be not only expensive but time consuming as well. Although some boot focused stores exist, the prices in such stores tend to be quite exorbitant. With online marketplace such as eBay, however, consumers are able to browse through a vast selection of boots. Although the selection can seem overwhelming at first, the amount of search features available through eBay are able to quickly narrow down results.
One of the simplest ways to shop for boots is to type the phrase "men's boots" into the search bar on the eBay homepage. From there, eBay lists a variety of sellers and listings that match the keywords entered into the search bar. With a combination of local and authorised sellers, consumers are able to find not only the right boot, but the right seller as well.
Conclusion
Celebrities wear boots in a variety of ways, as well as in various settings. By understanding the styles of boot wearing, consumers are able to find the type of boot that best fits their own personal style. Whether it is a more urban style or a dressier boot and pant combination, a solution for wearing a boot can be found for almost any situation. Figuring out which style best fits the individual can be difficult, but a few strategies from celebrities certainly aids in the quest.
Boots and boot prices tend to be quite intimidating in concern to more traditional stores, but online marketplaces such as eBay offer a copious amount of boots at reasonably affordable prices. With search criteria to help narrow down searches, utilising eBay can save both time and money. Individuals looking for a unique style or an everyday wardrobe option are likely to find an adequate option by looking at the way celebrities wear men's boots.