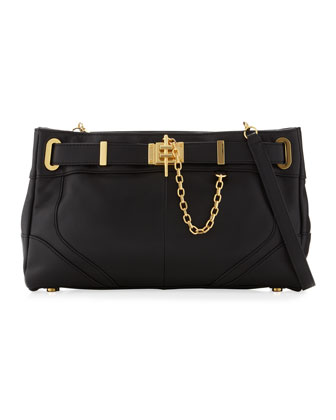 As the smallest of all purses, the classic clutch bag withstands the test of time. Carried by flappers during the roaring 1920s, and clutched in the arms of the most famous Hollywood movie stars during the 1950s, the clutch bag continues to be a symbol of evening elegance today. Every woman needs at least one clutch purse reserved for a night out on the town or a festive occasion. Many women will horde many different clutch bags in various styles that match pieces of their wardrobe to ensure originality. Selecting the right clutch bag depends largely on the buyer, since like all purses it is a reflection of personal style. When shopping for an evening clutch purse, select a quality model that fits with the evening dress while carrying its own sense of style and personality. Buyers can find clutch bags at department stores, women fashion shops, and online retail websites such as eBay.
Choosing a Clutch Purse
Clutches are small purses, which makes them perfect for a glamorous night out on the town. There is no need to carry a ton of objects inside these purses because they are only meant to be used for brief occasions or parties. Taking along whatever is necessary and leave the rest at home is the theme of this purse. Some of the best clutch purses will have an interior compartment for a licence, money, or make-up essentials. A slender smartphone can also fit inside the purse on the more recent versions.
Bag Styles
There are two main styles with clutch purses. The string clutch purse has a long string that allows it to be worn over the shoulder, leaving the hands free. It is a good option for anyone who has the habit of putting the purse down, and then forgetting where they placed it. The second style is the hand clutch purse. It lacks a string and must be held at all times. Both of these purses come in a variety of colours and styling options by many different designers. Buyers should also keep in mind that the evening bag style, which is a small purse that features a handle, sometimes ends up in the clutch purse category. This guide examines some of the best clutch purse styles that women need for an evening out with friends and offers different models from top of the line designers as well as more affordable options.
1. The Little Black Bag
Almost every woman has her secret weapon, the little black dress, tucked away in her closet. A little black clutch bag is the perfect accessory, and this colour truly goes with almost any type of dress. If a woman is only going to purchase one clutch bag, starting with a black model is the way to go. It's versatile enough to be matched with almost any piece of evening wear, and its classic appeal cannot be denied. Those who want to make a statement will adore the designer Sandra Roberts black bag made out of python leather. Its surface is shiny and stylish, while its flap closure and gathered bottom gives it a bohemian flair. A more affordable option is a black La Regale pleated clutch made out satin. Incredibly soft, this string clutch comes with a discreet zipper closure.
2. White Clutch
White evening bags are ideal for weddings or other formal functions. They also look stunning with pale or warm colours, so buyers who have a lot of these clothes in their wardrobe should consider purchasing a white clutch. Gucci makes a simply fabulous white evening bag with a tiny handle and folding clasp. Judith Lieber also has many varieties of solid and patterned white bags. Budget shoppers who want the same look will find commonly look towards the Whiting and Davis collection of white evening bags.
3. Glitz and Glam Clutch
A gala event calls for a special purse. Weddings, proms, and elegant gatherings are the perfect places to use a sparkly clutch bag that matches the mood of the evening. These glam bags often include rhinestones, sequins, or crystals on the clasp and the bag itself. While they come in many colours, gold and silver are always perennial favourites. For buyers, it is best to select a glittering clutch bag that works with their evening dress. Remember, the purpose of the clutch bag is to accessorise the wardrobe, not work against it. Burberry has an exquisite long and thin clutch bag that comes in silver with rhinestone edging around the bottom. Suzy Smith has a completely sequin covered silver clutch bag that is absolutely adorable for those who truly want to shine. Carlo Fellini purses are a cheaper alternative. Also, for truly unique designs, watch out for antique seed beaded sequined purses that look as lovely today as they did years ago.
4. Ruffled Clutch
Clutches can be fun without being overly bright. A ruffled clutch is the perfect accessory that enhances femininity it is soft, ethereal design without resorting to using sparkles or sequins. It is the perfect choice for a buyer who wants a demure feminine look for their purse. Ruffles come in all colours, but are most commonly found in neutral tones such as black and white. RED Valentino makes a stunning, beautiful evening purse confection out of ruffles and metallic fabric, combining the best of glitz and glam with decorative style. Magid purses have a line of rectangular ruffled clutches that are super sweet and highly affordable.
5. Rectangle Clutch
Body type is crucial for selecting the right purse. Rectangle clutches with their straight lines and hard angles look best with shorter women. As their name suggests, these bags look like rectangles, though some styles like the one offered by BCBG are almost perfectly square. The BCBG rectangle clutch features a folding clasp that looks like the closure of an envelope for an ultra modern appeal. J. Furmani and Guess offer more affordably priced alternatives. Keep in mind that most rectangle clutches are hand purses, so they do not come with a string.
6. Round Clutch
While rectangular clutches are best for short women, tall women need a round clutch.. The soft angles of this purse accentuate the long lines of the woman's body, making her appear more elegant. The styles of rounded clutches vary considerably. Designer Alexander McQueen makes perfectly round clutches, while more affordable circular models can be found in Eric Javitz or Jessica McClintock. Other styles have a rounded bottom and a flattened top for the clasp. Emilio Pucci clutches are famous in this shape, but they are also costly. Thrifty shoppers can score the same look from Magid. Because their shape makes them difficult to hang onto, entirely round clutches come with a string. Those that are only rounded on the bottom can either come as a hand clutch or a string clutch.
7. Morning After Clutch
Sometimes a big night out can turn into a morning spent somewhere else other than home. When this happens, women will be glad they planned ahead by bringing along a large clutch bag. Commonly called a morning after clutch in the fashion industry; these bags have more room than traditional evening bags. They are, of course, still smaller than the average purse. Dooney and Burke and Michael Kors make several large versions of a clutch bag. However, the more reasonably priced Rebecca Minkoff Mini Mac clutch is a favourite with thrifty shoppers for its classic style and useful string design that includes metallic accents.
Buying Clutch Bags on eBay
There are two options when it comes to buying clutch purses. Customers can either visit their local high street store such as, Ted Baker, and pay a premium retail price for a clutch bag, or they can try to find a fair deal online. eBay is one of the best websites when it comes to scoring exceptional deals on purses, even designer labels. The online marketplace brings together buyers and sellers from all over the world for an almost unlimited supply of purse fashion. Shoppers can get either the latest styles or discover favourite vintage models from bygone eras. All are sold together on eBay, so it is certainly worth taking the time to discover what clutch bags are offered online before driving to the store. Chances are, not only will customers save time by shopping on eBay, they'll save money too.
Finding the Perfect Clutch on eBay
Shopping on eBay means buyers must understand how to use the search engine to find the best deals. eBay's search engine scans all available auctions based on the terms the buyer enter to search. For doing a very broad search, enter the term "clutch purse" into the search engine. Try "evening bag" as well, since some sellers separate these two designs while others combine them together. To narrow the search, select a colour, style, or designer. For example, if you want to check if a high end designer like Louis Vuitton has a clutch bag, then search for "Louis Vuitton clutch". If there are no results, then broaden the search terms by either leaving out one of the limiters or choosing a different designer or colour.
Conclusion
Clutch purses are a woman's best friend for a long night out. Not only do they carry essential items like money, they also look fabulous when the right purse matches the outfit. Many women keep different styles of clutch purses in their closet for different occasions, but if only one purse is purchased, then the classic black clutch bag is recommended. Fancy events call for sophisticated designs, like the white, glam, or ruffled purse. Buyers can also choose a purse based on its shape, such as round or rectangular. There are even larger clutch purses that allow owners to store extra items in case the night lasts longer than expected. eBay offers all of these varieties for sale through its online platform. Making a purchase on eBay ensures that the customer can choose from the widest selection to find the best prices. Now everyone can have a stylish clutch purse for a perfect evening.