Add a caption
Comics can sell for hundreds of thousands or even millions of pounds
New comic books may only cost a few pounds but they could one day prove to be an amazing investment, with many collectors willing to pay as much as hundreds of thousands of pounds for rare issues in mint condition.

We take a look at 7 comic books which have sold for truly massive sums in recent years.
Add a caption
Anniversary editions can be picked up easily on eBay, but it's the original that's worth the biggest sums
Action Comics 1
It may have only cost 10 cents to purchase originally, but you'll need decidedly more than that if you want to get your hands on a copy of Action Comics 1 today. An original copy of the comic, which sees Superman being introduced, fetched a massive $3.2 million (£2.2 million) on eBay last year.

It's not the first time a copy of this comic has sold for a six-figure sum. A copy previously owned by avid Superman fan Nicholas Cage once sold for $2.16 million (£1.47 million).


Add a caption
If the real deal is out of your price range you can always pick up a reprint
Fantastic Four 1
The first outing for the Human Torch, Mr Fantastic, the Invisible Woman and the Thing has proved hugely popular with comic fans.

This edition sees Marvel's answer to the Justice League getting to grips with their newfound powers and has been valued at around $279,000 (£190,404).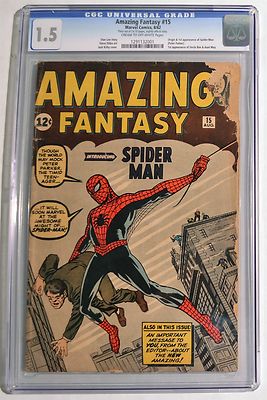 Add a caption
Even damaged versions of Amazing Fantasy 15 can fetch thousands
Amazing Fantasy 15
Spider-Man wasn't always the star of his own comic book series and film franchise. Peter Parker made his debut in Amazing Fantasy 15, showing there was much more than meets the eye to this timid teenager. Spidey got his own comic, The Amazing Spider-Man, just 7 months later.

A near mint condition version of Amazing Fantasy 15 sold in 2011 for a massive $1.1 million (£0.75 million), a record-breaking sum for a comic from the Silver Age of the 1960s.


Detective Comics 27
Batman made his first appearance more than 75 years ago in Detective Comics 27, alongside his long-time ally Commissioner Gordon. The highest sale on record for an original copy is $2.1 million (£1.43 million).

For Caped Crusader fans with more limited budgets, a special 75th anniversary of Detective Comics 27 was released in 2014, retailing at $7.99 (£5.45).


X-Men 1
The X-Men weren't particularly popular when they were first introduced, which makes it all the more impressive that you can find copies of their first outing in near mint condition, like the version which sold for $492,937 (£336,406) in 2012.

This edition introduced a number of characters who would become comic book legends, including Cyclops, Iceman and Beast.


Add a caption
Tony Stark's first outing as Iron Man sells for hundreds of thousands
Tales of Suspense 39
Tony Stark made his first outing as Iron Man in issue 39 of Tales of Suspense which sees him building his impenetrable robotic suit of armour to help him fight his way out of a Vietnamese prison.

A good quality copy fetched an impressive $375,000 (£255,920) at auction in 2012.


Add a caption
Ultra-patriotic Captain America was introduced in 1941
Captain America 1
In 1941 a new DC comic book hero – the ultra-patriotic Captain America – was born after a US soldier was injected with a serum giving him super-human strength.

A copy of this opening issue, which shows Captain America punching Hitler on the cover, sold for an impressive $343,057 (£234,120) in 2011.


What makes a comic's price soar?
Condition – The key to a comic's value is what condition it's in. A comic book in mint condition would be worth significantly more than a copy of the same issue in worse condition. For example, a mint condition version of Action Comics 1 sold for $3.2 million, but, according to experts, a version in poor condition would fetch just $50,000. The Certified Guaranty Company (CGC) grades comics on a scale, with 10 being Gem Mint and 0.5 being poor.

Rarity – The rarer a comic book is, the more likely it is to be worth a lot of money. A comic book could be rare because it had a short print run or because it was recalled due to errors, while many comics from the 1930s and 40s were recycled.

Significant events – Major plot changes and the introduction of new, popular characters will drive a comic's price upwards. As you can see from our list above, the issues which saw the first appearances of Spider-man, Superman and Batman are all among the most valuable comics ever.

Timing – How much a comic will sell for can change depending on how popular characters are at any given time. In the past, prices of certain comics have jumped notably when a film adaptation has been released.

Authenticity – Unfortunately, counterfeit comic books are all too common, so proof that a comic is authentic has a massive influence on its value.

Autographs – Having a writer's or artist's signature on your comic book can cause the price to skyrocket, but only if it is authenticated. However, some people would be less interested in buying a signed comic as it then wouldn't be in its original condition.