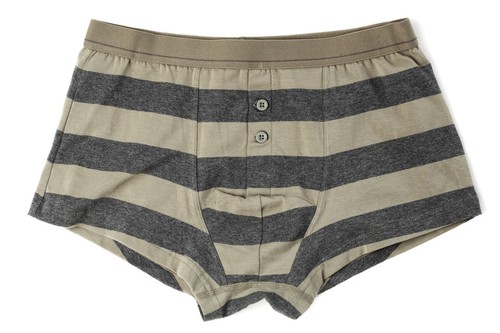 The prospect of acquiring underwear may not seem worthy of a second thought for many men, but simply grabbing the first pair of underpants off the shelf of the nearest shop is not necessarily the best strategy. Since quality, durability, texture, and above all, the ability to hold their shape, are all matters affecting owners of underwear, it pays to give some consideration to the pros and cons of the different products on the market.
Not every man relishes shopping trips for such mundane-seeming commodities as underpants; however, the importance of having a plentiful supply of undergarments cannot be understated, and the pleasure of putting on a fresh pair of good quality briefs is worth making a little effort. Men's underwear is easily obtainable from a great many outlets, including the bargain shops found in most town centres, outdoor and indoor traditional markets, all department stores and men's outfitters, as well as some specialist sports shops. Using online retailers can take much of the effort out of the chore, and an extensive range of merchandise is listed on the auction website, eBay. There are certain do's, such as stocking up regularly, thinking about comfort, and making some decisions, and some don'ts, such as wasting valuable time searching and failing to know care instructions when buying men's underwear.
Factors to Consider Before Buying Underwear
Most of us devote a good deal of attention to the outer garments that we wear. But to make sure the chosen look works, it is important to start by thinking about the foundation, in other words, underclothes. The human body comes in a variety of shapes and sizes. Hence, most of us are careful to buy outfits that play down our weak areas and emphasise our better points. However, what lies beneath, if poorly chosen, can spoil that look.
1. Do Stock up Regularly on Underwear
Begin with a good clearout, disposing of the faded and jaded, the baggy and saggy. Any underpants with holes or those small ladders that grow are fit only for the bin. It happens to everyone: underwear loses its elasticity, at which point any self-respecting owner knows to trash it. Next, having disposed of all of the dodgy underwear, make the effort to count the number of remaining, decent pairs. If there are fewer than 10, stocking up is a matter of urgency, 10 being the bare minimum for a gentleman worth his salt. Those who indulge in frequent physical activity ought to possess still more pairs.
Fresh, smart, new quality underpants are a treat to be savoured, but soon enough, each new pair has its maiden voyage, and then its first laundering, and it is then that men discover how well they stand up to the test. Since it is a given that underpants must be washed after each wear, it is at this stage that quality reveals itself.
2. Do Begin the Search With Some Practical Considerations
The choice of underwear depends partly on whether a man leads a sedentary life, or is constantly on the move, say, in a physically demanding job. If he works outdoors, or enjoys year-round outdoor pursuits, then he knows that one key element in enduring weather conditions is maintaining a comfortable core temperature. These different lifestyles account for the fact that one man may be wearing thermal underwear.
When quite sure of the brand, the worthiness of the fabric, and the overall quality of the garment, then, and only then, consider buying a multi-pack. There are advantages: firstly, there is a savings to be made by buying a pack of two, three, or five pairs of underpants; and secondly, a man now has a small supply that should all last for the same length of time.
3. Don't Forget to Be Frivolous
Although reliable brands and fabrics that withstand hot washes are undeniable musts, too safe and boring can make a man feel dowdy. So, while he is probably wasting his money if he allows himself to fall for novelty on a whim, there is no harm in selecting patterns that suit his taste, or buying plain-coloured undies that have a discreet logo or emblem.
However, while a funny slogan on a pair of underpants may raise a smile initially, a man really does not need to see the same witticism every time he opens his underwear drawer. That's the pair that he is most likely to avoid each morning, until they become a scrunched up ball at the back of the drawer.
4. Do Think About All-Day Comfort
The intimate area covered by underpants contains its own microclimate. The warmth and humidity generated in the nether regions means that hygiene and ventilation are factors not to be overlooked. It is not for nothing that all the notable manufacturers in the rag trade choose pure cotton for intimate apparel. The material's breathability is crucial.
Of the styles of underwear available, the original full cut brief is easily the most popular option. But with its reliance on a fairly deep elastic waistband, there is a lot of scope for visible waistband issues to occur during the course of a normal day, when trousers or jeans slip down. This may not worry a certain type of young rapper fan, but half-mast trousers with full underwear exposure is not a look to emulate. Equally, an over-enthusiastic waistband can dig into the flesh. For this reason, it is vital to be honest about a man's waist measurement and to purchase accordingly. Also known as the Y-front, its design allows for all types of movement without the contents escaping, hence this style's popularity.
The full cut's more petite cousin is the mid-rise version, a brief that exposes considerably more tummy, and that therefore helps to obviate the problem of waistband visibility. But sitting as it does on the navel, the mid-rise brief can feel less secure. This style is more popular amongst the fortunate washboard-stomached brigade. An even dinkier variant is the low-rise brief, also spelled "lo-rise", which rises just to hipster height, and which works with low-slung jeans to keep a clean line around the jeans top.
Boxers, formerly boxer shorts, are the loosest option, looking like a pair of shorts with a closed fly, normally fastened with one or two buttons. Usually, an interior net section supports the genitals, but overall, support is minimal. For office workers, wearers of suits, and for anyone wearing loose casual trousers, such as chinos, boxers offer a freer sensation and allow air to circulate. Trunk boxers, on the other hand, are a much closer-fitting design, extending a few centimeters down the thigh, as boxers do, but in this case, tightly encasing the thighs. Lacking the striking Y-front shape, there is some stitching and shaping to provide cupped support at the front. Poser underwear usually falls under the boxer trunk classification.
The underwear style that offers whole lower body coverage, ideal as protection against the cold, is the old standby, the long john, a style that may seem outdated, but that has, in fact, never gone away. These days, re-marketed more often as leggings, long pants, or under the umbrella term "thermals", they are more often than not sold along with matching long-sleeved vests as a set.
Material

Styles

Advantages

Disadvantages

Cotton jersey

Y-fronts

Briefs of all kinds

Boxer trunks

Sturdy and durable with some give

Not intrinsically sexy

Cotton and polyester mix

Y-fronts

Long johns

Thermals

Provide flexibility and give

Some static

Lifespan limited

Cotton poplin

Boxers

Natural, breathable and cool

Does not always hold its shape

Boxers

Luxury, attractive look and

Fragile

Polyamide elastane

Trunk boxers

Super-firm support and shaping

Tightness, lack of breathability

Long johns

Thermals

Warmth, softness

Possible overheating and clamminess
There are many different styles of men's underwear available in a variety of types, materials, cuts, colours and designs. Each has their advantages and disadvantages, and choosing a type of underwear should be the sole decision of the man wearing them.
5. Don't Waste Time and Shoe Leather Traipsing Around Shops
Online shopping may have been invented for buyers of underwear. As shoppers, men are not limited to the restricted range found in a conventional shop, and since trying on the merchandise is not an option, there is no advantage to recommend shops over the labour-saving route of online buying. An unprecedented array of widely varying men's underwear is available on eBay.
6. Don't Forget to Check Laundry Care Instructions
Modern-day pressures mean that machine washing is the only sensible solution to the laundering of underwear. Men need to know that they can just sling it into the washing machine to await the next laundry day. Prior to making the decision to purchase, give the garment care instructions a quick glance to ensure that no special treatment is required.
7. Do Give Underwear as Gifts Only After Doing Some Research
Underwear is perhaps not the most imaginative gift for a man, but is often extremely welcome. Quite apart from birthdays and Christmas, it can be a particularly thoughtful present to give just before a hospital stay when the newness of intimate garments removes potential embarrassment on the ward. Similarly, underwear is a great gift prior to any journey, from a camping trip to a business trip. The effort of gift-buying has largely been eradicated with the emergence of gift sets, which combine the central item, the pair of shorts, with a complementary commodity, usually body spray or socks. These boxer shorts sets need careful deliberation by the prospective purchaser to verify whether, in fact, the underwear inside is of sufficiently high standard. One advantage of eBay is that sellers provide full descriptions. Salient points to check include the fabric and, if a mix, the percentage of cotton, including any different gusset material, the waist measurement, the length of the leg, and the type of fly, whether button or open.
How to Buy Men's Underwear on eBay
eBay shopping offers huge advantages in terms of the time and energy that is saved. Online, shoppers looking for men's good quality underwear can quickly and efficiently take delivery of just what they want within the comfort of their own home. Whether on a tight budget, or in a position to be able to splash out, there is no shortage of shape, fabric, and colour combinations to suit every wallet.
A searchbegins by typing into the search field the preferred type, fabric and colour. Results are then narrowed down to a manageable, but still ample, number. On sale, besides standard brands, are also designer labels. Those buyers whose budgets do not normally stretch to designer gear, can perhaps treat themselves to underwear from one or another of the big men's fashion names.
On eBay, shoppers can check sellers' ratings, and thus, be confident of purchasing from a trusted seller, someone they may want to return to again and again.
Conclusion
Just because briefs are, generally speaking, hidden from view, there is no excuse for skimping on energy and brain-power in choosing this essential daily item of apparel. It is never pleasant to have made a disappointing purchase or to walk around in discomfort due to ill-informed underwear decisions. The huge amount of variety on the market can be seen as a mixed blessing, as the shopper faces such a wealth of choice, but on the other hand, with all of those enticing options, from colourful satin boxers to figure-hugging lo-rise briefs, it is clear that manufacturers have responded to burgeoning demand from image-conscious men.
If natural fabrics and the prospect of staying fresh all day are your priority, then you should find satisfaction from a good scour of the listings on eBay's site. Selecting tried and trusted brands and tracking down a good buy on eBay can take care of the uncertainty factor and can lead to a lifetime of wise shopping habits. Equally, shoppers in search of a more flashy look and feel can discover a wealth of options, and may decide to break away from safe habits, just this once.