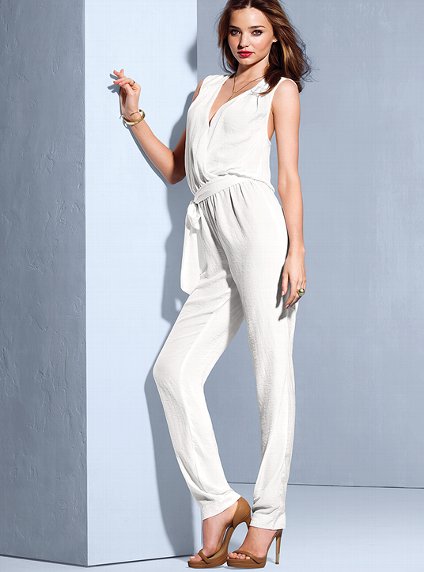 The jumpsuit has its origins in the utilitarian, egalitarian, unisex one-piece garments that appeared at the beginning of the twentieth century. The term "jumpsuit" first described uniforms worn by parachutists and pilots in World War II. After Neil Armstrong and Buzz Aldrin wore them to walk on the moon in 1968, jumpsuits entered popular fashion as a garment associated with Space Age progress. Rock idols like Elvis and David Bowie also sported jumpsuits, and they remained popular through the 1980s. Women's jumpsuits reemerged on the catwalks around 2008 as a ubiquitous trend for spring and summer fashions.
Jumpsuits come in all kinds of styles, from formal to casual, and with a fit to flatter every body type. They can be a fun, bold fashion statement, but, perhaps for that very reason, stylists have much to say about the do's and don'ts of donning a jumpsuit. These recommendations range from choosing a flattering model to proper accessorising. By following a few guidelines, women can find a jumpsuit that fits their personal shape, and learn how to wear it stylishly.
Tip 1: Do Insist on a Flattering Neckline
Because a jumpsuit is head-to-toe, it can sometimes be difficult to find the right style and size that flatters the upper and lower body. Fortunately, there are plenty of styles from which to choose.
One approach when selecting a style is to start at the top. Necklines create focus: they frame the face and upper torso, and affect how the bustline and shoulders appear. Halter tops are universally flattering, supporting the bust and giving the illusion of curves on smaller-busted women. Mock turtlenecks and cowl necks can be elongating, while turtlenecks work well on women who want to offset a longer neck or face. Crew necks and boatnecks tend to widen across the bust and shoulders, which makes them a good choice for women with more petite upper bodies, but are often unflattering for larger-busted or broad-shouldered figures. More open necklines like sweetheart, scoop-neck, and v-neck have an elongating effect and show off the collarbone and decollete. This tends to be very flattering, except for top-heavy (apple) shapes or very long necks.
Tip 2: Do Balance the Top and the Bottom
Another important consideration when choosing a jumpsuit is the proportions between top and bottom. There should be attention to the waistline, and in a flattering position. For example, slim-waisted women should look for cinching at the natural waist; women with heavier middles should look for jumpsuits with a lower waistline around the hips, or, alternatively, empire waists. Volume is another issue. Flared bottoms work well if the top is fitted, and vice-versa, but too much overall volume is unflattering on nearly everyone. Trousers that narrow at the cuffs can be slimming, and work well to balance jumpsuits that are blousy through the top and hips.
Tip 2: Do Pay Attention to Fabric
The drape and sheen of a fabric is a very prominent aspect of a jumpsuit. Shoppers should decide what kind of look they want from their jumpsuit: casual, professional, or formal. For casual wear, jersey knits, soft cottons, and sportier nylon models are a good choice. Professional occasions call for more fabrics that hold their structure, like heavier cotton or silk. When choosing a jumpsuit for evening wear, women can opt for either a soft, drapey material or a stiffer one.
Tip 3: Do Wear a Jumpsuit to Work
Jumpsuits can be an excellent, stylish choice for work attire. The key is to choose a jumpsuit that is structured enough: look for details like a defined waist, seams, or belt, and fabrics like cotton, silk, or linen in solid colours. Flimsy jumpsuits should be avoided for professional attire. If the jumpsuit is very low cut, be sure to layer a camisole underneath. Or, on cooler days, a blouse can be worn underneath. Blazers look great over jumpsuits, and balance the femininity with a serious edge. Look for one in a complementary shade, without matching the colour of the jumpsuit exactly. An added bonus is that the blazer can be taken off after work, instantly converting the jumpsuit into evening wear, especially when paired with heels.
Tip 4: Don't Go Completely Monochrome
The jumpsuit is indeed a retro style reminiscent of the 1970s and 1980s; however, dressing a jumpsuit with shades of the same colour may be too retro for contemporary sensibilities. Instead, mix and match colours. Colour blocking is one trend to try: pair bright, complementary tones together for a bold look. Layer a blazer or blouse with the jumpsuit, and opt for shoes in a different colour.
Tip 5: Don't Overlook Footwear
Some fashionistas argue that high or wedge heels are the only thing to wear with a jumpsuit. They elongate the leg line and add glamour and sophistication. However, in some instances a pair of flats can work equally well. Capri jumpsuits and tapered, ankle-length cuffs can be paired with sandals or flats. Another note is that pointed footwear may not be the best match for jumpsuits; peep-toe shoes, whether flats or heels, are highly recommended, and rounded toes also work well.
Tip 6: Don't Be Afraid to Substitute a Jumpsuit for a Dress
Jumpsuits can be a excellent and refreshing alternative to dresses, for casual and formal occasions alike. Floral jumpsuits in cool, comfortable fabrics like jersey knits are perfect for weekend wear, while a black jumpsuit in elegant materials like satin or silk can substitute for a little black dress at cocktail parties and beyond.
Tip 7: Do Accessorise Carefully
The jumpsuit's uniformity needs to be offset by accessories. There are lots of choices, from pearls to statement necklaces, cuff bracelets to bangles, studs to dangling earrings. However, it is also crucial that accessories not be overdone. Opt for a necklace and ring, for example, or cuff bracelet with teardrop earrings. Keep in mind that bags, shoes, and belts are also elements in the ensemble, and avoid overcomplicating the look.
Sizing for Jumpsuits
Jumpsuits are available in a wide range of sizes, including petites, plus, and maternity. Finding the right inside leg length may be problematic. Shoppers should keep in mind that a tailor can easily adjust long trousers, so erring on the longer side is preferable to buying a jumpsuit that is too short.
When shopping for a jumpsuit, remember that sizing can vary from manufacturer to manufacturer. In addition, sizing systems are different in the UK, US, and Europe. The following chart outlines sizing conversions between the three systems.
| Bust (cm) | Waist (cm) | Hips (cm) | UK Size | US Size | Euro Size |
| --- | --- | --- | --- | --- | --- |
| 78.5 | 60.5 | 86 | 6 | 2/4 | 34 |
| 81 | 63 | 88.5 | 8 | 4/6 | 36 |
| 86 | 68 | 93.5 | 10 | 6/8 | 38 |
| 91 | 73 | 98.5 | 12 | 8/10 | 40 |
| 96 | 78 | 103.5 | 14 | 10/12 | 42 |
| 101 | 103 | 108.5 | 16 | 12/14 | 44 |
| 108 | 90.5 | 116 | 18 | 14/16 | 46 |
These sizes are only meant as an approximate guide. Always try the garment on, or, if shopping online, check the brand's or retailer's website for specific sizing information.
How to Buy a Jumpsuit on eBay
If you have decided to shop for a jumpsuit online, you will find a wide selection from which to choose on eBay's online auction website. Start your search on eBay's home page. You can enter precise keywords, such as "women's black silk jumpsuit" into the search bar. Or, for more general browsing, enter general terms, like "women's jumpsuit". In either case, eBay lets you refine your search results further by selecting size, colour, brand, seller's location, and other limiting factors. If you do not find what you are looking for, try perusing eBay Shops.
Before Bidding on a Jumpsuit
There are several steps you can take to make sure your shopping is a success on eBay. The first is to read the product description carefully before bidding: it should list specifics like material, size, condition, and the seller's return policy. Should you need more information, eBay makes it easy to ask the seller a question.
You may also want to research the seller a bit. Check their feedback rating and read comments left by other customers, particularly ones who purchased jumpsuits or similar items. Top-rated sellers have a strong record of excellent service.
Conclusion
Jumpsuits are a fashion trend that can look terrific on different body types and for all kinds of occasions. However, because the one-piece jumpsuit makes a big statement, there are several things to keep in mind when wearing one for work, play, or an evening out.
The first is to pick a style that works with one's individual figure. This can be difficult, since there is no option to mix and match tops and trousers. Priorities include the neckline, which draws a lot of focus, a defined waist, whether high, middle, or low, and controlling volume so that the overall proportionality is balanced. The right fabric is also important in matching the jumpsuit to the occasion. Jumpsuits can be worn to work, parties, or for casual wear. When assembling an overall outfit, women should pair garments in different, complementary colours, accessorise prudently, and choose the right shoes.
Following these do's and don'ts will help women find a jumpsuit that looks great on them and wear it in style.