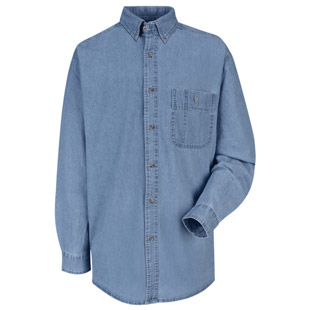 Denim is perhaps one of the more versatile fabrics available for fashion today. It is a comfortable fabric that is easy to care for, long lasting, and can be crafted into a personalised fashion statement by the individual depending on how it is broken in. Denim is unique in that it can be worn as a completely casual article of clothing or it can be matched with elegant materials to create a warm and semi-formal look. Individuals often are creative in the manner that they choose to break in their new denim jeans, often going months without washing them to achieve a perfectly faded appearance. Others simply wash them immediately and wear them for everyday activities without the slightest consideration for high fashion. No matter which type of denim a person is looking for, there are some definite do's and don'ts when it comes to wearing denim of any kind.
1. Don't Wear Denim on Denim
The golden rule of thumb for denim fashion is to never mix denim. There are, of course, exceptions to this rule. Mixing different washes of denim is a great way to enhance the warm and familiar characteristics of the fabric without creating a monotonous appearance. Denim shirts and jackets of the same wash as jeans tend to meld together to form the appearance of wearing a denim suit. On the other hand, mixing the colours and vibrancy of the washes serves to accent the differences between the two denims and can provide a unique and inviting look. Denim shirts worn with jeans should be of a lighter fabric than the pants to avoid an overly bulky appearance and are more attractive when coloured in a much lighter wash for contrast.
2. Don't Wash New Denim Too Soon
Many individuals insist on not washing their new jeans for periods up to a year. While this can be excessive, there are positive aspects to waiting to wash those new jeans. When buyers wash their new jeans right away, it bleeds out the indigo dyes from the fabric before they can completely stabilise. Introducing jeans to detergent too soon will wash out the indigo rather than allowing the fabric to achieve the desired faded appearance that is one of the favourite aspects of denim jeans in the first place. Generally, the more the jeans are worn and the more active the lifestyle, the quicker they will break in and the sooner the indigo will fade on its own. This can take up to six months for some people, but common sense must always prevail. If odour becomes an issue, there are alternative methods that can be used to minimise unpleasantness until the jeans reach their proper aging.
3. Do Use Alternative Cleaning Methods
To prolong the time period prior to using detergent to wash jeans, individuals can simply hang their jeans up inside out overnight and allow them to air out. Another method is to simply hand wash the jeans inside out in a sink with only water and then let them air dry outdoors. This tends to freshen up them up without washing out the fabric. The most important thing is to not utilise a washing machine or dryer to clean the jeans for at least the first six months of continuous wear in order to achieve the proper fade to the material. Hand washing is the preferred method for denim along with air drying, which helps to achieve a well worn, weathered appearance rather than a trendy pre-faded look that is easily identifiable as not authentic.
4. Do Be Patient with Breaking in Denim
Breaking in jeans properly is considered an art form within the fashion community. Well made jeans can last years even with heavy daily use, and they are one of the few articles of clothing that can become more comfortable and fashionable as they age and wear. The key to achieving that mystical faded appearance and comfortable feel against the skin is taking the proper amount of time to break in the denim. Many people wash their jeans right away and then throw them into the dryer. This is fine for work clothing, but jeans purchased to be worn as a fashion statement should be worn as long as possible before hand washing and hang drying to facilitate the proper break in. Wearing jeans for several months prior to washing is not uncharacteristic for breaking in denim. The key is patience.
5. Don't Think Denim is Only For Other People
Many men do not have bodies that resemble fashion models, so they feel uncomfortable with the thought of wearing jeans. Today's marketing wizardry has taken the standard blue jean and made it into a fashionable part of a well rounded ensemble. Many men now think that jeans are no longer simple and rugged trousers that are worn around the house, but designer clothing specially made for slim and attractive men. The opposite is more accurate in that there are many different styles and sizes of jeans that are still made for regular people as well as designer brands that specialise in higher end jeans and denims for more fashion conscious people. They key is for the individual to find a pair of jeans that fit them properly and are comfortable to wear.
6. Do Match Denim With Luxury Fabrics
One of the great characteristics of denim is that it is an informal fabric that can be wonderfully matched with a variety of luxurious fabrics to create classically stylish ensembles. Light denim jeans have always matched well with wool blazers and formal button down shirts. Adding denim to a more elegant material creates a blend of warmth and formality that is both casual and formal at the same time. It creates a look that can be worn equally well in a posh restaurant or in a cosy tavern later on in the same evening. Matching denim with alternate materials is one of the truly versatile features of this amazing fabric.
7. Do Buy Jeans to Match Body Type and Use
There are a variety of denim jeans available to match nearly any body type or personality. When purchasing jeans, the buyer needs to keep in mind the realities of their body type and the style of jeans that will best flatter it. Larger and more rounded men will do well to avoid squeezing into skinny jeans and very thin men should avoid loose fitting jeans. Buyers should familiarise themselves with the many different cuts of jeans available and find which type is most comfortable and looks best prior to purchasing. Another aspect to consider is what the intended purpose of the jean will be. If the jeans are to part of the daily attire of a fashion conscious individual, they would do well to select a designer jean that features a deep indigo wash that can be worn as a centrepiece to many different outfits. If the buyer is looking for a casual pair of jeans to wear around the house every day, then a classic pair of straight-cut jeans will work well.
How to Buy Denim on eBay
When shopping for your next pair of jeans or denim shirt, make sure to take advantage of the powerful search tools available on eBay. Start your search by navigating to the eBay homepage and entering a keyword in the search box such as, men ' s denim jeans. A list of various auctions will be shown that relate to that keyword. You can choose to browse through all the listings until you find the jeans you want, or you can refine your search by selecting various categories that will narrow the items to search for, such as various styles or sizes. If you already know the brand name and type of jean you are looking for, you can enter that information as well. Once you have determined which pair of jeans best suits your needs, the next step is to verify the seller.
Verify the Seller
Sellers on eBay are rated according to how they perform on each and every auction they list. Once a transaction is complete, the buyer rates the seller on the overall experience of the transaction by giving them a feedback rating. If a seller has a good feedback rating, they can be trusted to act within the high standard eBay sets forth for individuals who list items for sale on auctions.
Conclusion
Denim is one of the few fabrics available for men that can be worn casually or in more formal settings. Denim jeans are one of the most versatile wardrobe items available to men who want to achieve a unique look without sacrificing comfort. A properly broken in pair of jeans often times become a coveted addition to any mans ensemble that can be matched with anything from an old tee shirt to a sophisticated wool blazer with equal aplomb. The breaking in of denim jeans can even become something of a ritual to some individuals who insist on wearing them straight through without washing for over six months, just to ensure a proper break in. There are a variety of styles and cuts of jeans available to suit the fit and personality of any individual regardless of their body type or shape. Denim has long served men as a fashion to be worn in many different environments from camping in the woods to socialising at an evening cocktail party. It remains a versatile and functional fabric that is both durable and comfortable.