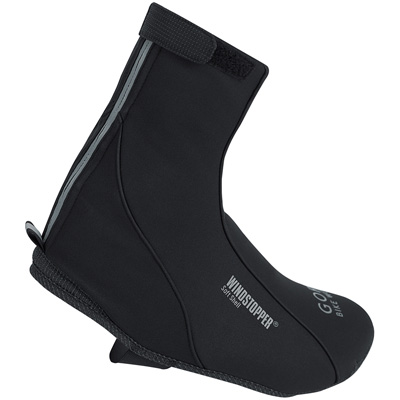 Cycling is more than just an enjoyable recreational hobby, for many people it is also a means of every day transport. As a result, some cyclists will find themselves riding in all types of weather, from sunshine to rain. As a result, feet are one part of the body that will find themselves exposed to the weather whilst riding. And in many cases, cold weather can leave the rider with frozen toes or wet feet.
There is a solution to this problem. Cycling overshoes provide a protective cover over a number of cyclist shoes. They can assist with keeping the water out and the heat in.
eBay is an excellent place to look for and purchase cycling overshoes. With an extensive range of products to choose from as well as being a safe and secure trading platform it is many people's first shopping choice.
This guide outlines the top 7 factors to consider when purchasing cycling overshoes.
1. Size
The first point to take into consideration is the size and type of feet the cycling overshoe will be covering. Whilst the overshoe covers a shoe, different shoes will fit different feet. It is important to know the following:
· Size of the shoe being worn
· Size of the feet
· Width of the feet
· Any ailments that the feet have or are prone to experiencing.
The buyer should be sure to purchase an overshoe that will sit over the entire shoe. For the overshoe to be effective it must fit correctly.
2. Material of the Overshoe
Overshoes come in a range of different materials. Each fabric offers different advantages and disadvantages. Always undertake adequate research to ensure that the material chosen offers the right protection desired.
Different materials on the market are:
| | |
| --- | --- |
| Neoprene | Neoprene is the same material used to make wetsuits. It is water resistant and offers insulating qualities helping to keep the warmth in. Neoprene is a durable high quality fabric. |
| Nylon | Again, nylon offers waterproof protection and keeps the warmth in. Not as high a quality as neoprene, this is a more affordable option. |
| Polyurethane | Polyurethane is a similar fabric to nylon. Often overshoes will be made out of a nylon/ Polyurethane blend. Again Polyurethane offers both water protection and insulation. It is a similar quality to nylon. |
Perhaps one of the most important factors when looking at a cycling overshoe is the breathability of the fabric. Whilst one of its main roles is to preserve heat, it is also important that the overshoe can breathe to allow for air circulation. Without this, it will cause the shoe and foot to sweat excessively.
This sweating can cause irritation and chafing. A great way to ensure breathability of the foot is to purchase a cycling overshoe that is made of a breathable material and match it with a bike shoe that has some mesh material in the make-up of the shoe to encourage air circulation directly through to the sock.
3. Additional Accessories
It is important to look at the additional accessories provided with the shoes. This can include:
· Zips. What is the quality of the zips like? Are they durable and strong and look like they will be able to withstand the abuse from riding? Do they offer ease of getting them on and off the foot when dry and wet?
· Light reflective strips. Are there light reflective strips on the overshoes? These will offer additional visibility for the rider which is an excellent addition to any overshoe.
· Velcro. Is there Velcro on the overshoe? If yes, what is its function? Is it easy to get on and off? What is the quality of the Velcro?
· Does the cycling overshoe allow for the type of pedal being used? This should include clipless pedals and clip in pedals. If it is being used on a flat pedal bike, look to the grip provided underneath for added friction so as not to slip off the bike pedal.
4. Where Are You Riding
Where are you most likely to be riding and how frequently? The type of terrain being ridden in will offer a suggestion to the most suitable overshoes for you.
5. Research
To ensure that the right decision is made, it is important to undertake adequate research. This can be done via literature available on the internet from guides such as this, reviews from other riders or specialist books. It can also be found by asking cycling friends.
6. Brand
The brand of the overshoe will often offer a direct reflection on the quality. Buying from a trusted brand that is known for quality, whether that is from previous experience or an external recommendation; this is always the preferred buying method. This will ensure that a quality product is purchased.
7. Cost
Ultimately the cost of the overshoe will play a deciding factor. Before going into this process, it is advisable to create a realistic budget. This budget should also include additional costs like postage. Like most products, you get what you pay for with a cycling overshoe. By forking out more money in the first instance, this will save you in the long run. A good quality overshoe will have a longer life expectancy than a more affordable product.
Why Wear a Cycling Overshoe
There are many different reasons why a cycling overshoe is an essential garment when riding a bike. These include but are not limited to:
· A cycling overshoe offers protection from the weather. This can be wind, water, rain or sunshine.
· They keep shoes clean.
· They offer insulation for the foot, keeping it warm in colder weather.
· They offer reflective materials that provide greater visibility for riders in all environments from other motorists and cyclists.
How to Buy a Cycling Overshoe On eBay
eBay offer an extensive range of overshoes as well as other cycling goods like jerseys, bibs, bikes and pedals. It is a great place to find the perfect product that matches with existing cycling gear.
To search for a product on eBay is easy. Alongside this, there is more than one way to search for a product, meaning you can engage with eBay in whatever way is easiest for you.
The main searches are:
1. Keyword search. Locate the search bar found at the top of each page on the site. Simply enter a broad search term or word. eBay will compute and then collate all of the available products corresponding to this search term onto one page. It is then possible to extend the search further by following the prompts to advance to the collated material.
2. Advance search. This is done by using the advance search button found to the right hand side of the keyword search bar. This will offer a series of check box questions to complete an advance search. Once this is done, eBay will pull up all of the products that match exactly.
3. Categories search. All products that are placed for sale on eBay are categorised, and then sub-categorised by eBay. It is possible to click on the appropriate category and browse at will.
Once a product is decided upon, next is the vetting process. This can be done by researching the product further using other sites and the description and photograph offered by the seller. Make sure to double check the product to ensure it is exactly what is required. Whilst doing this, make sure to take note of how the seller is selling the product. This will be one of 3 different ways; Buy It Now, Bid or Best Offer. Each require a different way of purchasing, so be sure to familiarise yourself with the appropriate method. If in doubt, do not forget that there is the option to Ask the Seller for additional information.
There are a few ways to exchange money for a product. All are safe and secure. One of the easiest ways is using PayPal, a third party site that eBay have engaged with to assist with the transaction. Be sure to check out eBay's Buyer Protection Programme before your first purchase.
If there are any further questions on how to use the site or you require further information about any of the above, check out the Buying Tips. This has all the information required to engage with the site in a positive way.
Conclusion
Often overlooked, cycling overshoes are an excellent addition to any frequent cyclists outfit. The benefits are numerous and will improve any performance. Not only that, but they offer additional safety to riders by increasing their visibility when out on the road or track.
Purchasing the right pair of cycling shoes for you has never been easier with eBay. The extensive range of products and ease of searching and purchasing, it makes it the ideal place to not only purchase overshoes but also other cycling products. Not only that, but it is a global site considered to be a leader in its field. There is no doubt eBay will have the product you desire available for purchase.