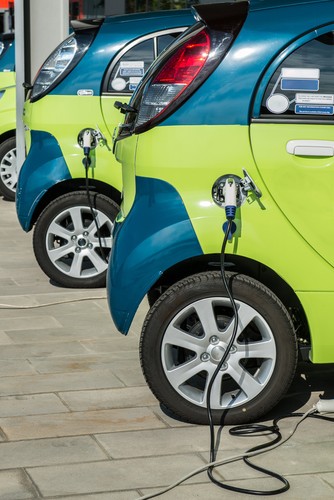 With the price of fuel constantly on the rise, it is no wonder more and more people are turning to hybrid vehicles for transportation. Hybrid vehicles combine the car's internal combustion engine with one or more electric engines. By combining fuel and electricity, hybrid cars get much better fuel economy and have much lower levels of CO2 emissions. Standard hybrid vehicles recharge as the car runs, so owners are not required to plug in the car to charge the electricity. Plug in hybrids need to be plugged in to be recharged, but are able to run longer on electricity. Most hybrid vehicles get at least 40 miles per gallon, which saves the driver on fuel costs throughout the life of the vehicle.
In addition to saving money on fuel, hybrid vehicles oftentimes get tax credits and insurance breaks, making the cost of ownership much lower than a standard fuel vehicle. Hybrid cars are produced by many vehicle manufacturers, and are purchased in car dealerships or online using websites like eBay. Because so many people buy and sell cars on eBay, finding a hybrid car at a competitive cost is easy. For buyers considering a hybrid car, understanding the seven reasons to purchase a hybrid can help them make an informed decision on whether a hybrid vehicle is right for them or their family.
Reason 1: Better Fuel Economy
Hybrid vehicles are known for getting exceptional fuel economy since they run on both electricity and fuel. With the cost of fuel consistently rising, the cost of owning a car is also getting more expensive. To combat the rise of high gas prices, manufacturers looked towards hybrid electric vehicles for improved gas mileage for a slightly higher initial cost.
There are different types of hybrid cars, which get different fuel efficiency. Standard hybrids, plug in hybrids, and 100 per cent electric cars are three types of vehicles that use electricity, or electricity and fuel, instead of just fuel to run the car. Aside from being extremely fuel efficient, CO2 emissions in hybrid vehicles is much lower than standard vehicles.
| | | |
| --- | --- | --- |
| Type of Vehicle | Miles Per Gallon | CO2 Emission (grams/mile) |
| | 41 mpg | 215 g/m |
| 2013 Ford Fusion Energi Plug in Hybrid | 53.3 mpg | 110 g/m |
| 2013 100 Per Cent Electric Nissan Leaf | 115 mpg | 0 g/m |
Choosing a hybrid car not only helps the buyer save on fuel costs, but helps the environment as well. Since there are so many different types of hybrid vehicles, it is easy for buyers to find a stylish, fuel efficient hybrid vehicle.
Reason 2: Better for the Environment
Most people know that hybrid vehicles benefit the environment, but do not exactly know how they benefit it. Because they burn fossil fuels, vehicles produce CO2, or carbon dioxide, which is a poisonous greenhouse gas. Greenhouse gases heat up the surface of the earth, and are a big contribution to global warming. In addition, high levels of CO2 contributes to smog and heavy pollution. Because of this problem, many vehicle manufacturers are taking steps to reduce the amount of CO2 emissions on their models.
One of the easiest ways for people to reduce the amount of carbon dioxide produced by vehicles is to choose a hybrid or electric vehicle. Hybrid vehicles emit less carbon dioxide than standard petrol or diesel cars, and fully electric vehicles have no CO2 emissions at all. When comparing different models of hybrid vehicles, buyers should take into consideration the CO2 emissions to find a environmentally friendly vehicle that is beneficial to the environment and their budget as well.
Reason 3: Lower Cost of Ownership
Aside from lower fuel costs, the cost of owning a hybrid vehicle is much less than a standard car. When determining the cost of ownership for a car, it is also important to consider the cost of insurance aside from fuel costs and monthly payments. Many insurance companies offer a discount to those who drive electric or hybrid vehicles because of their positive impact on the environment.
Another benefit to driving a hybrid vehicle is a lower Vehicle Excise Duty, or 'car tax'. Vehicle Excise Duty is based off of the amount of CO2 emissions that the car produces, and hybrid vehicles are usually three to four tax bands lower than standard cars based on their lower CO2 emissions, which could save owners money every year. For those living in London, many hybrid vehicles are exempt from the congestion charge as well.
Reason 4: Comparable Prices
While hybrid vehicles are slightly more expensive to initially purchase, many recent models of hybrids have comparable prices to standard cars. Newer vehicles have much better fuel economy and lower CO2 emissions since there are higher standards to abide by. Since standard cars are becoming more comparable to hybrid vehicles, the cost of buying a hybrid has gone down. Many base models or used hybrids are just as affordable as standard vehicles, and also save the buyer money over time.
Reason 5: More Efficient Design
Hybrids have a unique design that is both efficient and stylish. Many hybrids are designed to be aerodynamic to increase fuel efficiency, and are compact enough to manoeuvre around city streets. Because of their electric engine, hybrid vehicles produce much less sound pollution, and some models have tyres that reduce noise, making them quiet and comfortable. In addition, many hybrid batteries are guaranteed for the life of the vehicle. If the battery does die, many manufacturers offer to replace the battery free of charge. Newer hybrid models feature lighter batteries, with an increased lifespan to keep the vehicle running off electricity for a longer period of time.
Reason 6: Large Selection
When hybrid vehicles were first introduced, there were not very many models available, and the prices of the hybrid vehicles were high. In 2010, Honda produced the first mass-produced hybrid that was sold for an affordable price. Since then, many manufacturers have followed. With the number of car manufacturers producing hybrid vehicles, there are many different styles to choose from. When purchasing a vehicle, buyers should also test that all of the parts of the vehicle are in working order.
Buyers must check turn signals, heating and air conditioning, lights, radio, as well as any other parts of the car to ensure they do not have to replace them after purchasing the car. Bringing a mechanic or someone who is familiar with cars helps buyers find issues that they may not have noticed on their own. Most manufacturers offer different models of hybrids, and different sizes of each. From sport utility vehicles to compact hatchbacks, it is easy for buyers to find the right hybrid for their lifestyle.
Reason 7: Added Features
Since hybrid vehicles are known for being innovative and technologically advanced, they often include added features that come standard in most models of hybrids. Features such as keyless entry and advanced sound systems are common in many hybrid models seen today. Different manufacturers offer different features in their hybrids, so doing research and understanding what each manufacturer offers is helpful for buyers when choosing a hybrid vehicle.
How to Purchase a Hybrid Car on eBay
After understanding the seven reasons to choose a hybrid vehicle, buyers can decide if a hybrid vehicle is right for them or their family. Whether buyers are looking for a hybrid vehicle or a standard vehicle, eBay makes it easy to search and compare different cars because of the large selection found on eBay. To begin your search on eBay, you can start with the use of keywords in the keyword search bar located on any eBay web page. If you already know the specific make and model you are looking for, you can search the specific car, such as 'Toyota Prius '. To search a wider variety of makes and models, you can broaden your search to something like, 'hybrid car '.
Aside from being able to shop and compare different cars from the comfort of your own home, eBay has many other helpful tools that makes shopping for a car efficient and easy. When searching for a car, buyers can search based on their location, so they can find cars close by to check out and test drive. In addition, eBay allows buyers to set their price maximum when searching for a vehicle, so prospective buyers do not have to waste time searching for hybrid vehicles outside of their budget. eBay also allows users to narrow results by condition, mileage, transmission, colour, and other factors so buyers can find exactly what they are looking for in a vehicle.
Conclusion
With the many benefits of hybrid vehicles, it is easy to see why they have been gaining popularity so quickly. After deciding on a hybrid vehicle, buyers also need to decide on the type of hybrid, condition, and make and model. By comparing different models along with the features, fuel economy, and performance of each, buyers can make an informed decision on which type of hybrid is right for them. Before purchasing a vehicle, it is important for buyers to test drive and check out the vehicle to ensure it is in good condition and easy to drive.
Even if a buyer is set on a specific type of vehicle, they may find that they do not like how the car handles or drives after taking it for a test drive. Another way to check that the car is in good working condition is by checking the vehicle's history report, which can be found online by searching the car's VIN number, often acquired by asking the seller. Buyers should steer clear of vehicles with previous accidents or damage since they are more likely to have problems in the future. With the help of eBay, buyers can easily find the perfect hybrid quickly and easily.