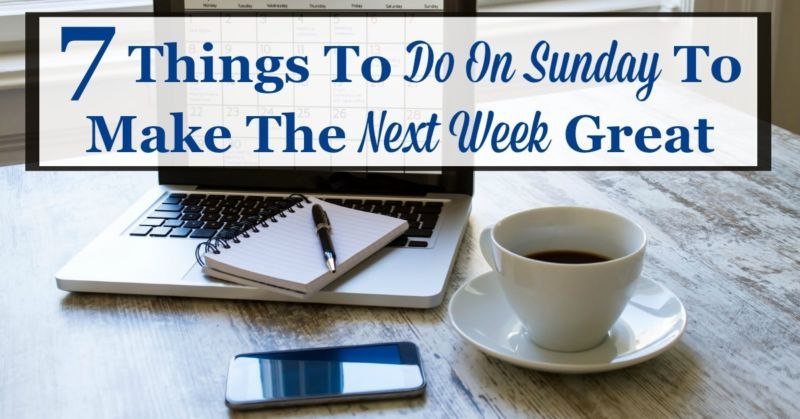 Many people think of Sunday as the last day of the weekend, but if you actually look at any calendar you'll see that Sunday is really the first day of the new week. To make sure each of your weeks is a bit easier and more under control, treat Sunday like a fresh start and a way to get ahead with tasks you know need to get done so you life and home run smoothly. I guarantee that doing these 7 things, each Sunday (or over the course of the weekend), will help you make the next week great.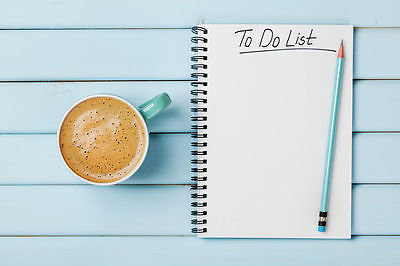 1. Plan Your Upcoming Week
The key to a less stressful week is planning ahead. That's why there are some
things you should do each morning
and
others that you should do each night
to make the next day great. However, it all starts with a bigger picture plan. That plan takes shape when you do a weekly review of your to dos and calendar for the upcoming week. Take a few minutes on Sunday, get yourself into a comfy chair with a nice drink to sip and look at your
calendar
.
When looking at what's coming up you want to think about how you can prepare for these events, whether they are a special once in a lifetime activity, like going to your sister's wedding, or mundane things, like making sure you bring snacks to the kids' football match, since it's your week to do it. A few minutes thinking through food to make and take, or clothes to make sure are clean and ready, or what errands you'll need to run to get certain things accomplished, like a present for the birthday party, will help your upcoming week out immensely. You can then do those tasks you identify during the weekend, or plan now when during the week you'll get them accomplished without stress, rushing, or anxiety.
2. Meal Planning
One thing you know you'll need to do over the course of the next week, even without looking at your calendar, is eat food for breakfast, lunch and dinner. So save yourself the nightly question of, "what's for dinner?" and plan out your meals. If you want to
save some money on food at the supermarket
, plan your meals once you examine that week's supermarket deals, so you buy stuff that's on sale. In addition, keep in mind when making your meal plan what you are doing next week, so you plan meals that fit the time you have for preparing and cooking them. For example, plan a slow cooker meal for the night you're going to be gone all day, so food is waiting for you when you get home.
3.Food Shopping & Meal Preparation
Once you've got your meals planned out, go to the supermarket and stock up on the food you'll use during the week, based on your meal plan. If you've looked at your calendar ahead of time you can also use this trip to the shops to buy any extra items you know you need for the week, like cookies for the office party, so you don't have to make multiple trips for forgotten items at inconvenient times later.
Once you've got all your food home, to save yourself time and stress later, do as much meal preparation ahead of time as you can. You can get lots of ideas for prep ahead meals in the Prep-Ahead Meals From Scratch cookbook from my friend, Alea Milham. You don't just have to prep dinners though. You could also prepare some
after school snacks
or even
lunches to take to work or school
. All that preparation will pay off over the course of the week when dealing with meals and snacks takes less time overall.
4. Clean House & Do Laundry
Starting the week with a clean house and clean laundry can help reduce a lot of stress, and keep things running smoothly for everyone in the house. Take the time on Sunday, or during the weekend, to
catch up on laundry if you've got behind
and to clean the main areas of your home, at the least. Two of the most important rooms to focus on are the
kitchen
and the
bathroom
, if you don't have enough time to clean it all. I also suggest fresh sheets on the beds, because few things are better than laying down in nice clean sheets at the end of a long day.
5. Plan Clothing For Upcoming Week
Dealing with everyone's clothes for the week can take a lot of effort, since you've got to consider casual clothes, church clothes, sports kit and clothes for special events. At a minimum think about what special clothing you've got to have ready this week, like the class t-shirt that your child needs to wear to the field trip, or the dress you need dry cleaned for the party. Going ahead and getting those special clothing requirements dealt with can make things a lot less stressful. If you want, you can prepare even more by planning all of your, or your kids' clothes, for the upcoming week to take even more stress out of getting ready each morning.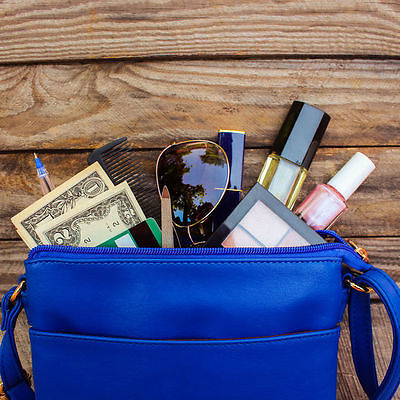 6. Clean Out Your Purse Or Bag
Over the course of the week your purse or bag gets a bit cluttered, such as with things stashed in it while you're in a hurry. To start the week out right use some time on Sunday to clean out your purse or bag and get it re-organised. If you do this regularly it won't take much time at all, but will save you loads of time by having things where you can find them quickly, without digging and searching. You can find out more about
how to keep your bag organised here
.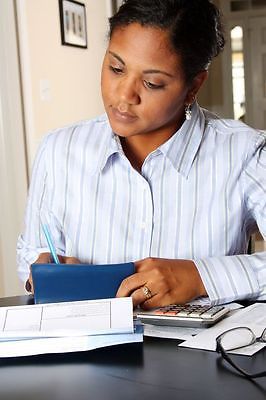 7. Weekly Paperwork Session
Finally, throughout the week papers and bills accumulate in your home each day as the mail is delivered, or as they're brought in the door. Some of those papers need to be reviewed, information put into your calendar, and then filed or thrown away. Others are bills to pay, and others are things that you need to take action on. Keeping on top of your paperwork can be difficult, but if you tackle the task regularly it is much less overwhelming, and things don't fall through the cracks. Therefore, sit down each week on Sunday and do a weekly paperwork session so you know what's lurking in those paper piles, and you feel prepared for the week ahead starting Monday morning.
Are there more things you do to prepare for the upcoming week? If so, I'd love to hear your ideas and suggestions below, in the comments.
In addition, don't miss even more tips and tricks I've shared by following
Household Management 101 here on eBay
.