It's official: it's cold outside. It's time to reach for the warm winter coats and embrace it!

But it's not all bad. One of our favourite things about winter is coming home after a long day and curling up on the sofa with a good book. Or taking a long soak in the bath with a much-deserved glass of wine.

But these aren't even the best bits! When we're talking winter; bed is best
Nothing beats crawling into a bed piled high with pillows and blankets, and settling in for a great night's sleep or a cheeky duvet day of Netflix and hot chocolate!

Your bedroom is a sanctuary all year round, but it's especially important to have a little haven to come back to when it's cold and dark outside. With that in mind, we've put our heads together at Pagazzi HQ and come up with our seven tips for creating a cosy winter bedroom. Simple, easy tricks to create a little piece of paradise to see you through till Spring. Enjoy!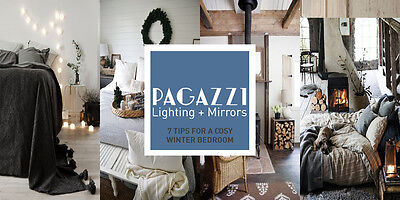 1. Invest in a mattress topper

A restful night's sleep is so important to our wellbeing. Anyone who's ever had a jaggy spring in their mattress or broken boiler in the middle of January will agree. A poor sleeping pattern has a knock-on effect on every other part of your life, so it is worth investing in your snoozing-space. When it's chilly outside, an easy way to instantly add some extra comfort and warmth to your bed is with a mattress topper. Although be warned, we guarantee it will make getting up in the morning even more difficult! You'll never want to leave so use with caution!

2. Lighting is everything

When it comes to creating a cosy atmosphere, lighting really is everything. Make sure your bulbs are the right colour temperature. Go for a 'Warm White' for an inviting amber glow, or even try out some vintage bulbs for an extra snug feel!

Invest in some great table lamps, so you can turn off the overhead light and achieve the right ambience. Alternatively, look into installing a dimmer switch - just make sure you're overhead light is dimmer compatible.

Fairy lights are another great way to add a sense of cosiness to your bedroom. Drape them across the headboard or over a mirror, the possibilities are endless!

Here are some of our top picks to get you started:

3. Candles

Another great way to make a room more inviting is by lighting some candles. The warm flickering light naturally makes us feel a sense of comfort, programmed into us from way back when our ancestors living in caves whose only source of light and warmth was fire!

Invest in a few good quality scented candles, too, for an added sensory experience and relax in your little slice of sweet-smelling heaven! Just make sure to enjoy candles safely and responsibly.

4. Bedding and blankets

How many times have you promised yourself some high thread count cotton bed sheets? Well, this year is the year! With loads of high-street retailers now stocking super high thread count sheets, a little dash of luxury has never been more affordable and they really do make all the difference!

Make sure and pile on lots of different throws, pillows and blankets, too! Play with different textures for some extra comfort.

5. Remove the distractions

Now we know space can be an issue, but try to remove as many distractions from your bedroom as possible. Move your wash basket to the kitchen; no one wants a reminder of their laundry pile when they're trying to zen! Try not to bring any work into your bedroom if possible. You want to make it a special place which you associate exclusively with relaxation and comfort. There's no paperwork allowed in the sanctuary!

6. Get back to nature

Natural materials have a really calming quality. Bring some plants into your bedroom and play with natural woods, cotton, and wool. Contrasting natural textures create an inviting homely feel. If you can get your hands on some logs, try piling them up in a corner somewhere as a wintry feature.

7. Play with darker colours

Add some accents of darker shades to create a sense of warmth and depth. Think greys, deep blues, and burgundies. Introduce these with accessories and fabrics, or if you feel like it, try a deep coloured feature wall for some drama!

What are your top tips for creating a cosy winter bedroom? We'd love to know, so share your ideas with us in the comments below, or on social. Find us on Facebook, Instagram, Pinterest or Houzz.

Here are some of our top picks to get your started: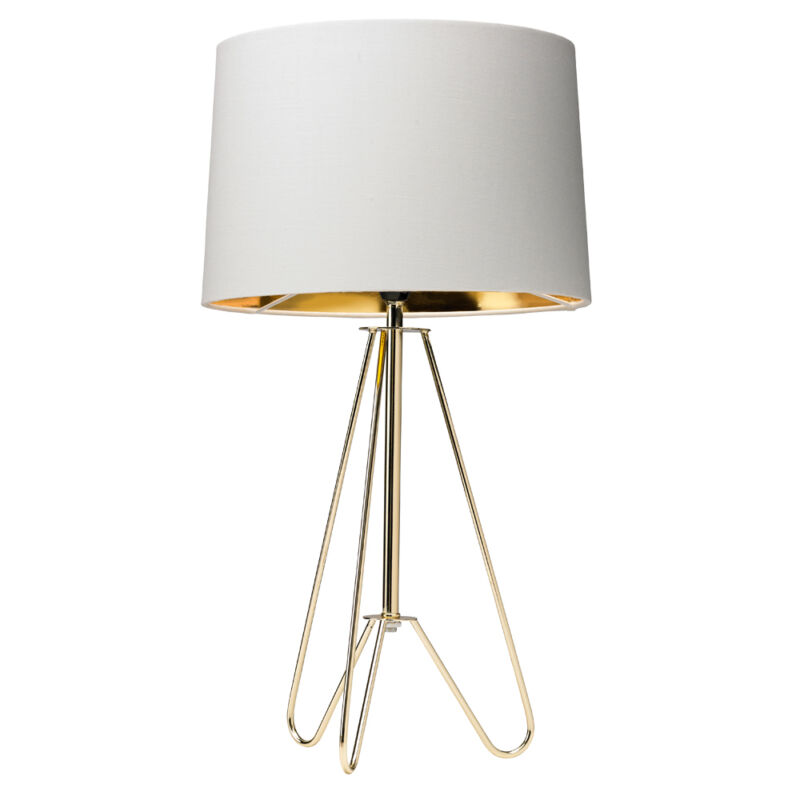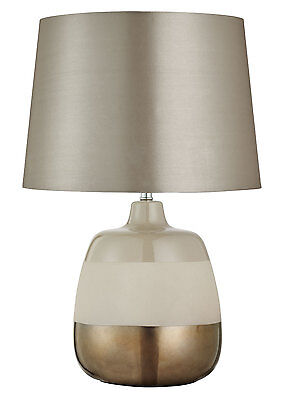 Add a caption
Ziggy Table Lamp Gold/Cream, Trio Table Lamp Taupe, Lincoln Desk Lamp Wood/Grey