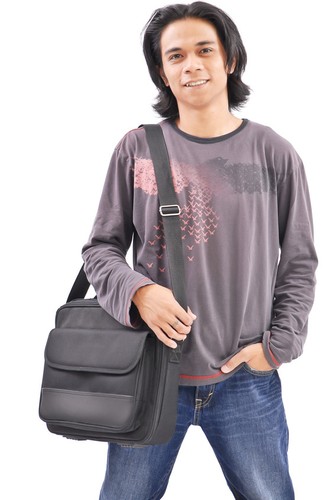 Messenger bags are a stylish alternative to the traditional rucksack or briefcase for women. They are designed with a single strap that sits across the chest, and can accommodate laptops, tablets, textbooks, and notebooks easily. In some cases, they can even replace a handbag, as they have plenty of space for a purse, mobile phone, and other essentials. Messenger bags first appeared in the 1950s in New York, and were adopted in the 1970s by bicycle messengers. Since then, they have become a common fashion accessory, for school, work, and everyday use.
Messenger bags are available in a variety of sizes with numerous features, so selecting the right bag can be a challenge. This buying guide offers seven tips for buying a messenger bag. It considers the material used for the bag, the bag's features and its intended purpose. Messenger bags can be bought at department stores and online retailers. Buying through an online auction site such as eBay is a convenient option, offering a greater selection than may be available elsewhere.
Tip 1: Understand How the Bag Will Be Used
The first factor to consider before even starting to search for a messenger bag, is how the bag will be used: to carry books and notebooks or electronics items, such as a laptop or an iPad. The purpose of the bag affects a number of factors, including the bag size, the number of pockets it has, and the choice of material. In addition, women who travel frequently may wish to consider buying a messenger bag that can be suspended from the handle of wheeled luggage.
Tip 2: Choose the Right Fabric
The right fabric choice is largely a matter of preference, but some fabrics are more durable than others and that affects the lifespan of the bag. Messenger bags are typically made of leather and canvas, as well as synthetic materials such as nylon and vinyl.
Synthetic Fabrics
Nylon is made from synthetic fibres derived from petroleum products. It is both lightweight and strong, and can be dyed an array of colours. Vinyl is a plastic material often used as a substitute for leather and is easily cleaned. It is prone to cracking easily. Both nylon and vinyl messenger bags can be treated so that they are waterproof, which makes them better able to protect the contents of the bag, including electronic gadgets.
Natural Fabrics
Leather has long been used for making bags because of its durability. Leather is available in a range of colours. It is stylish and well-suited to professional environments. However, messenger bags made from leather require special care to keep them in good condition.
Canvas is heavy material made from cotton. It is highly durable, typically machine-washable, and quick-drying, so it is a good choice for active buyers who have lifestyles that test the limits of the bag. For an eco-friendly option, a hemp messenger bag is an ideal choice.
Detailing
Before buying, it is also worth considering the details on the bag. The stitching and reinforcing can be an indicator of its quality. Double stitching on the seams helps to ensure the life of the bag by preventing the fabric from unravelling. Rivets can be used to hold heavy layers of fabric together and to reinforce the seams on pockets and compartments.
Tip 3: Choose a Bag with the Right Strap
Messenger bags have a single strap that is typically worn across the chest. As many items may be carried in the bag, finding a comfortable strap is important. An adjustable strap, allows the wearer to adjust the bag according to her height and preferences, and preventing it from cutting into or rubbing against skin. The strap should be wide enough to support the bag and its contents, so the heavier the bag, the wider the strap should be.
Handles on the top of the bag and a removeable strap allow the bag to be transformed into a briefcase or a handbag as needed.
A cross strap helps to stabilise a ladies ' messenger bag while cycling, for example, crossing the body in the opposite way to the main strap. A cross strap can be bought separately from the messenger bag, or it may come as an added extra.
Tip 4: Keep Electronic Gadgets in Mind
For women who plan to carry electronic gadgets, the messenger bag should be a sufficient size and durability to accommodate them: items, such as tablets and small laptops. Laptops with larger screens, 17 inches or larger, may need a special messenger bag for laptops and tablets. So, the dimensions of any devices that will be stored in the bag, including height, width, and depth, need to be noted, as well as allowing space for accessories, such as a power cable. The bag should also have sufficient padding on the sides and a sturdy bottom, to reduce the likelihood of damage from items being jostled or dropped. Some models may have either inbuilt or removable sections and dividers that a laptop can slide into. This allow the laptop to remain separate from other items in the bag.
Tip 5: Evaluate the Pockets and Compartments
The number of pockets and compartments depends on the purpose of the messenger bag. The bag should have enough separate sections to hold everything needed, including stationery, a mobile phone and a purse. Some messenger bags may have a panel with dedicated slots for pens, and small items. When considering the pockets, be aware that too many can encourage overpacking, which will make the bag heavy and uncomfortable.
Pockets that can be fastened, such as those with a zip, are more secure as the contents can not fall out, but they can also make accessing the items quickly more difficult. Some bags have an MP3 player pocket with and eyelet through which the headphones can be passed. This allows the device to be stored safely while the buyer listens to music on the go.
Tip 6: Pick an Appropriate Style
Messenger bags come in such a wide array of styles it is easy to find one that suits a woman's personal taste. A nylon or canvas messenger bag in bright colours is ideal for casual use, but a sleek black leather bag is more fitting for the office. Most messenger bags are wider than they are long, but shoppers can also find vertical bags that are longer than they are wide. This gives them a narrower, sleeker profile.
Tip 7: Set a Budget
Messenger bags can vary widely in price as well as quality. Before making any purchase, women should evaluate their budget and know what they can afford to spend. While high priced designer bags may offer good quality, moderately priced messenger bags can be a more practical option. Choosing a slightly more expensive item with better quality may actually may save money in the long run, because a poorly made bag will need to be replaced sooner.
Buying Messenger Bags on eBay
Once you are ready to start shopping for a messenger bag on eBay, enter a search term, such as "canvas messenger bag", in the box on the homepage, or on any other page on the site. The results can be browsed to find the exact item that you want. If there are too many listing, then consider narrowing down the search results by displaying items from Top-rated sellers only. These sellers have been recognised for providing excellent service consistently. For all other sellers, high ratings and good feedback from buyers indicate a good reputation. After completing your purchase, you should leave fair and honest feedback about your seller.
Tips for Shopping on eBay
eBay's Advanced search feature allows you to specify keywords and choose the categories of products to search in. You can narrow your results to within a certain price range to ensure that you stay within your budget, and select only items with free postage and packaging, if preferred.
Conclusion
Messenger bags offer women a wide variety of styles and sizes to choose from. The bags are best suited to carrying items, such as, a laptop, paperwork for the office, and textbooks. With such a wide array to choose from, women can narrow down their choices easily by searching for a messenger bag using the seven tips. By deciding on the purpose of the bag, women can determine what size and features are needed. The benefits of the different fabrics should be considered, which include the durability of leather and the ease of care of canvas. Choosing a comfortable strap is important and it should be wide enough to support the weight of the bag and its contents, as well as being adjustable. If the bag will hold a laptop or similar device, then the messenger bag should be padded and have dedicated slots for the laptop and related items to slip into. In addition to the practical elements of the bag, buyers should purchase one that matches their sense of style. Regardless of a buyer's taste and budget, eBay is an excellent place to shop for messenger bags.