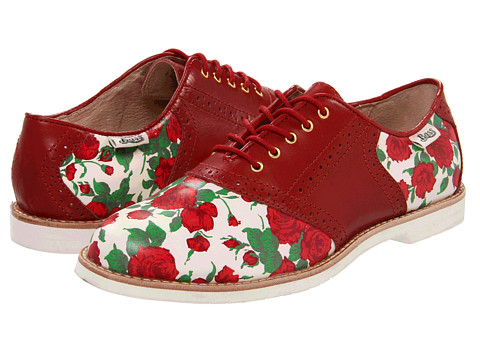 Lace ups are a versatile type of women's shoes that can be worn with casual and dressy outfits alike. The key to wearing lace up shoes is knowing how to properly style them. Most lace up shoes were designed to be shown off, so women should stick to outfits that do not cover up the feet or ankles. When putting together outfits with lace ups women should also keep in mind that the style of the shoe needs to match the style of the clothes that the shoes are being paired with. Most women cannot pull off a chunky pair of biker boots with a formal dress. Instead, the styles and the colours of the lace ups should complement the outfit and tie it all together. Whether wearing a skirt, dress, or trousers, there is a pair of lace ups that match perfectly.
By learning how to put together a few simple outfits with dresses, skirts, and pants, a woman can begin to style her lace ups in a way that expresses her own unique fashion sense without committing a fashion faux pas. When shopping for lace ups eBay has thousands of new and used shoes to choose from in a wide range of styles, colours, and price ranges.
1. Mid-Calf Boots With a Skirt
Lace up boots go well with a skirt as long as they are paired correctly. The height of the boots and the length of the skirt need to complement each other as do the styles of each. When styling lace up boots with a skirt, the boots should not be hidden under the skirt. There should be some space between the top of the boots and the bottom of the skirt. One way to pair these items is to wear lace up mid-calf boots with a skirt that falls above the knee. Women can pair light brown boots with a dark skirt and light top. When wearing this outfit in cooler autumn or winter weather, tights or leggings can be worn under the skirt. A scarf and matching bag can be thrown on to complete the outfit.
2. High Top Trainers With a Skirt
Lace up trainers worn with a skirt is a style that celebrities and fashion forward women have been wearing for years. Though the two styles seem to clash, they actually complement each other very well when paired in a way that the two styles balance each other out. High top Nikes create a unique look when paired with a skirt. To successfully achieve this look, women should pair them with a skirt that falls above the knee. The colour of the shoes should go along with the colours of the outfit. For example, a floral print skirt is complemented nicely by a pair of pink lace up trainers. A woman can put on a denim jacket to further emphasise this casual look.
3. Converse Trainers With a Dress
Just as with skirts, lace up trainers can also be worn with several types of dresses. Converse Chuck Taylors are a versatile style of shoe with a classic look. They are available in both low top and high top styles as well as in a wide variety of colours. While these shoes can be paired with just about any style of dress, they are particularly attractive when worn with vintage dresses. Women should opt for a neutral colour trainer to go along with a vintage dress that falls just above the knee. Because vintage clothing already has an alternative look, the Converse trainers match the outfit perfectly. It is best to wear this style without socks or with no-show socks.
4. Lace Up Heels With Skinny Jeans
To achieve a rocker girl look, women can pair lace up high heels with skinny jeans. The jeans should be dark blue or black, but the shoes can be any colour. Heels with studs, buckles, or animal prints are especially suited for this type of outfit. The bottom of the skinny jeans should be tucked into the top of the heels so that the laces are visible. To finish off this rock star look, a graphic t-shirt and black leather jacket can be be worn. This look can also be achieved by wearing dark coloured leggings.
5. Low Cut Boots With Chinos
Chinos are a casual type of trousers made from cotton and are khaki coloured. This style of pants was originally designed for men. Women wear chinos too, and can use their shoes to dress them up and feminise the look. Low cut lace up boots with a heel are the perfect shoes for pulling off this look. Since Chinos are usually full-length trousers, women should roll up the bottom to create a cuff so that the boots are not hidden. A white or other light coloured top should be worn to complete the outfit. If it is chilly outside, then a cardigan and scarf can be worn to complete the outfit.
6. Oxfords With Cropped Pants
The style of wearing Oxfords with cropped pants also balances out a masculine and feminine look in the same outfit. Oxfords are traditionally men's shoes, but they work well with several women's styles. While they can be paired with dresses and skirts, one of the most popular styles is to wear them with a pair of cropped pants. These pants allow the wearer to show off her ankles and her shoes. For the best look, socks should never be worn with this outfit. To balance out this style, women should add another masculine element to the outfit. This is best achieved by wearing a boyfriend blazer.
7. Change Up the Laces
Another way to show off unique style while wearing lace ups is to change the shoelaces in a pair of boots or trainers with some that are more fun or interesting. Wide laces, neon laces, and laces with patterns can be used instead of the standard laces that come with the shoes. These laces do not have to match the rest of the colours worn because they add their own fun element to the outfit. These laces should, however, be worn with casual outfits since they are too distracting for any formal occasions.
Experiment With Ways to Lace Shoes
In addition to using funky laces, women can also experiment with different ways to lace shoes. Criss-cross lacing is the way in which most shoes are laced. This type of lacing creates a pattern of X shapes along the top of the shoes. There are actually dozens of different ways that people can lace their shoes. Some are easier than others, such as the straight bar lacing technique. Other more intricate patterns, like spider web and starburst lacing, can be woven through the holes on the shoes to create a stunning and unique look to go along with the woman's outfit.
How to Buy Lace Ups on eBay
eBay is an online marketplace that allows people to come together in one place to buy and sell new and used items. Shoes are among the millions of items listed on the site at any given time. You can find a huge selection of new and used lace ups listed for sale on eBay. To successfully locate the right pair of lace ups, you should know how to search effectively and choose a reputable seller to do business with.
Searching for Lace Ups on eBay
To get started with the search for lace ups on eBay, type keywords to describe the shoes you're looking for into the search bar. A search for "black lace ups" yields thousands of results on the site. Narrow down this list by specifying a category within eBay to search, such as Women's Shoes. Refine the search further by specifying the size, colour, condition, material, or other shoe options.
Choosing a Reputable Seller
Dealing with a reputable seller ensures that you have the best experience possible when shopping on eBay. The feedback system allows you to rate your shopping experience by assigning a rating to the seller. The seller's username, total number of completed transactions, and total percentage of positive transactions are all listed. Sellers who have consistently provided high quality service are named 'Top Rated Sellers'. When searching for lace ups, you can refine the results to only show the listings by these sellers.
Conclusion
Lace ups refer to any shoes that use laces to secure them to the feet. With hundreds of different styles to choose from, lace ups have a timeless look that can match just about any outfit or be worn for any occasion. They can be dressed up or down depending on the needs of the wearer. While many women think lace ups are casual shoes worn with a t-shirt and jeans, these shoes can actually be worn with dresses and skirts as well. To learn how to properly wear these shoes, women must first learn about the wide range of types that are available. Once they see how versatile these shoes are they can begin to put together different outfits to go along with them. By understanding how to pair lace ups with certain styles, shoppers will know what to look for when matching lace ups with their own personal tastes. No matter what kind of lace ups a shopper is looking for, eBay has thousands of lace up shoes available across all styles and price ranges.