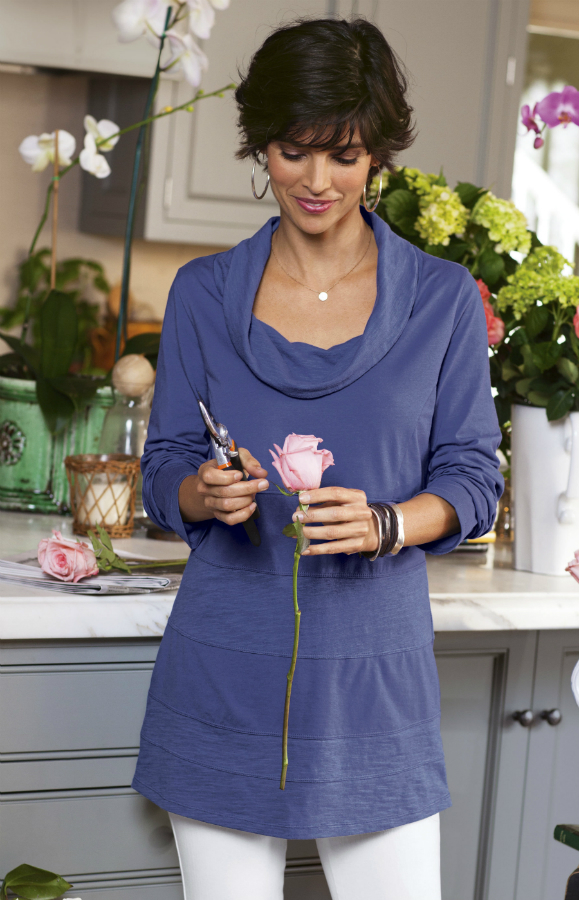 A cowl neck jumper is a great accessory that makes a great addition to a woman's wardrobe. One may choose to style the cowl neck jumper in many ways including pairing it with long boots or a belt. It can also be accessorised with a chunky necklace or dangling earrings or with a pair of sexy high heel shoes. A cowl neck jumper may also be styled with a short skirt, or it may be worn off the shoulder or in a feminine boat neckline. As one can see, the cowl neck jumper is a versatile item of clothing that lends itself to a wide range of styling options in addition to keeping one warm during cooler months.
Buyers have the option to purchase cowl neck jumpers from clothing stores, department stores, or designer fashion stores. Cowl neck jumpers are also available at online retailers such as eBay. This website offers the opportunity to purchase virtually different style of cowl neck jumpers at competitive prices.
Style 1: Style a Cowl Neck Jumper with Long Boots
For a stylishly casual look, suitable for a relaxed trip to the supermarket or a lunch date, one can choose to pair a cowl neck jumper with skinny jeans and long boots. A brown cowl neck or beige cowl neck jumper is a great choice for this look. One can mix the jumper with blue denim skinny jeans and either brown leather riding boots or long black boots with small heels, depending on whether the occasion calls for relaxed casual or semi-casual dress. For more formal dress occasions, try heeled boots with a pointy toe in patent black leather or some striking coloured long boots.
Style 2: Style a Cowl Neck Jumper with a Belt
A thick-knit oversized cowl neck jumper or long cowl neck jumper can be styled beautifully with a wide belt. The same goes for a cute cowl neck jumper dress. Try a black or grey cowl neck jumper with a vibrant coloured or interestingly patterned belt. When wearing a patterned or brightly coloured cowl neck jumper, do the opposite, and team it with a muted neutral wide belt. Adding a belt to a cowl neck jumper creates a more defined and feminine silhouette.
When a woman wants to style a thick cable-knit cowl neck jumper, she should try mixing it with a textured belt or a large buckled belt.
Style 3: Style a Cowl Neck Jumper with Accessories
A cowl neck jumper features an interesting neckline all by itself. However, when a woman is looking to style a thin-knit cowl neck worn with a simple outfit, she may use accessories. A thick, chunky necklace can turn an otherwise simple outfit into an eye-catching fashion statement. One can either choose bright colours or muted brown tones, depending on the mood. Earrings can also be used to style a cowl neck jumper. Choose earrings that catch the eye and are easily seen, such as long flowing earrings, sparkly earrings, or large hoop earrings.
Style 4: Style a Cowl Neck Jumper with High Heels
A cowl neck jumper, no matter what its length, can be elegantly styled with high heeled shoes. In warmer weather, opt for some cute open toed high heels in bright colours or lively patterns. Brightly coloured high heels that match the colour of the cowl neck jumper are great when worn with black pants, a pencil skirt, or skinny jeans. Pairing cowl neck jumpers in vibrant colours such as bright red, yellow, or orange with matching high heeled shoes can create a truly unique look. In winter, choose warmer closed-in high heeled shoes to stay warm while looking fashionable.
Style 5: Style a Cowl Neck Jumper with an Above-Knee Skirt
In addition to looking great with pants, a cowl neck jumper can look very stylish when paired with an above-knee skirt or over a short dress. A skirt or a dress that has a floating hemline can create a more feminine look, especially when paired with a loose-fitting cowl neck jumper that is cinched at the waist with a belt. When looking to wear a cowl neck jumper to the office or to a business meeting, try matching it with a slim-fitting pencil skirt.
Style 6: Wear a Cowl Neck Jumper off the Shoulder
Because of its wide neckline, many cowl neck jumpers can be worn off the shoulder. Wearing a cowl neck jumper angled off one shoulder creates an interesting neckline and can be a cute and sexy look. An oversized jumper lends itself well to being worn in this manner. This style is ideal for wearing at occasions that call for semi-formal attire.
Style 7: Wear a Cowl Neck Jumper in a Boat Neckline
By pulling the cowl neck jumper down over both shoulders, one can turn a simple cowl neckline into an interesting boat neckline. A boat neckline, also known as a bateau neckline, runs in a horizontal line across the top of the chest, across the collarbone, and around the back. This is a very elegant neckline that is suitable for evening wear.
Finding a Cowl Neck Jumper That Fits
The type of fit of a particular cowl neck jumper depends predominantly on its fabric. A thin-knit cowl neck jumper looks stylish when it fits snugly against the body. On the other hand, a thick-knit cowl neck jumper looks great when it sits a little looser on the body. An oversized jumper can always be brought in at the waist with a belt to create a sleeker silhouette.
The following table provides a list of common jumper sizes and their corresponding measurements in centimetres.
| Jumper Size | 8 | 10 | 12 | 14 |
| --- | --- | --- | --- | --- |
| Bust | 89-93 cm | 94-98 cm | 99-103 cm | 104-108 cm |
| Waist | 69-73 cm | 74-78 cm | 79-83 cm | 84-88 cm |
| Hips | 97-101 cm | 102-106 cm | 107-111 cm | 112-116 cm |
Buyers should be aware that size measurements can vary amongst different brands. A woman who comfortably fits into a size 8 in one particular brand may be a size 10 in another brand. It is recommended that a buyer try on or verify the size of a cowl neck jumper before making a final purchase.
The Cowl Neck Jumper to Suit Different Body Shapes
The cowl neck jumper, with its loose and floppy neckline that drapes across the top of the chest and neck area, suits most body shapes. A small or deep cowl neckline suits a woman with a longer neck. For those who want to create the illusion of broader shoulders, a cowl neck jumper can be ideal. The cowl neckline can also create a longer, more proportionate body shape. For a woman with a larger waistline, an oversized cowl neck jumper can help cover waist and tummy folds. A cowl neck jumper is also flattering on a small or larger bust.
Buying Cowl Neck Jumpers on eBay
eBay offer simple search methods, secure payment options, and various buying tips and advice for individuals looking to purchase cowl neck jumpers online. In order to search for a cowl neck jumper, you simply need to type "cowl neck jumpers" into the search bar on eBay's home page. To refine this search further, you may use the search category options available. This includes searching by brand, condition, price, colour, or material. If you know exactly what type of cowl neck jumper you are looking for, then you can search using a specific phrase. For example, if you are looking for black knit cowl neck jumpers or size 12 cowl neck jumpers, then simply type either of these terms into the search bar.
eBay offers some useful resources to help buyers get the most out of their buying experience. eBay users can interact, share information, offer advice, and ask questions on the website. Buyers can choose to join discussion boards or special interest groups, or ask fellow eBay members questions. eBay's community resources are designed to help buyers enjoy their experience and learn how to utilise eBay to its full potential.
Conclusion
The cowl neck jumper is a versatile style of jumper that a woman can consider as an asset to her wardrobe. This style of jumper can be worn dressed down for a casual look, or be dressed up for more formal occasions. One of the great benefits of the cowl neck jumper is that it looks flattering on almost any body type. Women can try teaming their cowl neck jumpers with boots or high heels, a belt, or various accessories. A cowl neck jumper may also be worn in many ways including off the shoulder, in a boat neckline, or in any way that the fabric chooses to fall. Finding the right fit for a cowl neck jumper is important to ensure overall style and comfort. Some jumpers look more flattering when they hug the wearer's figure, while others look more stylish when worn baggy. eBay's numerous functionalities enable a woman to search several listings in order to find the cowl neck jumper that best suits her style, taste, and budget.