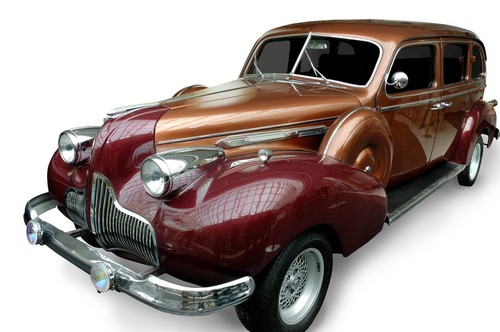 Owning a collector car is often a source of pride for many individuals. From car shows to driving around town, wanting your classic car to look its best and function in a way that is perfect for your needs is understandable. That is why, in addition to routine maintenance and care, investing in accessories for your collector car is so important. Buyers have a lot of options when it comes to these accessories, though, the process of identifying and choosing the right accessories for your collector car can be rather tough.
Not everyone wants all accessories, yet a thorough knowledge of what is out there is needed. In addition to considering everything from car covers and stylish decor to updated sound systems and emergency kits, buyers also need to know where to shop for collector car accessories. With many options available such as specialty shops and small dealers, looking online to eBay is the best way to find a great selection as well as excellent prices for collector car accessories. All buyers need is a few key evaluation and searching skills.
Accessory 1: Car Covers
The use of car covers to protect a vehicle from the elements is common amongst contemporary car owners as well as collector cars. However, many people fail to realise the utility of using a car cover even when a car is being stored in a garage or other covered area. That is why it is important to review the benefits and characteristics of both indoor and outdoor car covers, which are summarised in the table below.
Type of Car Cover

Protection from ...

Physical Description

Rain, snow, UV light

Bird droppings

Tree Sap

Wind-travelling dust

Lightweight and waterproof

Breathable fabric to facilitate drying

Airborne dust

Indoor pests

Impact

Thick, cotton-polyester blend designed to withstand impact
Carefully reviewing the protection benefits of each type of car cover explained above, as well as considering the particular circumstances of your collector car helps in making this purchasing decision. Remember to consider both the everyday storage of the car, which may be indoors, as well as the frequency with which the car travels. This may require the purchase of an outdoor cover for use only on trips and an indoor cover for use whilst at home.
Accessory 2: Stylised Decorations
Another great set of accessories to add to a collector car are stylised decorations designed to showcase the owner's taste and personal style as well as highlight the era in which the car was originally made. These types of decorations range from classics such as fuzzy dice and dashboard hula dancers to more specific detailed pieces such as luggage racks and old suitcases.
Choosing stylish decorations for your collector car is really all about personality and creative expression. Searching for specific decorations as well as looking at other cars from the era of your collector car are great ways to gather ideas for the type of decorations that work.
Accessory 3: Classic Decorations
In addition to personalised decoration choices, collector car owners also often enjoy decorating their vehicles with more 'classic' additions such as chrome plating, insurance car holders, decals, and other less flashy, though optional accessories.
Like stylised decorations, identifying the type of classic decorations that work for a particular car and driver is an exercise in research. Take special notice of other cars at car shows or through photographs online, or buy a classic car book that displays authentic items from bygone eras. All of these options get the creative juices flowing.
Accessory 4: Sound Systems
Another popular accessory for classic cars surrounds what the driver and passengers do while travelling in the vehicle: listen to music. Many classic cars, especially rebuilt ones, do not have a functioning sound system, however, this makes it necessary to decide upon the type of stereo to add to your classic car. There are three choices here that, together, constitute the choice of whether to repair or upgrade the original sound system.
Vintage Stereos
Some companies and individuals offer genuine stereos from collector cars which they have taken out of the original unit and refurbished. The options for vintage car stereos include radios, radios and cassette players, and 8-track players.
Reproduction Stereos
Reproduction car stereos offer collector car owners the best of both worlds; authentic looks with 21st century technology. As such, these stereos are built to look exactly like vintage options while still offering all the best in the sound technology field. The only real difficulty with reproduction stereos is finding a way to add additional speakers without ruining the interior lines of the car. To do this, many owners simply opt for removable speakers.
Conversion Stereos
The 'middle ground' when it comes to the sound system in your collector car is a conversion car stereo. This is a far more complex and costly option, but can produce an amazing look and effect. Basically, buyers simply send in the stereo that came with their collector car to individuals or companies who then change the old stereo in ways that allow it to function with modern technology. This generally means adding a CD player or MP3 player ability. The sound produced by these stereos is mono and the original speakers in the car may also need to be changed out for more technologically advanced ones.
Accessory 5: Floor Mats
Similar to what a car cover provides for a collector car's exterior, the addition of custom floor mats can serve as a means to protect the interior of the car from dust, dirt, and general wear. Many companies offer floor mats in a variety of colours that match any car's interior. Alternately, rubber floor mats or more personalised vanity floor mats may also be added.
Accessory 6: Seat Covers
Seat covers are another area where function meets personality. Older cars tend to show wear and many collector cars with vinyl seats may be torn or otherwise compromised. That is why adding seat covers can help to preserve seats and personalise your collector car. Seat covers are available in a variety of fabrics including canvas, denim, leather, micro suede, neoprene , nylon, poly-cotton fibre, sheepskin , tweed, and velour.
Accessory 7: Emergency Kits
Whether driving a collector car or one that was made in the 21st century, the addition of an emergency kit in the case of accident or breakdown is essential for the safety of the driver and passengers alike. Emergency kits can come pre-made or be collected on your own and then stored in an appropriately styled bag. Minimally, car emergency kits should include basic repair and maintenance tools, cleaning rags, extra car fluids, electrical tape, a first aid kit, a fire extinguisher, plastic bags, and surgical gloves.
Accessory 8: Items for Outside the Classic Car
The final accessory that any collector car owner may want to consider are accessories that do not go to the car itself, but rather the driver, something called automobilia. Collector car owners are a proud lot who like to show off their love for their vehicles as well as their pride in their membership as collector car owners. Many like to carry key rings with the make of their car proudly emblazoned upon it, and others like to collect photos and die-cast versions of their real cars. The options for accessories that show love for a collector car is really only limited to the imagination.
Buying Collector Car Accessories on eBay
Knowing about collector car accessories and actually purchasing them are two totally different tasks. For many collector car owners in the United Kingdom, however, eBay has proven to be a valuable tool in finding every accessory needed. You simply need to register for an account and learn the proper search procedure.
Buyers who are new to the eBay experience quickly find that searching for collector car accessories is quite simple. By using the general search bar at the top of every eBay page, buyers are able to enter simple or complex descriptions of what they want.
Searching with General Terms
The first option, to use basic search terms, generally yields hundreds of results which can then be further narrowed down via the limiters eBay provides with each set of search results. Therefore, searching for " car floor mats" is a start, and then individual floor mats can be limited according to colour, price, or brand.
Searching with Specific Terms
The alternative is to search for items using specifics from the start. Therefore, buyers can enter "grey Mercedes floor mats " in order to receive a narrowed set of results from the start. The results from specific searches can then continue to be narrowed down, if need be, through similar limiters.
Conclusion
When you own a collector car there are a lot of responsibilities that need to be taken into account. As something not only used for transportation from point A to point B, but also a source of nostalgia and pride, a collector car is so much more than just another vehicle on the road. Therefore, owners enjoy accessorising their collector cars with a variety of objects such as sound systems and stylistic options. In addition, however, buying accessories for your collector car can also mean taking steps to preserve it.
Such accessories like car covers, seat covers, and floor mats, not only express personality, but also protect collector cars from the harsh world that would destroy their unique beauty. Yet, knowing about accessories to buy for a collector car and actually purchasing them are two different things. That is why many collector car owners choose to shop online with eBay for collector car accessories. Using one of two distinct searching strategies, eBay users can quickly locate the exact accessories they want, saving time and money.