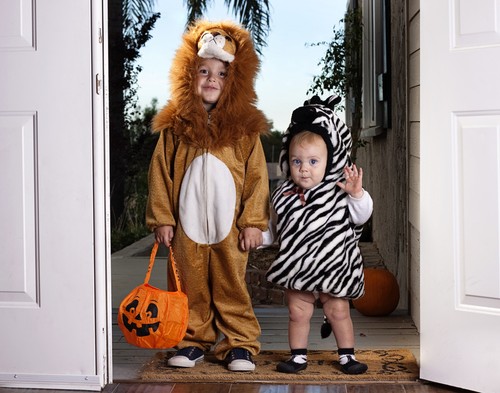 One of the best things about being little is playing dress up. One of the best things about being a little girl is dressing up in adorable, fancy costumes. These can be Halloween costumes that are worn year-round, or they can simply be precious outfits that any little girl can turn into her favourite fancy dress costume while she is playing any time of the year.
Costumes for girls range from infant sizes up to sizes for school aged girls, such as 14. Fancy dress costumes come in a wide array of styles, characters, types, colours, and price ranges, so itis really up to the personal preference of the buyer when looking for a fancy dress costume for a little girl. Fancy dress costumes may or may not come with added accessories, and some costumes might be custom made, which ensures quality and fit. Here is a guide to fancy dress costumes for girls, including a few popular styles of dress up outfits that little girls may enjoy.
8 Types of Fancy Dress Costumes for Girls
Before buying a fancy dress costume for a girl, know what her preferences are. Does she curl up every day reading Alice in Wonderland? Is she obsessed with the idea of being a princess? Or, does she like to pretend she is an evil witch casting a spell, or a beautiful ballet dancer? Narrow in on the girl's interests in order to pick the most perfect fancy dress costume, and make sure the buyer knows the little girl's size, too. That can be a great guideline when shopping, and ensure that the girl's costume fits her properly and can be enjoyed comfortably. A few of the most common and well received fancy dress costumes for girls include that of a princess, a pirate, a witch, favourite characters, fairies, ballerinas, angels, and those in fairy tales. With the perfect accessories, any little girl can feel magical and beautiful.
Costume 1: Princess
What little girl doesn't dream of being a beautiful princess? Girls' princess costumes range in colour and style, from the classical Disney Princess, such as Belle or Snow White; to a more traditional fancy dress princess costume that is simply a beautiful pink ball gown with ribbons, lace, or stones.
Most princess costumes for girls may come with a pointed hat or a tiara crown, and they are all long ball gown style dresses. Princess costumes come in sizes that will fit all young girls, and colours range from princess pink to royal blue, purple, green, or for the evil princess queens, there is black. More elaborate princess costumes may be fur trimmed, sequined, or studded. Some may come with a wrap, a sceptre, or a headpiece.
Costume 2: Pirate
Even girls like to play pirate, so purchase a girls' pirate costume for a little one who likes to pretend she is searching the high seas for pirate treasure. Pirate costumes for girls may involve a skirt or pants, along with a white peasant top and of course, accessories like a sword, eye patch, scarves, and a perfect pirate hat.
Most pirate costumes for girls are either red, black, and white, or they have pink instead of red. A little girl can be a precious pirate princess in these feminine versions of a boy's pirate outfit. Fancy pirate costumes may come with fuller, layered skirts and a bodice that laces up over the peasant top for a more realistic pirate look.
Costume 3: Witch
Witches aren't just for Halloween; glamourous witches like to put spells on people all year long, and little ones will love fancy girls' witch costumes that come in all styles and colours. Black is the most traditional colour for a witch costume, but there are also purple, pink, red, green, orange, and multicoloured witch outfits for girls of all ages.
Costumes for young witches may include extras like a pointy witch hat, stockings, a broom, and pointy witch shoes for young girls that like dressing up as a witch on fancy dress costume days at home or when going out to a party.
Costume 4: Favourite Characters
Little girls love to emulate their favourite characters, and fancy dress costumes for girls make that easy. A girl may love dressing up in an adorable Minnie Mouse costume, as heroic Batgirl, blue Smurfette, or Dorothy from the iconic movie "The Wizard of Oz." Girls love their favourite movie, book, and television characters so a costume that looks identical to the one these girls wear is perfect for a young girl that looks up to her heroes.
Fancy dress costumes that look like a Moshi monster girls' costume, a character from Monster High, or Jessie from "Toy Story" will get a lot of wear on dress up days.
Costume 5: Fairy
Girls love beautiful fairies, from Tinkerbell to more gothic fairy looks. Fairy costumes are gorgeous and made with tulle skirts and soft fabrics, and of course, they are accessorised with precious, glittering fairy wings. Little girls love fairy wings and dressing up as a fairy makes it possible to wear a pair of these whenever they desire.
Girls' fairy costumes range in colour and style, from the classic green of Tinkerbell's costume to a more traditional fairy costume with layered skirts, a wand, and beautiful and shiny dresses. Fairy costumes come in a range of colours so choosing one is simply a matter of personal preference. Costumes may or may not come with hair accessories such as garlands, magic wands, and wings. Nontraditional fairy costumes include Christmas fairy outfits, Snowflake fairy costumes, and Ladybug fairy costumes for girls.
Costume 6: Angel
There are not too many things in this world as sweet as a young girl dressed as an ethereal angel. Girls' angel costumes are generally white, silver, or gold and come with lovely wings and a halo that fits on the head like a headband. Angel costumes can be short or long, and ma or may not have full, fluffy skirts. Some angel costumes are more elaborate than others and may have embellishments like stars, stones, and glitter on them.
Angel costumes are not only a great idea for dress up days, but can also be worn on Christmas or Halloween. Sweet angel costumes for girls may come with shoes, a belt, halo, wings, or other accessories and can be long or short sleeved.
Costume 7: Ballerina
Tiny dancers that aspire to be ballerinas someday will love fancy dress girls' ballerina costumes. A ballerina costume typically consists of a leotard type outfit with a tulle skirt. Of course, this type of costume needs the perfect pair of satin girls' ballet shoes to go with it.
Ballerina costumes come in all sizes and colours, or picking a girls' leotard and pairing it with a separate tutu skirt can customise a costume. Ballerina costumes range from quite plain to extremely detailed and embellished with ribbons and bows, extra tulle to make the skirt even puffier, crystals, rhinestones, and lace.
Costume 8: Fairy Tales
Little girls that love fairy tales will reserve fancy dress day for dressing like their favourite storybook characters. Whether it's a beautiful Cinderella ball gown or Alice in Wonderland's signature blue dress and pinafore, there is a fairy tale costume for every little girl. She may enjoy looking like Red Riding Hood, a wicked queen, Rapunzel, or The Little Mermaid.
Help a young girl feed her imagination by buying her the perfect fairy tale inspired costume for her most fun fancy dress days. Items that may accompany girls' fairy tale costumes include hair accessories, wigs, crowns, and shoes.
How to Buy Fancy Dress Costumes for Girls on eBay
Buy fancy dress costumes for a little girl with a big imagination on eBay. You don't have to wait for Halloween to purchase fancy dress costumes. Girls' costumes are available year round on eBay for your buying convenience. First, search the general term girls' fancy dress costumes, then narrow by subcategory depending on the type of costume you're looking for, such as the size of costume, colours of the costume, and costume theme, such as princess, angel, pirate, or witch.
Purchase costumes for your little girl from Top Rated Sellers for the best buying experience on eBay. If other items can be bundled with your fancy dress costume, such as tiaras, wands, wigs, shoes, or other costume accessories, ask the seller if you can combine shipping costs for these items, or see if the seller is local so you can do a personalised pick up for your costumes. Ask questions about items if you need to, and look at plenty of images before purchasing to ensure you're getting the fancy dress costume that you are wanting.
Conclusion
Dressing up in girls' fancy dress costumes is one of the perks of being little; being a princess all day truly is an option. Help develop a child's imagination and pretend world by purchasing her some adorable and fun fancy dress costumes that she may never want to take off. Fancy dress costumes come in so many styles, sizes, and colours, there will be one that is perfect for the little girl the buyer has in mind.
Make sure any needed accessories are purchased along with the costume or that they come with the costume, such as ballet shoes with a ballerina costume, or an eye patch and scarves with a cute girls' pirate costume. Skip the stores and purchase costumes all year long for a special little girl that enjoys playing dress up and enjoy the convenience of shopping on eBay for fancy dress costumes, accessories, and items relating to dress up.